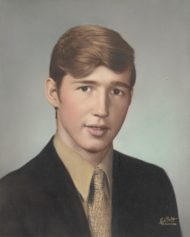 Thomas Patrick Warner, 67
January 31, 2021
Thomas Patrick Warner, 67, of Lancaster, PA, passed away at his home on January 31, 2021. Born on March 11, 1953 in Greeley, Nebraska, he was the son of the late Harold and Imogene (Rease) Warner.
He attended Greeley Sacred Heart from kindergarten through his junior year until the school closed. He graduated from Greeley High School in 1971. Tom was very athletic, competing on his high school's
baseball and basketball teams and was the starting quarterback in football. He attended Kearney State College. Tom married the late Barbara London, in 1974, and had three children together.
Tom will be remembered for his 41+ years of dedication at CNH – New Holland Agriculture as a Manufacturing Engineer. In 1974, he started at New Holland in Grand Island, NE and transferred in 1986, to the manufacturing plant in New Holland, PA.
Tom dearly loved his children and grandchildren and was proud of each of them. Traveling to visit his family was important in his life. Tom adored his dog, Chance and their daily walks together. Tom had a great passion for playing sports, especially golf and looked forward to his many golf trips with friends. He was a loyal fan of the Nebraska Cornhuskers and Washington Redskins.
Tom's love will live on in his children: Michelle Monaghan (Patrick), of Rio Rancho, NM, Thomas R. Warner (Jaime) of Mt. Joy, PA, and John H. Warner (Marcey) of Albuquerque, NM. He was the proud grandpa of his 11 grandchildren: Brock, Corrina, Caiden, Noah, Jacob, Caleb, Christian, Eli, John Jr., Naomi and Jack.
Others left to cherish his memory are his siblings: Ann Wieck, Bill Warner (Leona), Ed Warner (Judy), Bob Warner (Mary), Mary Jean Campbell (Jim), Nancy Dvorak (Mike), Marian Lammers (Bruce), Ellen May (Chris), numerous nieces and nephews and ex-wife Ann Beamer.
He was preceded in passing by his precious granddaughter, Aiyana, his brothers: John Warner and Mike Warner, sister-in-law Kathy Warner, brother-in-law, Jim Wieck and ex-wife Barbara London.
Family and friends are invited to attend a visitation on Friday, February 12, 2021 at the Charles F. Snyder Jr. Funeral Home & Crematory, 3110 Lititz Pike, Lititz, PA from 5PM to 7PM. In lieu of flowers, condolence gifts may be sent to his children.
Memorial services will be held this summer at Sacred Heart Catholic Church in Greeley, NE with interment at Sacred Heart Cemetery.
Watch the tribute video
Leave a condolence on this Memorial Page
Condolences to the Family
February 19, 2021
Wow, so sorry to hear of Tom's death. My condolences to his family. What a beautiful obituary. He was one of the nicest persons that I've had the pleasure to work with at New Holland. We both loved the art and skill of machining. He was ALWAYS so pleasant and kind, and had a warm, friendly smile. I knew that a meeting with Tom would always result in the most helpful manner to achieve success. Even though our last names were spelled a little different, he often referred to us as "The Warner Brothers". Tom was a wonderful person!
John Wanner
February 11, 2021
My sincere condolences to the Warner family. I worked for many years with Tom at the New Holland Plant of CNH. Also worked with Tom at the Hawk Valley Golf Course. Being a Penn State fan, Tom would really give me a hard time because of his Nebrasker Cornhuskers! Tom will be missed by many.
Jerry Benton
February 11, 2021
My sincere condolences to the Warner family. Tom was always very friendly & professional. I trust great memories will be a comfort for you.
Steve Lee
February 10, 2021
Personally lost a great friend with Tom's passing. Many good days I've had golfing, traveling and just enjoying his company and conversation. Going to miss his endless Nebraska bragging; which came easy to him toward this Missouri boy. My deepest condolences to his family and loved ones.
Sparks Ritchie
February 10, 2021
Deepest sympathy to family & friends. Prayers for peace and cherished memories
Janet & Mark Suminski
February 09, 2021
I was shocked to see Tom's obituary. Difficult to see that some one I grew up with, respected and considered a friend is gone. I will not forget Tom Warner, Class of '71
Jerry Ryan
February 09, 2021
Very sorry for Tom's family's loss. Tom was a good friend at work and on the golf course. He will be missed.
Ray Herr
February 09, 2021
Dear Tom,
I will miss you. You were a comfort to talk to, and a friend who shared his thoughts. Susan and I hope your new circumstances are to your liking. Be well and prosper.
Jerry Greiner
February 09, 2021
A Good friend and work mate
RIP
Danny Phillips

February 09, 2021
Sorry for your loss. You are in our thoughts and prayers.
Sharon & John Bopp
February 09, 2021
So very sorry to here about the passing of Tom. The Warner families are in my thoughts and prayers. May Tom Rest In Peace.
Dan and Janet Reilly
February 09, 2021
My deepest sympathy to the Warner family. Tom was a good person with a good soul!
Art Anson
February 09, 2021
My sincere sympathy to you all! I am still in shock just can't get it off my mind that Tom is gone!Our class reunions will not be the same for sure! He was a Great guy , a Good friend and Great Classmate! RIP my friend, you will be missed! Loved ya, Mary Scott friend and classmate.
February 08, 2021
My sympathy to Tom's family members. So sorry for your loss. Praying God's comfort in your grief.
Roberta Whalen
February 08, 2021
May he rest in peace.
Charles Sweeney
February 08, 2021
So sorry for your loss. God Bless and prayers for Tom and all of you.
Jane Comer (Curran)
Visitation

Friday, February 12, 2021
5:00 PM - 7:00 PM
Charles F. Snyder Funeral Home & Crematory
3110 Lititz Pike
Lititz, PA 17543

Map and Directions