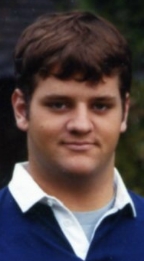 Thomas G. Rainey, 21
Thomas G. Rainey, 21, of Landisville, passed away, Thursday, April 16, 2009. Born in Lancaster, he was the much beloved son of Phil and Nancy (Bartholomay) Rainey and younger brother to Patrick 25, who considered Tom his best friend.
Tommy was a 2005 graduate of Hempfield High School where he was star Offensive Guard for the Black Knights. In a unanimous Lancaster Lebanon League coaches vote he was chosen as Outstanding Lineman of the Year and Outstanding Offensive Lineman of the year and also played in the All Star Game in Manheim.
He was in his fourth year at Shippensburg University where he studied Sociology and played football on scholarship for 3 years as an Offensive Tackle. He had a heart as big as his 6'5 frame and people of all ages were drawn to his fun-loving and compassionate nature. He loved to cook for his family, listen to music and watch funny movies. In high school he often intervened when others were being picked on or bullied. Currently, he was a house parent for Community Services Group in Lancaster, where he worked with mentally challenged adults, a job he loved. He was an animal lover who had 4 cats. Surviving in addition to his mother and father (Nancy and Phil), is a brother: Patrick Rainey of Norristown. A Paternal grandfather; Philander Rainey of Hershey. Maternal grandparents; George and Mary Lou Bartholomay of Mt. Joy. And many aunts, uncles, cousins and friends. Things were always much more fun when Tom was around. He will be missed but will live on in our hearts forever. He would want us all to enjoy our lives as much as he did.
A Mass of Christian Burial will be held Tuesday, April 21, 2009 at Mary Mother of the Church 530 Saint Marys Dr., Mt Joy 17552 at 11 a.m. with Rev. Louis Rodriguez as celebrant. Family and Friends will be received at the Charles F. Snyder Jr. Funeral Home and Chapel 3110 Lititz Pike, Lititz Pa 17543, Monday, April 20, 2009 from 6-9 p.m. and again on Tuesday at the church from 9-1045 a.m. Cremation will follow.
In lieu of flowers memorial contributions can be made to the Humane League of Lancaster County 2195 Lincoln Highway East, Lancaster, PA 17602.
To send an online condolence or for more information please visit snyderfuneralhome.com
Leave a condolence on this Memorial Page
Mr. and Mrs. Rainey and Patrick,
I wanted to express my deepest sympathies. I had "Tommy" in daycare at Magic Years and he was one of the gentlest and kind children I ever met. I recognized his picture immediately because he obviously grew into a kind and gentle young man. I worked with many children and it has been many years but Tommy stood out then and he still does. I want to thank you and Tommy for bringing me so much joy. It is quite a tribute to anyone to leave a legacy and Tommy leaves a legacy of kindness and caring that I hope will give you all comfort in the days to come.
With Deepest Sympathies and Prayers
Jan Bechtel
Dear Phil and family,
My heart goes out to you at this time, and great loss. My you seek comfort, and strength through Jesus.
God Bless,
Patricia (Judy Ingle)DeSanctis
As a substitute teacher at Hempfield, and with a daughter also in college, may we pass on our heartfelt condolences. My elder son passed away when he was 18 years old, so I empathize. Tom was a great kid, who was a big teddie bear whom everyone adored. May our prayers be with you at this most difficult time.
Don, Dee, Megan and Jonathan Forry, East Hempfield
Nancy, Pat and Phil,
I can say I feel your pain but that could not be possible. To Bigger than Life Tommy I was only Auntie Pam, somewhere up north, and we did spend far too little time getting to know each other, but just spending even a minute in his presence a few times a year was enough to tell me what a pleasure it was to know him. He leaves us with a plan – to BE happier people and to try hard to bring happiness to others as he did so easily. For Pat, and for you too, of course, Phil and Nancy – anything, any time I can help you, you must let me know how – love……

Dear Nancy, Phil and Patrick,
I wanted to let you all know the depth of sadness that I have in my heart for your loss of such a wonderful son and brother. Tommy was always someone very special who would come around and would just make you crack up with the simplest things. His smile was absolutely contagious. He was a gentle and kind kid who grew up to be a wonderful caring young man.
May the memories that you hold in your heart, keep his smile alive for your lifetime.
My sympathies and prayers go out to you and your family.
An old neighbor – Tracy (Travelet) Artus
Nancy, Phil, and Patrick –
We are so very sorry for your loss. Tom was a big influence on our son, Steve.
He powerlifted with Tom and played football with him at Hempfield and at Shippensburg. Steve also was Offensive Lineman of the Year in '05 and '06. I know Tom was one of the reasons why he picked Ship to play football. He always spoke so highly of him and looked up to him. When we heard the news, I thought that that could of been any one us. You send your son off to college and you just expect them to be safe and to come back safe. Words can not express how our hearts go out to you. Remember you are in our thoughts and prayers and so is Tom.
Sincerely,
Vicki and Barry Hohenwarter
48 Naomi Avenue
Landisville

Aunt Nancy, Uncle Phil, and Patrick,
Wendy, Josh and I send our heart felt condolences. The shock of Tommy's passing caught us completely off guard, as I'm so sure it has everyone. We are so sorry that we can't be there in your time of need. Please know that our hearts and prayers are with you in this very tragic time.
We may never know the "why", but his work must have been done here in our earthly home. But I am sure that he and Grandma are watching over us. He will always be with us, and forever in our hearts. I never got to know him, fully, in his adulthood … but I know our personality's never really change as we grow up. His good memory was a gift to us all.
All our Love,
Todd, Wendy and Joshua Miller
Dear Rainey Family,
I am very sorry for your loss and want to send you my condolences. As one of Tom's friends, I can say that it was an honor knowing him and having him as a friend. Even though we were not close friends, we had some good times together in school and during sports. Tom was a great, happy, and fun-loving guy and he was always the one to make everyone laugh and smile. He will definitely be missed by all!!
-Chance Condran
We are so sorry for the loss of your dear son. Our family does not know you but as the Body of Christ we have prayed for the soul of your son. Today we prayed the Divine Mercy Chaplet for him. We can not even imagine the pain you are feeling with this great loss. We pray for his peace and for your peace as well. May we all be united in Heaven. God Bless you.
The Becker Family
Nancy & Family,
I am so sorry to hear of the passing of your son. I'm sure this is a very difficult time for you all. My thoughts and prayers are with you. From all I've read, he was a wonderful young man. You can be proud this is how he will be remembered. Look for the pennies….this is how he will tell you he's with you; as he will be, always.
With my deepest sympathies,
Jackie Mauro

Dear Nancy and Phil,
My heart goes out to you both and Patrick. After reading the beautiful obituary, all I can say is "what a wonderful young man!" Although my memories of him are as (an always pleasant) baby and toddler, I know that the memories he's left with you will keep him with you always. Peace to you and your families in this time of challenge.
With love, Sally Good Hamilton
Dear Phil & Nancy,
We would like to send our condolences to you & your son Patrick. We are at a lost of words, may God be with you at this time.
Pat & Mike Frazier
Dear Uncle Phil, Aunt Nancy & Patrick,
I cannot even fathom how you all are managing over the last few days. I am so glad we were able to spend some time with you on Friday evening to reminisce about the great man Tom had become. He was a gentle, handsome, kind, good-humored young man, and I am so VERY proud to have been able to call him my cousin.
Christmas Eve will never be the same without him. All I know is, he and Grandma Rainey are looking down on all of us.
I miss his fantastic smile already!
Love you all,
Pamela Cook
I am a professor of sociology at Shippensburg University and Tom was a student in several of my classes. He will be remembered by all of us in the sociology/anthropology department as a kind, caring, and thoughtful person. We will miss him and I am so sorry for your great loss. –Dr. Debra Cornelius
Dear Rainey Family,
I am very sorry and broken for your loss, our loss. Tom was a tremendous young man, a joy to be around and a man who put others before himself. He was an awesome football player and I am thankful I had the opportunity to work with him throughout his high school career.
I will be praying daily for you and your family through this difficult time. I pray that God through His Son Jesus Christ would pour out His grace and mercy on you and comfort you. Trust Him.
1 Thessalonians 5:9-11 "For God has not destined us for wrath, but for obtaining salvation through our Lord Jesus Christ, who died for us, so that whether we are awake or asleep, we will live together with Him. Therefore encourage one another and build up one another, just as you also are doing."
I hope that some day you and your family can take 10 minutes and watch these 2 videos below.
http://bloodtippedears.blogspot.com/2009/01/john-macarthur-repost-what-is-heart-of.html
http://bloodtippedears.blogspot.com/2007/03/john-piper-gospel.html In
Christian Love,
Josh "Coach Ritt" Rittenhouse
Dear Nancy and Phil,
Please know that we share in your sorrow and grief. Words cannot convey the depth of our sympathy. Even though we did not know Tom, he sounds as though he created many wonderful memories for you to treasure as he carved out his life path. You will remain in our prayers.
Sincerely,
Kim and Terry Klugh
My deepest sympathy to the family – what a shock to lose a son (and brother) in the prime of his life. May precious memories of a wonderful, yet way too short, life help comfort at this tragic time. You all are in my thoughts and prayers.
Sincerely,
Dorinda Peterson – former co-worker of Nancy's
I am so sorry for your loss. Tom played football with my son Anthony Bohrn "04" at Hempfield. I know the pain you are feeling as I buried Anthony in Sept "08" after a car accident. I wish I could say it gets easier but everyday is different. Please accept my deepest heart felt sympathy at the loss of Tom and know he is watching over all of us now. If there is anything my family can do please feel free to call.
James Keenen Jr
Dear Nancy & Phil,
Your family is in our thoughts and prayers.
Mark & Marianne Sheely
Dear Phil, Nancy and Patrick,
May the strength and love of God, friends and family sustain you and carry you through this terrible sadness and emptiness when there are no words. Christ have mercy. Kyrie elaison.
Prayers,
ALta Landis
I am so sorry for the loss of your beloved Tommy, I remember all the stories you shared with me about how fun and loving he truly was. My heart aches for you, Nancy. My family is praying for you, Phil and Patrick. You are in our thoughts and prayers. Tommy will always be with you.
Sincerely,
Wendy, Cliff, Zane and Abbie Overdorf
Rainey Family,
I give my deepest condolences, to all of you I'm sure words cannot express what your going through. Just know that you are in my prayers for peace and comfort.
Kevin Edwards
To Tommy's family,
My heart is broken for you. Please know that you are in my thoughts often.
Love,
Mary Prescott (friend of John, Tommy's uncle)
Dear Rainey family,
God Bless you and God Bless Thomas.
As a fellow Ship student, I wanted to say I'm sorry.
We are taught here at Ship that we are all a big family and we will miss our brother Thomas.
-Grant Ofenloch