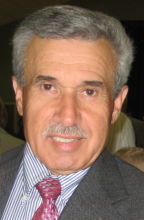 Thomas G. Georgallis, 62
Thomas G. Georgallis, 62, of Lancaster, died unexpectedly July 15, 2009. Born in Asfendiou, Kos, Greece, Thomas was the son of the late George S. and Eftihia (Thomas) Georgallis. He was married to Maria P. (Patounas) Georgallis for 36 years.
A jeweler by trade, Thomas was trained in Athens, Greece by Zolatos. He owned the former Shaffner Jewelry Store in Lancaster, and also worked at the family's business, The Village Nite Club, for 35 years. Thomas was more recently employed part-time by Manheim Auto Auction.
Thomas served in the Greek Army for two years.
A member of Annunciation Greek Orthodox Church, Thomas was also a member of the Pan Coan Society, and helped at the annual church bazaar.
Thomas was gifted with the ability to make friends wherever he went. He enjoyed walking, sports, playing soccer in his younger years, and listening to Greek music. He loved spending time with his family and friends, and was especially proud to be a "Papou" (Grandfather).
In addition to his wife, Thomas is survived by his children, Yianni T. Georgallis, husband of Gina M., and Eftihia F. Georgallis, both of Lancaster, grandson, Thomas J. Georgallis, of Lancaster, siblings, Steve G. Georgallis, husband of Maria of Lancaster, Patra G., wife of Nicholas H. Poneros of Lancaster, Elias G. Georgallis of Jacksonville, FL, Themis G. Georgallis of Lancaster, Gregory G. Georgallis, husband of Joanne of Jacksonville, FL, Maria G., wife of Donald Barron of Lancaster, and 22 nieces and nephews.
Funeral Services will be held Saturday, July 18, 2009 at 10:30 AM at Annunciation Greek Orthodox Church, 64 Hershey Ave., Lancaster, PA 17603 with Rev. Alexander Goussetis officiating. A viewing will be held at the church Friday evening from 7 until 9 PM and again Saturday morning from 9:30 until 10:30 AM. There will be a Trisagion Service Friday evening at 8 PM. Interment will be in Conestoga Memorial Park. In lieu of flowers, contributions may be made in Thomas' memory to Annunciation Greek Orthodox Church. Charles F. Snyder Jr. Funeral Home & Chapel Inc. in charge of arrangements. To send an online condolence, please visit www.snyderfuneralhome.com.
Leave a condolence on this Memorial Page
Dear Maria, Yianni, and Eftihia,
We were so saddened to hear about Tom's passing. Catherine and I just saw Tom and Eftihia a few weeks ago, and he was so excited to be a new papou. Eftihia, please know that little girls hold a special place in their father's heart and he will always be with you. Maria, my mother was deeply saddened as well, but did not want to disrupt services for Tom. Please call if there is anything we can do for you or your family, we also loved him very much, so do not hesitate to ask.
With deepest Sympathy,
Scott, Kim, Andrew, Catherine Wilson and Eleanor Patounas
I am truly devastated by the news of Tom's passing, I am going to miss my friend. My heart goes out to you.
With my deepest condolence.
Craig (Kegger) Thomas
Fame was often bestowed on great masters after their passing. So it is with Tom, a gentleman of the finest kind. Tom's greatest legacy are the wonderful memories of working with him. Our deepest regret was failure to share with him our pleasure of his company. We will all miss him. Tom was congeniality personified.
June H. a driver at MAA
Maria,
We were very saddened to read of Tom's death. He was a great man and a good friend to Jan. Our prayers are with you.
Jan and Jackie Thies (from the Cloister days)
Dear Maria, Yianni, and Eftihia,
I was saddened and shocked to hear about Tom. He was a great man and you all have always been so kind to me and my family. I have so many memories of Tom between the neighborhood and The Village. He will be greatly missed. I wish I could be there to pay my respects but I want you to know I will be thinking of you and your family.
With my deepest sympathy,
Carrie (Baldwin) Nice
Dear Maria and family,
We are deeply saddened by the passing of your dear Tom. He was a wonderful guy who we got to know thru our time spent at the Village. There haven't been many nights that we have been out partying when a "Do you remember the time at the Village when Tom….. (insert funny story)" was told among our friends.
He was just a great guy.
Our deepest sympathies to you and your family.
Sincerely,
Aron Basile and Jim Garner
Dear, Maria Yianni Eftihia, I'm so sorry and very sad to here about Tom. He was a Great man. I loved working with him when I worked with him at the Village. When ever I would see him he was always so happy and full of jokes and stories. He loved you guys and was so proud of you and his new Grandson. I'm gonna miss seeing him at his bar in the back of the Village and seeing him in town. My heart goes out to you guys. My prayers are with you.
Love, Robin (From Fiorentinos)
Maria and family,
I am so sorry to hear of your loss. My thoughts are with you.
Judy Basehore
(previous co-worker of Maria)
Dear Maria,
I am deeply saddened to hear about Tom. I will always remember him for his kind hearted friendliness. We will be forever in the hearts that he touched.
With my deepest condolence.
Kristy Pfeffer
We wish our deepest condolences to your family on the loss of your loved one. Please know your family is in our prayers and thoughts.
From the staff of LCB store 3616 (Ron, Eileen, Christina, Wes, Kevin, and Doug)
We are all saddened for your loss and send our condolences. We have fond memories of a long association with you and Tom that span decades. Our hearts are with you.
Helen Gehr, John Hook, and Jim High
Dear Maria, Yianni, and Eftihia,
I was very sorry to hear of Tom's Death. I'll always remember him as a very kind hearted and personable guy. It was always a pleasure for me to have the chance to work with him at The Village.
With Deepest Sympathy in your Loss, Peter Perrine
Dear Maria, Children and Grandchildren,
Our exchange daughter, Anastasia Karagianni, sent us an email from Germany telling us of Tom's passing. Tom must have been a wonderful father because he has two very nice children. I remember Yianni and Eftihia from MTHS where I taught. And, of course, Ana speaks well of the Georgallis family when she comes to Lancaster to visit.
Wishing the best and sincerest regards to your family,
Lois and Curtis Brown