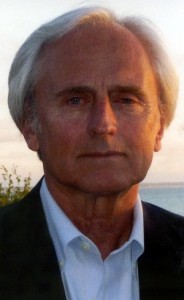 Thomas Abramczyk, 72
January 07, 2014
PLEASE NOTE: A Memorial Service will be held at 2 PM on SATURDAY, January 11, 2014 at St. Philip the Apostle Catholic Church, 2111 Millersville Pike, Lancaster, PA 17603. Family and friends will be received from 1:30-2 PM at the church.
Thomas Abramczyk, 72, of Lancaster, passed away peacefully at hospice in Mount Joy on January 7th. Born in Detroit, MI, he was the son of Helen Abramczyk and the late Andrew Abramczyk. Tom was the husband of Kathryn (Roberts) Abramczyk. They celebrated their 34th wedding anniversary on October 13th.
Surviving in addition to his wife and mother are two children: Andrew Abramczyk of New York City and Susan Pohlmeyer, wife of Stephen, of San Mateo, CA; a sister, Lillian Godlewski, wife of John, and their children and grandchildren, all of Michigan.
Tom was a loving father, husband and a great friend to many. He will truly be missed.
He was an avid hunter and fisherman, and loved the outdoors. He also enjoyed skiing, golfing and boating.
Tom graduated from Michigan State University in 1963. He worked for General Electric Co. for 35 years, starting as a field engineer and working his way up into management and executive positions. At various times in his career, he and his family lived overseas. They lived in Saudi Arabia, Singapore and Seoul, S. Korea. They travelled extensively throughout the world and shared many exciting adventures together.
A Memorial Service will be held at 2 PM on Saturday, January 11, 2014 at St. Philip the Apostle Catholic Church, 2111 Millersville Pike, Lancaster, PA 17603. Family and friends will be received from 1:30-2 PM at the church. In lieu of flowers, contributions may be made to World Vision – Reference# 105429633, PO Box 9716, Federal Way, WA 98063 or by phone: 1-(888)-511-6519.
Leave a condolence on this Memorial Page
Condolences to the Family
October 08, 2018
My dearest Kathy,
i lost touch with you and have been searching on the net, unfortunately this is how I found you. I am so very sorry to hear of Tom's passing, he was such a lovely guy. I know how you must miss him. Please Kathy, get in touch with me. We had such good times in SA in the 70s I know you have a lovely family to surround you. My email; babswhitley@hotmail.com.
Chris and I send our condolences to you and yours. Babs xx

February 10, 2016
Dear Kathryn, Susan and Andrew,
I am deeply sorry to hear about your loss. You can be consoled by the fact, he will no longer be suffering. He will forever be in your hearts and will watch over you.
I worked with Tom in Ge at the group called GETSCO. Although I worked with Tom for a short time, I have the longest and strongest memories; he will be always in my thoughts.
My thoughts and prayers to you and all his friends. He was a very kind individual and an a Wonderful Husband and Father.

Forever in my prayers,
Rae-Marie DeLella


January 19, 2014
I met Tom in the summer of 1959. It was because of Tom that I met my husband Frank. Frank and Tom met in the fourth grade at Mason Elementary school. They graduated in June 1959 from Pershing High School.We three along with some other friends worked at the Michigan State Fair At the end of our1959 summer. Frank & Tom had many fishing and hunting adventures together. The Gumbko & Abramczyk families vacationed together on Drummond Island when Tom & Frank were about 10 years old. Many good pictures of that trip. Some included camping. Many others were only day trips. A couple of times Tom let us use his 1957 Chevy to go out on a date. We had several tobogganing trips to Kensington Park with Tom & Ron Thomas. After five years of dating Frank & I married In 1964. Tom was our best man. He also caught the garder at our wedding. We saw Tom every year or time he was home. When Frank passed away in 1995 Tom called me from Korea to extend his sadness and sympathy To my children and myself. I saw Tom a few times after Frank's death. We would get together with the Dunneback's. Which is what we did when Frank was living.
I will miss not seeing Tom. He was a loving husband, and father. A dear friend. My heart is filled with sadness for Kathy and Susan and Andrew. May God keep you close by his side and bring peace and comfort. I know that Tom and Frank are on a great fishing or hunting adventure together. Two good men as friends together again. Barbara Gumbko & Family
January 18, 2014
Dear Kathryn, Susan and Andrew,
I am sorry to hear about your loss. You can be consoled by the fact, he will no longer be suffering. He has made his way to heaven and You will meet him there.

Kathy, I lost track of you and Tom when I left Saudi. We lived in the same beautiful apartment house. I Opend the GE Parts sales Business in Al Khobar and I remember you cooking your first meal for me. Great times!

I first knew met Tom in Gas Turbine in Schenectady and often rode to Detroit with him, as I made weekend trips to visit friends in Detroit and north, in Canada.
Through the years, I lost contact with you both and afte leaving GE had no way to find info. As we get older we are faced with so many losses of old friends and I was happy to know Tom and you.
May His Soul and the Souls of the Faithful Departed, rest in Peace. My Hope for you is that your grief will fade with time. May God Bless you all,

Bill Wormuth
January 18, 2014
ADÄ°EU MON AMÄ° TOM
Dear Susan, I am very sorry for the loss of your father with whom I shared so many interesting experiences; this tragic event makes me very sad. Please accept my deepest sympathy about the passing of your father Tom. He was a very good friend of mine and I will always remember the good time we spent together in Turkey and also in the US. He was a friendly person and I enjoyed the time doing business together; I learned a lot from him. His memory will always be with me. Sincerely yours. Dr. Hayri KILIÇ
January 16, 2014
AFTER HEARING THE SAD NEWS OF TOMS PASSING, I HAD TO STOP AND REMEMBER BACK GROWING UP ON GALLAGHER. ALL US KIDS AND HAPPIER TIMES.BIRTHDAY PARTYS,ICE SCATEING,CAMPING(BOB D) IN PJS,RON THOMAS,TOM DOING ALL THE DRIVING AND MYSELF IN THE BACK WINDOWSHELF WHAT A CREW UP TO THE MACKINAC BRIDGE,AND LATER A COULPLE FRAT PARTIES AT MSU AND 15CENT BURGERS AT MICKIE DS THANK YOU TOM FOR THE MEMORIES, YOU WILL BE MISSED ON BEHALF OF RON&BOB THOMAS,JOHN McGUIRE,BOB DUNNEBACK,TERRY ROGSTAD RIP TERRY&LINDA ROGSTAD, STUART FLORIDA RAGMAN 05@comcast.net
January 13, 2014
Dear Kathryn, Susan and Andrew,
Please accept my deepest sympathies and condolences on the passing of your husband and father. Although I did not know Tom well, I know he was a great role model for Susan and Andrew. Whenever I encountered him I found him to be a gentle, thoughtful, caring, interested father and husband. I am sorry for your loss.
Coach Bill Bowers
January 13, 2014

January 13th, 2014

My deep condolences to Abramczyk family! Indeed Tom will be missed.
I met Tom at Nortek where he was my boss. What a wonderful boss! That was more than 20 years ago. At that time, the economy wasn't very good, and I had been laid off from Honeywell Bull in MA, and I applied for a job at Nortek in RI as an international assistant. Tom offered me the job, and I moved to RI from MA.

Twenty plus years have gone by, but I have not forgotten the stories he told me. When I started at Nortek, he often talked about his family to me; wife and 2 young children, kindergarten age, just moved back from Singapore, living in Singapore. I also knew how he met his wife… at a ski resort. He joked that if I wanted to meet someone decent, a ski place is a good place to meet guys (I was single then.) He told me he had to bring the family back to the US for schooling, and he quit his GE executive position. I could tell back then that he loved his family dearly. He also admired his wife's ability to manage the household financial matters. One morning he came to my desk and we were chatting…he said "my wife is the kind of person if I give her a dollar, she can bring home 1.25". That was imprinted in my head. I told myself I wanted to be that type of wife.

As time went on he told me more and more stories. I particularly was interested in how he invested in real estate. He told me about how he purchased his first house. It was a duplex. He rented one side and he lived in the other side. The guy next door was paying half his mortgage and he paid the other half…not long after that he realized he didn't have to pay his share of the mortgage anymore. The rent from next door was enough to cover the whole mortgage. He said to me he had been living in a free house. He encouraged me to do the same when the opportunity came. Then not long after that he purchased a building with a few units in it. He became a real landlord. Furthermore, he purchased a summer home on the Cape. I always remember those stories he told me. However, something I didn't tell him was that I found his stories were more interesting than the Taiwan Company he was trying to connect with, hoping to establish a business relationship. In the end, No Deal! Nortek wasn't ready to go international especially doing business on the other side of planet!

Tom left Nortek and moved to the PA area. Later, I moved back to MA. The most unfortunate part was that I never did make it to see him on the Cape, and I said I would visit him there. He was brilliant! I have a lot of good memories. He was also a very relaxed boss unlike other stiff looking and typical executives.

Although I worked with Tom for a short time, I have the longest and strongest memories; he will be always in my thoughts.

God Bless!
Vera Lee-Chin
Sudbury, Massachusetts

January 13, 2014
It is with a very heavy heart that I write the tribute to a man who it has been my proud privilege to know as a friend and a work colleague.
I first met Tom in Bahrain in 1979 at a Christmas Party organised by the General Manager of GE Power Generation Operation for Middle East Africa and the Far East. I had only joined GE about two weeks before, being based in Bahrain as Employee Relations Manager for the Division. Tom was Managing Director of GE Service Operation in Dammam Saudi Arabia we both hit it off very well from that very first meeting.
He was the finest person in my entire working career that I have ever worked with. We went on a number of recruiting trips to India, as well as business visits to London and the US. He was always great company, but remained focused when it came to the business side of our visits, but also had a great sense of humour.
Whatever the nationality and the individual's status, Tom always treated whoever it was with respect and honesty. I always enjoyed working with Tom, he was a brilliant Managing Director, his foresight ,leadership and attention to detail in all aspects of the business was outstanding. I learnt a lot from him
When he left the Middle East it was a sad day for us all, but fortunately we always kept in touch, with phone calls and emails talking about current issues but also reminiscing on past events and experiences
The last time we met up was in Cape Cod where Sue and I were made so welcome. I had deliberately not told either Tom or Kathy that it was my 70th birthday as I did not want any special arrangements. Unknown to both of us our daughter Louise had been in constant contact with Tom and Kathy to arrange a surprise dinner, to which our daughter and son Stuart would be waiting in the Restaurant.
Not only did we have a great evening, but a wonderful weekend thanks to all the planning that was put into our visit and Louise and Stuart were also made so welcome the following day.
Never in a million years did we think that would be the last time we would see Tom.
I feel very honoured to have known such a fine and sincere person. He will always remain in my thoughts and memories.
Please accept our deepest sympathy , good bye dear friend..till we meet again
Bill and Sue Barnes Godalming Surrey UK
January 13, 2014
Condolences to the Abramczyk family with your loss of Tom. Tom and I became associated in the early 1970's while at GE in Schenectady. We had friends with common interests and some of us liked sporty Chevy Corvettes. Great memories of gatherings with customers and other GE business associates over the years in the Schenectady area and overseas.
Tom was a kind and thoughtful person and will be remembered by many of his friends around the globe. My thoughts and prayers to Kathy, Andrew and Susan….. RIP Tom
Chuck Sherman
Biddeford, Maine

January 12, 2014
Tom and I worked together at GE over 30 years ago. As in most cases our paths seperated and we both went on to different things. I never forgot Tom and about 3 or 4 months ago I found an old phone number and called him. I was so pleased when he answered the call. We spent some time getting back to the old days again. During the call I sensed that Tom was having some health issues but never thought they were that serious. Tom was someone who preferred to learn more about you than to express his own problems. That was one of the qualities that endeared me to him.
It's not often that you meet someone in life who leaves such a positive impression on you. I asked him to try and make one of our monthly luncheons in Schenectady when he could and he promised to do so. I so looked forward to seeing him again.
Shame on me for losing track of him and not trying to continue our old friendship. I will remember him always and try to live up to the example that was his life.
Patti and I send our sincere condolences to Kathy and his family.
Best Regards and Prayers
Dick Valentine
January 12, 2014
On behalf of Tom's Pershing High School graduating class of June 1959, I wish to express our sincere condolences to Tom's family. It was so very nice to have seen Tom at our 50th class reunion in 2009. I will post the sad news of his passing on our class website. May he rest in peace and God bless his family in their time of sorrow. Josie Varcie-Figurski
January 11, 2014
My condolences to Tom's family. My brother, Ron Thomas, and my cousin, Terry Rogstad, were childhood friends of Tom. The Abramczyk's were like family to us. I have many memories of Tom coming to our house to visit after he left the old neighborhood. Peace, prayers, & blessing to all who loved him. RIP Tom.
Pam Thomas Algonac, MI
January 11, 2014
Tom was a great person, he was a true human being who was brought to this world for helping people in any possible way he can. I met him in St Paul working for him, and he helped me so much professionally and personally in tough times. It was always very relaxing and guiding to even just to speak to him. We traveled together for work extensively, and he had a way to make things more effective for everyone around him. We continued our friendship after we both left the work environment and even though I haven't met his family personally I always felt like I knew them as Tom was so close to his family and he reflected them around him whereever he was. I offer my sincere condolonces to his family, his wife and his kids and others and I want to say that it was an honor to know him.

Ahmet E Akal
January 11, 2014
I have known Tom since 1968 when I first met him in Rome. We also worked together in Saudi Arabia, where our relationship grew professionally and socially.
My wife and I knew Tom and Kathy as "The Newlyweds" in our compound. As anyone knows living overseas forges close communities; Tom sponsored our son Michael's T-Ball team and Kathy thought Melissa swimming. Working for GE you never say goodbye to people because you know you will see them again somewhere in the world. We happened to be in Boston after Andrew was born, and after visiting Kathy, we went out to dinner with Tom. We can certainly report how Proud and Excited he was about their son Andrew. We kept in touch throughout the years and are truly saddened to hear about his passing. Kathy, Andrew and Susan, we want to express our deepest sympathy for the loss of a great friend and collegue. Tom, you will be missed and thanks for your leadership and support given me during my GE carrer…. Rest in Peace
Michael and Kathy Frontino
January 11, 2014
Kathy & family :
It was with much sadness to learn of Tom's passing and my deep condolences go out to the family . Tom was an assosiate of mine at General Electric Co. for years and we shared many great times both professionally and socially . I always considered Tom as a class act throughout his life . Tomy may you rest in peace and certally have the perpectual light shine upon you

PATRICK A AHEARN , Sr..
Fort Myers , Fl.
January 10, 2014
To the family of Tom Abramczyk,
I share your sorrow in the passing of your husband and father; he was certainly the defintion of a good man. He was my friend for many years. He will be missed by all who knew him.
Remember the good times which you all shared.
Roger Kieffer
January 10, 2014
Those we love don't go away,
They walk beside us every day,
Unseen, unheard, but always near,
Still loved, still missed and very dear.
Pieter & Inge
January 10, 2014
Tom and I began our friendship as fraternity brothers at Michigan State University in 1959. Over the next fifty-four years that relationship grew into an even deeper bond of brothers.
Those college years were filled with adventure, traveling from East Lansing to my hometown in Northern Michigan and to Detroit to go to the horse track with Uncle Harry and to go downtown to buy armloads of our favorite 50 cent hotdogs on the street. A highlight of those adventures was the year that we and our friends piled into Tom's dad's candy-apple red 1958 Chevy Impala (which Tom bought from his dad and later sold to me – we were both always car guys!) and headed to Fort Lauderdale for spring break. We each had just enough money to pay for gas, refreshments, a modest shared room, refreshments and food (if any money was left). We made it back for classes. As college guys do, we formed our own vocabulary and always called each other "Bud" – a habit that has always continued.
After college, Tom headed east to begin his career with General Electric and I stayed in East Lansing, working for IBM, before later moving to the west coast. We made a pact that if our travels brought us within 200 miles of each other we would meet and continue our adventures. That deal brought us together in many places like Schenectady, Manhattan, San Francisco and Montreal. As time went by, mainly due to Tom's extensive international travel and my west coast base, we had to widen that 200 mile circle so we met in locations such as London, San Francisco, Lake Tahoe, Seoul and then, Lancaster and the Cape.
Those early Lancaster years saw me visiting several times to assist in helping young Andrew and Susan into the computer age and encouraging Tom into buying his first cordless phone at home (electronics didn't hold much of Tom's interest, he was more of a turbines guy…but he eventually tiptoed into the email world).
We always stayed in close communication over the years – lots of phone calls and emails crisscrossing the globe – and had great family times skiing at Lake Tahoe, having a U.S. Thanksgiving dinner in Seoul, boating on the Cape, Susan and Stephen's wedding, on and on. Family and friends have always been the absolute center of Tom's life and every communication was highlighted by the latest activities of Kathy, his folks and Lily in Detroit and of his shining stars, Andrew and Susan – Andrew's hockey games, Susan's track meets, huge academic successes by Andrew at Michigan State and Johns Hopkins and by Susan at Dartmouth and Stanford…and both of their "takeovers" of Wall Street!
The past two difficult years have been Tom to the core – analyze his health situation, pick the best next step and move ahead. Don't fret about what-ifs and stay centered on the next hunting trip with Andrew, Susan's next visit and church on Sunday with Kathy.
I miss you, Bud, and I will meet up with you again down the road.
Paul Neumann
January 10, 2014
Dear Kathryn, Susan & Andrew ~ Our thoughts and prayers are with you.
THE TIDEThe tide recedes, but leaves behind bright seashells on the sand.The sun goes down, but gentle warmthstill lingers on the land.The music stops, yet echoes onin sweet, soulful refrains.For every joy that passes,something beautiful remains.
Author: Unknown
Visitation

Saturday, January 11, 2014
1:30 PM - 2:00 PM
St. Philip the Apostle Catholic Church
2111 Millersville Pike
Lancaster, PA 17602

Map and Directions

Services

Saturday, January 11, 2014
2:00 PM
St. Philip the Apostle Catholic Church
2111 Millersville Pike
Lancaster, PA 17603

Map and Directions