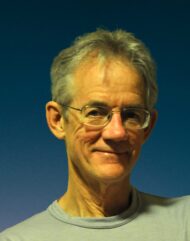 Thomas A. Anderson, 70
July 25, 2022
Thomas A. (Tom) Anderson, 70, of Lancaster PA, passed away peacefully on July 25, surrounded by family. Born in South Bend, IN, he was the son of the late James and Lois Anderson. Tom served in the Army during the Vietnam War, and later in the National Guard. He earned a degree in Elementary Education from Millersville State College, and after working as a teacher, was artist-owner of Anderson House Portraits. He was a long-standing employee at Menasha Corporation, working as a die cut machinist until his passing.
Tom loved and lived his Catholic faith. He was a member of St. Mary's Church and former member of St. Joseph Church, and was active in choir, prayer groups, and prison ministry. He enjoyed running, swimming, playing the guitar, completing NY Times crossword puzzles, traveling, and a good game of Scrabble. Tom is survived by his dear wife, Bernadette, sons Charlie and Dan and their families, and six siblings.
A Mass of Christian Burial will be held at St. Mary's Historic Catholic Church, 119 S. Prince St. Lancaster, PA at 11 AM on Saturday, August 6. There will be visitation from 10 to 11AM at the church.
In lieu of flowers, the family requests that donations be made to the St. Vincent DePaul Society of St. Mary's Church, at the above address, or to the Archdiocese for the Military Services, USA at P.O. Box 96168, Washington, DC 20077-7168.
Leave a condolence on this Memorial Page
Condolences to the Family
August 06, 2022
I met Tom when he arrived at my Army unit in Italy in 1974. We quickly hooked up and did many things together, including riding my motorcycle through the Italian countryside. He was a good writer, and he would write about some of our exploits in the local Army newspaper. He was also a very good photographer, and took excellent pictures of children.
I kept up with Tom to some extent after the Army experience, which ended in 1975. It was sporadic, as he lived in Pennsylvania, and I lived in Oregon. However, I always enjoyed the few chances we had to hook up again. I will miss him, his laid-back personality, his love for God, and his artwork.
Good bye, Tom
August 05, 2022
Tom was a great person and a very valued member of our team here at Menasha packaging! We will all miss him! Thoughts and prayers for his family and friends. I pray everyone can take time while grieving to celebrate his life and the time we had with him.
August 04, 2022
Tom was a great friend. I knew him from 1974/75.
But to get to one particular incident that showed his gift with children. I was newly married with 3 step daughters. The oldest who just turned 12 was having difficulties adjusting to me as a Step father. She gave me my Nick name of "Mean and Ugly."
One summer weekend Tom invited us down to Delaware to spend a couple days with him, Charlie and Danny; who were close in age to my Step Daughters. At one point Tom talked with the oldest who was not happy with me. He told her that no matter what she thought of me. He knew me and that I was very concerned for her wellbeing. The next day I saw her jumping over the fence with Charlie and Danny, laughing and smiling. The first time I saw her do that since becoming her Stepfather a couple months earlier.
Thanks Tom.
Your friend, Rick.

August 03, 2022
with my deepest sympathy and prayerful support. Tom often spoke so lovingly of Bernadette, Charles, Dan and his syblings. you are all in my love and prayers.
Jim Behan o.s.f.s.
August 01, 2022
Dear Bernie,
I am so sad to hear of Tom's passing. He was such a gentle soul and so very talented. Please know you are in my thoughts and prayers. God bless you and the family.
Christine Anderson- Spiess
August 01, 2022
Even though I only knew Tom for a short time. We had many wonderful conversations of Love for God and Our Blessed Mother. I will miss not seeing him in church. May he rest in peace.
Maria Mandras
July 31, 2022
He was a very sweet man. I'm so sorry to hear of his passing. My condolences to his family and friends. Joanne D Strandberg
July 29, 2022
Sharon Trani was kind enough to bring the news of Tom's passing to Theresa, who let us know. We have been blessed to get to know Tom and Bernadette and spend time with them over the years, sharing his music with us and teaching some of our children art. We were sorry to hear of your loss, Bernadette and family! He was a very kind and gentle man and we will keep all of you in our prayers.
July 29, 2022
I am happy to have known Tom for so many years. He was a good man in so many ways. He will be missed. Prayers to Bernadette, Tom's sons and his extended family.
Steven DiGuiseppe
Services

Saturday, August 06, 2022
St. Mary's Historic Catholic Church
119 S Prince St
Lancaster, PA 17603

Map and Directions