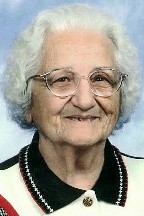 Theresa Zangari Terriman
March 31, 2013
Theresa Zangari Terriman, 102, passed away on Sunday, March 31, 2013 at Moravian Manor in Lititz.
She was the wife of the late G. Anthony Terriman, who passed away in 1995. Born in Lancaster, she was the daughter of the late Domenico and Mary Cassido Zangari.
Theresa had been a homemaker and a hairdresser
She was a member of St. James Catholic Church and formerly a member of St. John Neumann Catholic Church and St. Anne's Catholic Church, where she was a Girl Scout leader and helped with fundraising. She had also been an original member of the Dominican Sisters of the Perpetual Rosary.
Theresa is survived by her children: Beverly A. married to Kenneth J. Stauffer, Gary A. married to June Terriman, and Sandra Terriman Buckwalter, all of Lititz; 8 grandchildren and 6 great grandchildren. She is also survived by her siblings: Dominic Zangari of Satellite Beach, FL, Benedict N. Zangari and John married to Eileen Zangari both of Lancaster,  Louis J. married to Jacqueline Zangari of Bausman, and Gerald Zangari, Ronald married to Marlene Zangari and Marie Zangari, all of Lancaster. She was preceded in death by her brothers, Reverend Salvatore Zangari, Anthony Zangari, and Francis Zangari and by her sisters Mary A. Fetterhoff, Lucy VanBuskirk, Mary Angela Zangari and Marianne Zangari.
Friends will be received on Friday, April 5, 2013 from 9:30-10:30AM at St. James Catholic Church, 505 Woodcrest Ave, Lititz, PA, with the Mass of Christian Burial to follow at 10:30AM with the the Rev. James O'Blaney as Celebrant. Interment in St. Joseph New Catholic Cemetery. In lieu of flowers, please make contributions in Theresa's memory to the Moravian Manor Benevolent Care Fund, 300 W. Lemon St., Lititz, PA 17543.
Leave a condolence on this Memorial Page
Theresa was very special to me as we spent alot of time together in activities here at the Manor. I loved her spunk! She liked me to keep her busy and I enjoyed keeping her busy! I have lots of memories of her as we all do. I want to send my deepest sympathy to everyone…her very loving family as I will also miss seeing all of you and your visits to the Manor. I am so sorry that I won't be able to attend her service on Friday as I will be at an all day seminar but do know that my sympathy, thoughts, prayers and love are with all of you! Sharon Krushinski
Our deepest sympathy to your family. You are in our thoughts and prayers.
Melanie Mills & Family
To Sandy, Bev, Gary and the family,
Tom and I wish to extend our deepest sympathy as you go through this difficult time. It is never easy to lose a parent no matter how old we are. We will remember your mom from all the happy times at your home celebrating First Communions, graduations etc. She was a delight to know.
Love,
Tom and Joan