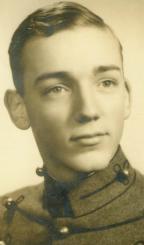 Theodore M. Warner, 82
Ted Warner, 82, of Lancaster, died Sept. 22, 2011 at the Mennonite Home, surrounded by family and close friends. Son of the late Theodore M., Sr. and Anne Risser Warner, he was born and lived his early years in Cleveland, OH.
His survivors include son Scott M. Warner (Denise); step-children, Casey Peters and Mandy Kaufman (Mark); step-grandson Oliver Kaufman; brother John Warner (JoAnn); daughter-in-law Deborah Warner; and his first wife, Mary Burgess, to whom he was married for 25 years. Ted's eldest son, Thomas M. Warner, died in 1996.
Ted graduated from Penn Military School, Chester, Pa., in 1947 and immediately joined the U. S. Army. In Seoul, Korea, just before the armed conflict erupted in 1949, he served as a disc jockey and radio announcer who read the "Stars and Stripes" on air to U. S. Forces stationed in Korea and Japan.
He worked for WGAL Radio as an announcer, then salesman from 1949 to 1953. Ted worked as a salesman or manager for Hager Bros. Dept. Store, Gulistan Carpets, Millersville University, University of Maryland, and Wilton Armetale. In semi-retirement, he worked for Commonwealth Security, Four Seasons Fireplace Co., and Wheatland Credit Union.
Besides family, Ted's main interests focused on sports. In his 20's he helped to coach Manor Ridge Little League baseball and became a member of the Officials Club, officiating at track and swim meets. Later he helped coach Lancaster's first ice hockey team for boys, of which son Scott played goalie for seven years. In later years he followed the Eagles and Flyers.
His interest in gardening led to helping neighbors start gardens at their homes. He helped maintain the grounds of his church, Crossings Community Church, in Columbia. The family wishes to thank his "guardian angel" Dale Rohrer who was especially kind and helpful during Ted's four-month illness.
A Memorial Service will be held 10 AM Thursday, Sept. 29th at the Charles F. Snyder Funeral Home & Crematory, 414 E. King St., Lancaster, PA, with Pastor Bill Hiestand officiating. Friends can visit the family on Thursday from 9-10 Am at the funeral home. In lieu of flowers, memorial contributions may be sent to Crossings Community Church, PO Box 6, Columbia, Pa. 17512. To send an online condolence or for more information please visit SnyderFuneralHome.com. Charles F. Snyder Funeral Home & Crematory 717-393-9661
Leave a condolence on this Memorial Page
My thoughts and prayers are with the family. I worked with Ted at Wilton Armetale. He was a gentleman and helped people in many ways. He will be missed.
Christine Kiehl
Ted was married to my grandmother. He was a quiet man that watched TV in his bedroom, but he always let me sit with him and watch. He sent me money for my graduation. He was a very kind man and I have fond memories hanging out with him as a child.
My thoughts and prayers are with your family.