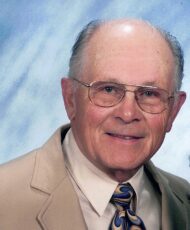 Theodore F. McCoy, 87
July 08, 2022
Theodore F. "Ted" McCoy, 87, of Lititz, entered into glory in the comfort of his home on Friday, July 8, 2022. He was the loving husband of Thelma (Landis) McCoy. They would have celebrated 61 years of marriage this year on July 15th. Born in Manheim and raised in the Lititz/Brunnerville area, he was the son of the late Titus W. and Laura B. (Miller) McCoy.
Ted was a faithful member of Calvary Church in Lancaster and volunteered with Transport for Christ. From 1955 to 1957 Ted served in the US Army as a Turret Mechanic in a Tank Battalion. He worked for Armstrong as a Machinist for 37 years until retirement and then at Manheim Auto Auction for 12 years. He also enjoyed wood working, camping with his family and traveling with his wife. Ted's greatest desire was for all he knew and met to know Jesus Christ as their Lord and Savior.
In addition to his wife, Thelma, Ted is survived by his sons, Thomas N. McCoy (wife, Lisa), Terry E. McCoy (wife Kristine); his grandchildren Madison, Brett, Noah (wife, Melissa), Nathan and Mark; his brother Darvin McCoy (wife, Judy Drager McCoy); sister Dawn Spang; and brother-in-law Marlin Longenecker; as well a large extended family. In addition to his parents, he was preceded in death by his sister, Marian Longenecker and brother-in-law Richard Spang.
A Memorial Service will be held at Calvary Church 1051 Landis Valley Road, Lancaster, PA 17601 on Thursday, July 14, 2022 at 2:00 PM. Following the service those in attendance are invited for a visitation and reception at the church. Interment will be private and at the convenience of the family. In lieu of flowers, donations can be made to Calvary Church Missions at www.calvarychurch.org or to the address above.
Watch the tribute video
Leave a condolence on this Memorial Page
Condolences to the Family
July 13, 2022
Thelma
Dear Thelma I was so sorry to hear about Ted's passing. My thoughts and prayers are with you all. I await the opportunity to give you a big hug when I get back from vacation.
Lynne and Doug Morris
July 13, 2022
My deepest sympathy to Thelma and all of the family….A lot of memories as a cousin of Ted's growing up in Brunnerville….Always enjoyed conversing with Ted over the years and sharing family experiences as well as when in the Boy Scouts, Warwick Twp HS band, military and numerous others.. Peace and blessings to all of the family !
Bill McCoy
July 12, 2022
Thelma,It was a pleasure knowing Ted the short time that we did. Our family sends our sincere condolences and pray that God sends his peace that passes all understanding.
The Greening Family
July 12, 2022
Thelma,
So sorry to hear about Ted's passing. Praying for comforting memories and peace from God.
With Love,
Anna Fillgrove
Calvary Church Nursery
July 11, 2022
Thelma, I'm so sorry to hear of Ted's passing. I know he had an amazing journey but am praying you know God's comfort and peace as you walk into this new chapter of your life. We love you!
Services

Thursday, July 14, 2022
2:00 PM
Calvary Church
1051 Landis Valley Road
Lancaster, PA 17601

Map and Directions