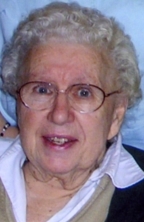 Thelma Mae Weaver
Thelma Mae (Kreider) Weaver passed peacefully into Heaven Monday, May 23, 2011.
For 63 years she was the loving wife of John Edward Weaver. Born in Conestoga, she was the daughter of Margaret Foutz and granddaughter of Phares and Mary (Warfel) Foutz.
Mom most enjoyed spending time with family and friends, doing crossword puzzles, and listening to music of the Big Band era. She had a beautiful smile and a love for all who knew her.
A member of St. Anthony of Padua Church for the past 35 years, she had been active in the Senior Citizen Group and Bereavement Committee. As a stay-at-home Mom she was able to serve as Cub Scout leader, Girl Scout leader, PTO member, family chauffer and faithfully attended every school and athletic event.
She will be deeply missed by her five children: John E. Weaver Jr., husband of Esther Chang, Glendale, AZ; Brenda Weaver, Lancaster; Patrick Weaver, husband of Nanette (Kulp), Lancaster; Pamela, wife of James Henderson, Vernon, NY; and Ronald Weaver, husband of Kathe (Sherts), Lititz.
A special joy to her was her grandchildren: Janine, Sharon, Philip, Samantha, Ronnie and Robbie. She would especially light up when her younger grandchildren Maddie and Melissa, and her great-grandchildren Amanda and Micah came to visit.
The family greatly appreciates the loving care Thelma received during her stay at Lancashire Hall.
Friends will be received on Friday, May 27, 2011 from 6-8PM, with the recitation of the Holy Rosary at 730PM, at the Charles F. Snyder Funeral Home & Crematory, 414 E. King St., Lancaster, PA. Friends may call again at the funeral home on Saturday, May 28, 2011 from 9-10AM, with the Mass of Christian Burial to follow at 1030AM at St. Anthony of Padua Catholic Church, 501 E. Orange St., Lancaster, PA 17602, the Rev. Daniel Mitzel as Celebrant. Interment in St. Mary's Catholic Cemetery. In lieu of flowers, contributions can be made to Hospice of Lancaster County: 685 Good Drive Lancaster 17604-4125 or St. Anthony of Padua Church at the above address. To send an online condolence, please visit SnyderFuneralHome.com. Charles F. Snyder Funeral Home & Crematory 393-9661
Leave a condolence on this Memorial Page
Pam and Family,
Our thoughts and prayers are with you at this most difficult time–as you mourn the loss of your Mom–may you find comfort in the many special memories you have of her!!
Sara and Dick Pepe
My condolences to the Weaver family. Sorry for your loss.
Sincerely,
Tony and Angie Santos
Dear Pam and Jim,
So sorry about the loss of your mother. She sounds like a wonderful person…and I guess she really would have loved our Chorale concert. Thinking of you.
Pat Albaugh
To the Weaver Family:
My personal sympathy to all of you in the loss of wife, mother, and grandmother. Remember well when the Weaver family lived on E. New St. here in the city and not far away from my residence. Ron and my son went to school together. Remember Ed when I worked in the Parish Office at St. Anne Church.
May she Rest In Peace.
former neighbor and friend
Rita R. Boyer
Pam,
My sincere sympathy to you and your family. I know how much your mother meant to you and how difficult this time must be for everyone.
My thoughts and prayers are with you all.
Please let me know if there's anything I can do for you while you are away.
Carol Eaton
Ron,
My prayers are with you and your family. Sorry for your loss.
Linda Hume
Pam Henderson and The Weaver Family,
My thoughts and prayers are with you and I am sorry for the loss of your mother. Being with family and keeping your mother and grandmother in your hearts will help you through the rough times. God Bless Her, She is with Her Lord.
Elaine Anderson Kump