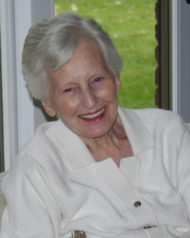 Thelma Jane Taft, 84
March 17, 1936 - December 17, 2020
Thelma Jane Taft, 84, of Calvary Homes, Lancaster, entered into the arms of her Savior on Thursday, December 17, 2020.
Formerly of Leola, Jane was born in Manheim to the late Peter and Hazel Martin on March 17, 1936. She was the loving wife of the late Charles E. Taft.
Jane was a loving wife, mother, grandmother, great-grandmother and homemaker. She loved reading, particularly the Bible, writing and sending letters to family and friends, and spending time with her children, grandchildren and great-grandchildren.
For the past 6 years she lived at Calvary Homes where she really enjoyed the companionship of the other residents and the kind loving care of the staff.
Jane is survived by her four children: Debra T. Stanton, wife of Myron of Ephrata, Charles E. Taft, Jr., husband of Carol of Lititz, Gary M. Taft of West Hempfield Township, and Jeffrey Taft, husband of Jennie of Ephrata. Jane is also survived by 9 grandchildren and 16 great-grandchildren. She was preceded in death by a grandson, Jason D. Taft.
Private interment will take place at Salem Evangelical Reformed Church, Hellers Cemetery, Lancaster, PA. Please omit flowers.
Leave a condolence on this Memorial Page
Condolences to the Family
December 28, 2020
To Debbie and family
lt is with sadness that we learned of Jane's passing. To Debbie and family,
it is with sadness that we learned of your Mothers passing. We have fond memories of Jane and Charlie being our longtime neighbors.
Our condolences,
Bill & Connie Boles
December 24, 2020
To Debbie and family,
I was so sorry to hear of your mother's passing. You probably couldn't be with her because of the COVID-19 restrictions, but I'm sure she felt your presence and your love nevertheless.
And I'm so glad that we all got to visit with her and you and your husband at our last picnic. It's good to have good memories.
Your cousin, Nancy and Jack Eitnier
December 20, 2020
Jane was a roommate of my mother, Jean Alexander, at Calvary a couple of times. My condolences to the family.
Linda Alexander
December 20, 2020
Dear family, I enjoyed the many times I had with your mom at Calvary Homes – she was so loving and kind and gave the greatest hugs! Every time I passed her, no matter where we were, she would give me the most beautiful smile and raise her arms and I would dash right to her and get the biggest, strongest hug that would last for a good while! She remembered my husband, Doug, who had lived next door and often asked about him as she tried so hard to bring up specific memories. I loved her so much. I had the pleasure of meeting probably the whole family and saw such love coming from you all. She was a very special person and will be missed by so many. Thank you for loving her and taking such good care of her. Donna Barnes