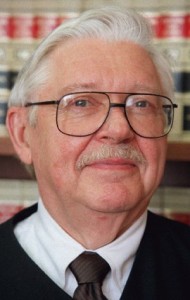 The Honorable Paul K. Allison, 79
January 19, 2016
The Honorable Paul K. Allison, 79, retired Lancaster County Judge passed away Tuesday, January 19, 2016 at his home. He was the husband of Evelyn (Olson) Allison to whom he was married for 55 years.
Born in North Adams, MA he was a son of the late William McMaster and Jane (Streeter) Allison.
Judge Allison was a 1958 graduate of Williams College and a 1961 graduate from the University of Pennsylvania Law School. He had practiced law for 30 years prior to his tenure as a judge with Lancaster County Court of Common Pleas for 16 years. He was also the solicitor in Elizabethtown and former board president of the Hempfield School District.
Judge Allison and his wife Evelyn enjoyed traveling to Scotland, Oxford and Cambridge, England, Egypt, Florence, Italy, and Russia. He loved Christmas, jazz and big band music. He was a beloved husband, father, grandfather and great-grandfather.
Judge Allison was a member of Westminster Presbyterian Church where he served as an elder and clerk of the session. He also enjoyed gardening, painting, swimming, reading and was a history buff, loved to shop, watch PBS and British comedies and read biographies. Judge Allison was a Boston Red Sox fan and an avid car enthusiast. Judge Allison will be remembered for his strong work ethic, his keen sense of the law, and his generosity towards everyone.
In addition to his wife Evelyn, he is survived by his children Victoria wife of J. Mark Myer of Millersville, PA, Bill Allison husband of Dzeilana of Washington, D.C. and Paul Allison of Lancaster, PA; three grandchildren Heather Myer wife of Myles Magbitang, Nathan Myer husband of Hannah and Ismail Allison; two great-grandchildren Sebastian Magbitang and Eloise Rosalie Magbitang; one sister Kay Allison of Windsor, CT. Judge Allison was preceded in death by his brother Dr. William Allison.
Memorial services will be held on Saturday, January 30, 2016 at 11AM at Westminster Presbyterian Church, 2151 Oregon Pike, Lancaster, PA 17601 with Dr. Michael Rogers officiating. Interment will be held at the convenience of the family. A visitation will be held Friday evening from 6-8pm at the Church and also from 10-11AM on Saturday at the Church.
Please omit flowers and consider a contribution to Westminster Presbyterian Church Radio Ministry at the above listed address in Judge Allison's memory.
Leave a condolence on this Memorial Page
Condolences to the Family
January 28, 2016
I had the pleasure of meeting Paul when he had his law office. I was only 19 and very intimidated when I had to deliver papers to Paul from my employer. Paul was so kind-greeting me with a smile and always remembering my name. I will always remember this. I'm happy Paul had a wonderful family and a wonderful life! Jody Kunzler
January 27, 2016
To Evelyn and family: I had the privilege of learning under and practicing law with Paul. He was a truly great person. Great intellect, a passion for law, and a caring and compassionate person. He fully embraced integrity and professionalism at a time when these important values were under siege. He also understood the importance of collegiality and having fun at work. We truly had many fun times together–serving clients and also just having fun as a group of people who worked together every day and cared about each other.
I could tell many stories, but won't.
I should mention the ever present smile and twinkle in his eye.
Of course, he had a distinguished career as a judge after leaving law practice, but my time with Paul preceded that time.
The World would be an extrordinary place if everyone were 50 percent of my friend Paul!
–Clarence Kegel
January 27, 2016
Dear Evelyn and family,
I was so very saddened to read about Paul in the paper.
Although I have not seen both of you for many years, the memories are very strong. David and I came to Lancaster in 1977 for his first job out of law school with Allison and Pyfer. Paul taught him so much and he enjoyed his quick wit and gentle spirit. You both were so gracious and made us feel so welcome as newly weds in a new city.
in 1991 David enjoyed helping Paul with his campaign for Lancaster County Judge and was delighted when he was elected. He knew that Paul would be a honorable and fair judge, which he was.
It seems like yesterday when the children were all young and you hosted firm pool parties at your house. I looked forward to our Christmastime gathering. Paul always had a special twinkle in his eyes.
Please know that Samantha, Richard and I send our heartfelt condolences and pray that your hearts will be filled with warm memories of a special man.
Sincerely,
Kim Kluxen Meredith
January 27, 2016
Vicky, we haven't been in touch for many many years. I am very sorry the loss of your Father. May Good memories and family help you through these times
DEE (HENRY) KLINE – FROM HEMPFIELD HIGH SCHOOL
January 26, 2016
Dear Mrs. Allison & family,
I had the pleasure of working with and for Judge Allison when I worked in the Prothonotary Office. He was always fair and worked
well with everyone. May happy memories and your faith get you through difficult times.
Dottie Holt
January 25, 2016
Dear Evelyn and family:
I knew Paul prior to his election to the Bench, and always liked his easy manner and sense of humor, and of course, his high regard for the law and its administration. I know how hard he struggled to get to Church after his stroke, and i will miss seeing him in the balcony when Evelyn directed the Junior Choir. Doris and I extend our sincere prayers and sympathy to you at his passing.
Rick and Doris Dieterle
January 24, 2016
Dear Paul,
Sorry for your loss. Your dad was a pretty cool guy.
Regards,
James Kraybill

January 24, 2016
Dear Evelyn and Family, I just saw Paul's obituary and want to send my deep sympathy in the loss of your loved one. May your strength, and the help of our dear Lord, comfort you through the days ahead. With sympathy and love, Pat Benjamin.
Visitation

Friday, January 29, 2016
6:00 PM - 8:00 PM
Westminster Presbyterian Church
2151 Oregon Pike
Lancaster, PA

Map and Directions

Visitation

Saturday, January 30, 2016
10:00 AM - 11:00 AM
Westminster Presbyterian Church
2151 Oregon Pike
Lancaster, PA

Map and Directions

Services

Saturday, January 30, 2016
11:00 AM
Westminster Presbyterian Church
2151 Oregon Pike
Lancaster, PA

Map and Directions