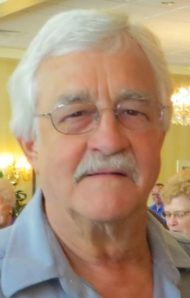 Terrance L. "Terry" Garrett, 67
October 28, 2016
"There are places I'll remember all my life though some have changed.
Some forever not for better, some have gone and some remain.
All these places have their moments with lovers and friends I still can recall.
Some are dead and some are living. In my life, I've loved them all
But of all these friends and lovers, there is no one compares with you.
And these memories lose their meaning when I think of love as something new.
Though I know I'll never lose affection for people and things that went before.
I know I'll often stop and think about them.
In my life, I love you more."
Terrance L. "Terry" Garrett, 67, of Millersville, walked into Heaven by the hand of the Lord on Friday, October 28, 2016 at Lancaster General Hospital. He shared 31 wonderful years with his wife Jennifer E. "Jenni" Brant. Terry was born in Lancaster to the late Paul Robert and Mary E. (Victor) Garrett.
At the age of 11 Terry was embraced and welcomed to the family of the late Ray and Victoria (Victor) Grimm. He graduated from Lampeter-Strasburg High School in 1967 and retired from Armstrong World Industries floor plant where he was a CDL transport driver. In retirement, Terry enjoyed working for Henry's Seafood in Wrightsville.
Terry was a very kind, loving and caring people person who touched many lives. He made friends wherever he went! He was an animal lover and truly adored his cats. Terry owned several Harley Davidsons and muscle cars throughout his life, and he enjoyed participating in car shows. He was a life-long, ever-suffering true Philadelphia Eagles fan. Most of all, he loved his best friend and wife, Jenni.
In addition to his wife Jenni, Terry is survived by two children, Adam J. Garrett and Mary L. wife of James Tegowski and their two children, Rachel and Nolan; two siblings, Dennis Grimm, husband of Betty Jo and Peggy L., wife of Gerald Frey; father and mother-in-law Floyd and Grace Brant and his sister-in-law Jane Aver and her daughter Emily Aver. Terry was preceded in death by his siblings, Philip R. Garrett, Paul R. Garrett, Jr., Dawn M. Carr, Ray Grimm, Jr., Brenda McDonald and Linda McDonald.
Terry's family and friends would like to thank the many caregivers and hospital staff who cared for him during his illness. You truly touched him deeply and renewed his hope and faith on a daily basis.
Terry's family will greet friends from 10 to 11 AM, followed by the memorial service at 11 AM, on Friday, November 4, 2016 at the Charles F. Snyder Funeral Home & Crematory, 441 N. George St., Millersville, PA 17551. Private interment in Riverview Burial Park. In lieu of flowers, memorial contributions may be made to the Humane League of Lancaster County, 2195 Lincoln Hwy. East, Lancaster, PA 17602 or to the Large Animal Protection Society, P.O. Box 243, West Grove, PA 19390.
Leave a condolence on this Memorial Page
Condolences to the Family
January 15, 2017
To Terry's family,

I'm very sorry to hear of Terry's passing. I would like to extend my condolences to his family and friends. Terry was a great guy and I liked working with him over the years at the floor plant. Dave Lindt
November 07, 2016
Jenni & Family,
Much sympathy for your tragic loss.
Heaven must have really needed that angel to have taken him so soon from earth.
I wish you all strength to get through these trying times.
Love, Molly Mauro (a Delaware coworker to Jenni)
November 04, 2016
I was so saddened to hear of Terry's passing. I would like to extend my condolences to all of his family and friends. Terry was a very good man and a great friend.
Ernest McFadden
November 04, 2016
To Jenni,
I knew Terry at Armstrong and then we talked and I was told by him that we were related and the talks were even closer. He was a great person and lovely man to hold a conversation with. He worked with my mom and dad who both have passed away they always talked about him so much.. He will be greatly missed. My parents were Cathy and Harry Hess. Betty Jo and Dennis were my cousins. I am so glad to see he is now out of pain and with the Lord above. May he rest in peace.
Love, Liz & Rick
November 03, 2016
To the Jenni Garrett Family and Friends,
My sincere condolences and sympathy to you at this time of grief. I worked with Terry in the Armstrong Tile Department for about 9 years and I always thought of him as a good friend. He was such a nice person to talk to. I will allways remember those times at Armstrong. I sae him every so often at the West Manor Barber Shop. We always had some great talks when we would see see each other there I will really miss him, as I know you will. My prayers are with you and may God help you with you in your grief and sorry.
In Jesus' Love,
Phil Cunningham
November 03, 2016
Condolences to the family–Terry will be missed but never forgotten – He was a great co-worker and friend. Even though we haven't seen each other for quite a while I still find it hard to fathom he is gone. We had some great times togetner at the circle A
Les Mumma
November 03, 2016
Jenni,
My sincere condolences and sympathy at this time. From what I have heard over the years, Terri will be missed by many.
Sincerely,
Donna Savage

November 01, 2016
will miss you my friend..so many laughs we had at work
and how you laughed when you showed me your car in the garage
and said that i would sleep with it..you said that it was the best laugh you
had for sometime…Terry I will miss you….Mike
November 01, 2016
Dear Jenni, I was so very saddened to hear first of his illness and then to hear of his passing. As the youngest of the large Victor cousin clan, I have such fond memories of Terri from a tender age through my adulthood, his kindness and smiling face to me and all of his beautiful words of wisdom every time I saw him no matter how long the years in between. He would always greet me with a hug. My heart breaks for your loss. I know beyond a shadow of doubt when he crossed the veil he was ushered into Paradise and embraced by his siblings, cousins, parents, uncles and my dear dad….No words can take away the pain of your loss…please know he is never far, for heaven is all around us, we just cannot see it with the naked eye.
Love to you,
Rachel Victor
November 01, 2016

To Dennis amd Betty Jo Grimm: Please accept my sincerest condolences upon the passing of Terry.. Although he was not a student of mine at L-S Junior-Senior High School in 1961, it is always very sad and distressing to hear of the passing of one of the L-S students. May your inner strength help you cope with these difficult circumstances. My thoughts and prayers are with you. Rest in peace Terry.

Merle Schnee, L-S Junior-Senior High School Science Teacher, Retired.



October 31, 2016
Terry was truly one of the good guys. Worked with Terry at the Circle A Jack McHugh
October 31, 2016
Jenni and Family, It is with great sorrow that I hear of the passing of Terry………………my words cannot express how saddened I was to hear of this news. He loved you so much Jenni. May God be with you and all of your family during this difficult time. Love Jeanne Miller
October 31, 2016
We are so sorry to learn of your loss. Many happy times were shared with Terry over the years and they were always ending in smiles. We were blessed our paths crossed. Accept our condolences and hope you gain strength from your memories as he lives on in many hearts. Trish & Alex Bairos

October 31, 2016
Jenni,
It is so hard to find the words that can truly express our grief. I can only say that Terry was one of the warmest and friendliest people I ever had the great fortune to meet. I am truly blessed to be able to call him a friend. Donna and I are deeply sorry for your loss and we hope that the passage of time will ease the pain and leave you with happy memories. God Bless.
Scott and Donna Mathiot
October 30, 2016
To Jenni and her family,
I was so sorry to hear of Terry's passing. Obviously God needed him more. He will live forever in your heart and your memories that you shared. If there is anything that I can do for you, all you need to do is call. Thinking of you in my thoughts and prayers.
Connie Pusey (Former colleague of Jenni's through Delmarva Broadcasting Co.)
October 30, 2016
Dear Garrett Family,
So sorry to hear about the passing of your loved one and a great friend! My name is Dale Parmer and worked with Terry in the Tile Department for many years at Armstrong! We certainly had some crazy but fun times that I will never forget! We shared many or our special memories about each of our own lives at the plant, hope the best for your family and may God bless you all during this most difficult time of your loss! Terry will certainly be missed!
(A friend from the past-Dale Parmer)
(Psalm 27:1) "The Lord is my light and my salvation whom shall I fear? The Lord is the strength of my life: of whom shall I be afraid?"
Visitation

Friday, November 04, 2016
10:00 AM - 11:00 AM
Charles F. Snyder Funeral Home & Crematory
441 North George Street
Millersville, PA 17551

Map and Directions

Services

Friday, November 04, 2016
11:00 AM
Charles F. Snyder Funeral Home & Crematory
441 North George Street
Millersville, PA 17551

Map and Directions