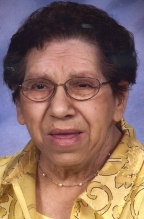 Teresa E. Raspa, 86
Teresa E. Raspa, 86, of Lancaster, PA, passed away on Monday, May, 9, 2011 at Lancaster General Hospital.
She was the wife of the late Saverio Raspa, who passed away in 1979. Born in Lancaster, she was the daughter of the late Giovanni and Marianna Grande Fulginiti of Gasperina, Italy.
Teresa had worked for the RCA Corporation from 1945 until her retirement in 1985. During her time at RCA, she had worked on the production of the first color television and also on the first camera used on the Moon landing. Following her retirement, she enjoyed drawing and painting, using pastels and oils.
She was a member of St. John Neumann Catholic Church. She was a member of St. Anthony's and Sacred Heart's Senior Citizens' Clubs, where she assisted with dinner and festivals.
Teresa enjoyed the close relationships with her many friends and coworkers through visits and dinner parties. Her personality and sense of humor brought life, light, and laughter to every gathering she attended. She spent many years taking care of her parents and her brother.
Teresa was a 1944 graduate of the Sacred Heart Academy for Girls.
She is survived by her children: Nicholas married to Carol Gatens Raspa of Eden Prarie, MN and Mary Ann married to Kurt Kehler of Lancaster; her 2 grandchildren Alexandra and Gabriella, and her 2 brothers, Joseph Fulginiti of Lancaster and John Fulginiti of Lititz.
Friends will be received on Friday, May 13, 2011 from 10-11AM at St. John Neumann Catholic Church, 601 E. Delp Rd., Lancaster, PA, with the Mass of Christian Burial to follow at 11AM. Interment in St. Marys Catholic Cemetery. In lieu of flowers, please ,make contributions in Teresa's memory to the American Diabetes Assn., 3544 N. Progress Ave., Suite 101, Harrisburg, PA 17110. To send an online condolence, please visit SnyderFuneralHome.com. Charles F. Snyder Jr Funeral Home & Crematory 560-5100
Leave a condolence on this Memorial Page
Mary Ann/Nicky,
My deepest sympathy to the both of you at this very difficult time. I can remember our trips out to the house when we were young with the camper in the yard and the HUGE sunflower field in the back. Aunt Teresa would make us eat until there was no tomorrow and Uncle Sam would tell her to stop. Its a shame as years go by and we get older that it takes the passing of a great woman to remember the silly things when we were growing up. Thoughts and prayers are with you always.
My deepest condolences to MaryAnn and Nicky at this time. Aunt Teresa will be sorely missed. I remember the days when we would be visiting your home and Aunt Teresa would be so sweet to us and feed us until we couldn't move. She had such a great sense of humor and made me laugh a lot. God bless your family in this very difficult time.
Mary Ann & Nick,
Our heart goes out to you both on the loss of your Mother. Theresa was a good friend to my mother and had an enjoyable relationship with our family. I will always remember her abundant Italian cooking and especially the fresh homemade bread she would always send home with my parents. The many special holiday dinners we enjoyed together during New Years and Easter and many Mother's Days were always great fun, whether we celebrated out at a nice resturante or at each other homes. I will remember your Mother as a kind and always giving person with a great sense of humor. She made our trip to Hawaii in 1983 a real adventure! May your fondest memories of your Mother be with you always.
Rosemary, Clayton and Tim Breneman
Deepest sympathy and condolences to our cousins Nicholas, Mary Ann and their families on the loss of their mother.
Warm regards,
Marianne Jacullo Brosnan and Timothy Brosnan
Ryan, Kelsey and Ally Brosnan
Annandale, New Jersey