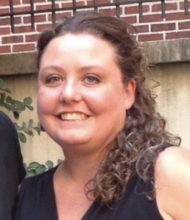 Tara L. Townsend, 36
July 09, 2019
Tara L. Townsend, 36, of Lancaster died suddenly at Lancaster General Hospital.
Born in Reading, she was the daughter of the late Gary and Mary Mieczkowski. She was the loving wife of Jason Townsend. They celebrated their 10th wedding anniversary this past January.
Tara was a nurse supervisor at Twin Rose Healthcare in Columbia. She found great pride in helping her peers and patients. She was currently pursuing her bachelor's degree in Nursing.
Friendships were important to Tara and boy did she have a lot of friends. Friends from childhood, school, work, Jason's friends that became her own, and strangers that quickly became friends- Tara loved you all!
Tara loved children, her greatest hope was to someday become a mother- she had the opportunity to be a foster parent this past year and it was one of the happiest moments of her life. Loving that little boy gave her a new purpose and she flourished in that role.
Tara was known to many as Aunt Tara, not only to her nephews, Mason and James, and nieces, Emma and Caroline, but to her friends' children as well.
She will be lovingly missed by her brother and sister in law Justin and Kelly Townsend, her mother in law, Trudy Townsend, father in law, Thomas Townsend and his wife Wanda, her brother Chad, and a large extended family.
A viewing will be held on Sunday, July 14, from 7-9 PM at the Charles F Snyder Funeral Home & Crematory, 3110 Lititz Pike.
In lieu of flowers, memorials can be made to COBYS, 1417 Oregon Rd, Leola, PA 17540 ATTN: Anne Stokes
Leave a condolence on this Memorial Page
Condolences to the Family
July 15, 2019
My deepest condolences to Tara's entire family. She was a woman on a mission! Full of vim and vigor- nothing could stop her determination! She was a phenomenal nurse and mother – (my heart broke for her and Jason when baby was "re-homed.") Her smile was so contagious! Will miss her friendship and commradere both at work and school/clinical.
May her beautiful memories comfort you all during the difficult times.
Love and prayers,
Maria
July 15, 2019

My heart is filled with sorrow. I am so grateful to have met you and Tara. Two very special people who gave so much love to a fragile little heart. God bless you both. I pray you will find comfort in memories of Tara. My condolences to you Jason.
~Debbie Flynn
July 13, 2019
Jason, I'm so sad for your loss. My wife passed suddenly on June 6th this year and the pain is great, but the memories are wonderful. God bless you and your family. Ed Fuller, lane 3, America's Auto.
July 12, 2019
Jason and family, it is much too soon to have to write this letter. The news of Tara's sudden death has shaken me. I feel angry that fate has delivered such a cruel blow to you and your family. Tara was a vibrant person at work. She brought out the best in people by setting high standards for herself. We shared so many good times together in the operating room and she was always part of the heart team " that made it happen during an emergency " here at work. It is inconceivable that she is gone.
My deepest sympathy,
Dave Stoll
July 12, 2019
I am so sorry 2 hear this. My heart is aching for Jason and the rest of her family. My thoughts and prayers go out to you in this time.
April
July 12, 2019
Tara aunt sherry didn't get to spend alot of time with you. But when I did i loved it. You were taken from us way to soon baby and i need you to know i love you with all my heart. And I will miss you greatly. R.I.P AUNT SHERRY
July 12, 2019
We are so very sorry for your loss Jason. Tara was such a beautiful person, whose smile lit up the room and whose heart was so big, kind and loving. Praying for you.
Mike & Angela Beschen
July 12, 2019
…. Words cannot express the heartfelt sadness of your loss. Live in the memories and her love. May God walk with you in the days ahead. Sending Love, Prayers and strength….
Sincerely – Rich and Missy Reddinger
July 12, 2019
Hi,I just wanna say sorry for your loss,and heaven gained an angel for sure.May God give u all comfort during this time.I new Tara from my kids,Chad and Kristie parkhouse we are saddened by her passing,but know she is free.Blessings to all of us who are grieving.Keep her in your ❤️ and know she loved u all.
Karen (parkhouse) Firestone
July 11, 2019
Much sadness and heartfelt loss are felt by all who new her. I was a faculty member who worked with Tara at Pa College over the last year. She will be remembered as a good nurse, a good student but mostly as a gentle caring soul. May the angels welcome her to paradise. May all find comfort in the honor and memory of being part of her journey.
Heavenly Blessings, Tara!
Sue Mader
July 11, 2019
My sincere condolences to your family during this tragic time. I haven't seen Tara in many years but we had many memories from school that I will always remember. Sending prayers and love.
Emily Buehrle
Visitation

Sunday, July 14, 2019
7:00 PM - 9:00 PM
Charles F. Snyder Funeral Home & Crematory
3110 Lititz Pike
Lititz, PA 17543

Map and Directions