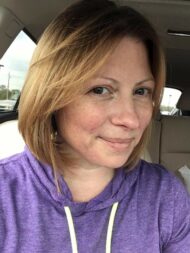 Tanya Whiteman, 44
September 16, 2021
On Thursday, September 16, 2021, Tanya Sheree Stauffer Whiteman, loving wife and mother of two children, passed away into the loving arms of Jesus her Lord and Savior at 44 years of age.
She was born October 5, 1976 in Lancaster, Pa. to Jay and Jan Stauffer. She attended Conestoga Valley High School and received her B.S. degree in Business Administration from Shippensburg University. She worked at Kenbrook Bible Camp, John Wright Company, Susquehanna Insurance and more recently LMS Commercial Real Estate.
On September 20, 2003 she married the love of her life Mark E. Whiteman II. They have two children the joy of her heart Allysen Maysie Whiteman age 13 and Evan Martin Whiteman age 10.
Her hobbies included quilting, knitting and reading. Tanya had a beautiful singing voice and played the guitar. She shared her gift of music in many different settings. She loved the outdoors and especially enjoyed hiking, running, biking with the family. She found great meaning in teaching women's Bible Study and Share at Calvary Church. She will be remembered for her kind heart, generous spirit, and deep love for Christ. Even in her illness, she relied on her faith.
In addition to her husband, children, and parents she is survived by, her sister Kimberly Ernst (Joel), of East Petersburg, niece and nephew Julia Ernst and James Ernst. Parents in law Mark and Linda Whiteman, of Oxford, brother-in-law Tim Whiteman (Ashley), of Oxford, and nephews Mason, Hayden, Colten.
Funeral Services will be at Calvary Church 1051 Landis Valley Road, Lancaster, PA 17601 at 2PM on Tuesday, September 21, 2021 with Rev. John Frye officiating. A viewing will be held at Calvary Church Monday evening from 6-8PM and again from 12:30pm-2pm also at the church. Interment will be private at Landis Valley Mennonite Cemetery.
In lieu of flowers, memorial contributions may be made in Tanya's memory to the Calvary Church Benevolent Fund 1051 Landis Valley Road, Lancaster, PA 17601 or to Tanya's children to help support their education fund. Please make checks out to Allysen Whiteman and Evan Whiteman and mail them to Tanya's sister Kimberly Ernst 5816 Vaughn Road East Petersburg, PA 17520.
Watch the tribute video
Leave a condolence on this Memorial Page
Condolences to the Family
September 21, 2021
Dear Jay and Jan,
I pray that our loving Lord will heal your hearts and help you in the coming days…until we see your beautiful daughter and our "sister" in glory.
She must have been a wonderful person.
Sincerely in Christ with love,
Terry Weis/Calvary choir
September 20, 2021
My deepest sympathies to each member of the Stauffer and Whiteman families. Tanya was a special woman, and a great friend. Her smile was incandescent, and she truly did have the gift of making everyone feel comfortable near her. She was a gentle spirit, and I can only imagine the sense of loss you each have. May your memories together be a balm for your souls.
Elissa (Gontero) Dougherty
September 20, 2021
I am so sorry for your loss. Tanya was such a good friend and a dedicated and talented musician. I have so many fond memories of our years together at LBIC. You are in my prayers.
Wes Heidel
September 19, 2021
Deepest heartfelt sympathies..greatly saddened to learn of this tragic news .. so very sorry for the entire family who are in our thoughts with warm wishes of love …sincerely Dietmar and Carol Pilz (Mica Pilz Harbin's parents)
September 19, 2021
I'm so sorry for your loss; Tanya is so young. May the Lord be with each of you. Heaven has another lovely voice. Erma Mishler/
September 18, 2021
Dear Kim,
My heart is breaking for you. I know how hard it is to lose a sister. Please know that you and your family are in my thoughts and prayers.
Nancy Herr
September 18, 2021
Dearest family of this dear, sweet and loving woman, we don't know why God chose Tanya other than he's building his army of MOST trusted Angels. We have. To trust God knows best! Meanwhile we grieve and our hearts break for our loss of such a dear and special love that was Tanya! We will never forget her love of life, family, God, country and friends.
Anton & Cathy Spinelli
September 18, 2021
Our prayers for the family. May God wrap his love around you at this time & the future. We will never forget Tanya's love and kindness she showed to everyone.
Jere & Sherry Falk
September 18, 2021
Our sincere condolences to you all!! May your memories of Tanya live in your heart forever! Blessings and Peace
Brian amd Robin Unangst
Visitation

Monday, September 20, 2021
6:00 PM - 8:00 PM
Calvary Church
1051 Landis Valley Road
Lancaster, PA 17601

Map and Directions

Visitation

Tuesday, September 21, 2021
12:30 PM - 2:00 PM
Calvary Church
1051 Landis Valley Road
Lancaster , PA 17601

Map and Directions

Services

Tuesday, September 21, 2021
2:00 PM
Calvary Church
1051 Landis Valley Road
Lancaster, PA 17601

Map and Directions