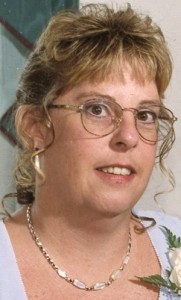 Susan A. Garrett, 57
February 19, 2015
Susan A. Garrett, 57, of Lititz, passed away peacefully at Hospice & Community Care, Mt. Joy on Thursday, February 19, 2015. Born in Lancaster to Ralph H. and Gwendolin (Sternamen) Martin, she was the loving wife of Robert J. Garrett.
Susan worked in the accounts receivable department for Esbonshade Garden Center, Lititz. She was a faithful member of the Lititz United Methodist Church. An avid reader, Susan also enjoyed boating and loved the Hershey Bears.
In addition to her parents and husband, Susan is survived by her daughter, Mandy Sands, wife of Joseph, of Lititz; her son, Robbie Garrett, of Dover, PA; and 3 grandchildren: Carson, Landon, and Dillon.
Family and friends will be received for a viewing from 6-8PM on Monday, February 23, 2015 at the Charles F. Snyder Jr. Funeral Home & Crematory, 3110 Lititz Pike, Lititz, PA 17543. Funeral Services will be held at the funeral home at 11AM on Tuesday, February 24, 2015, with the Rev. Jerry Reifsnider officiating. A viewing will be held one hour prior to the service. Interment will follow at the Brunnerville United Methodist Cemetery, Lititz. In lieu of flowers, memorial contributions in Susan's name may be made to the Ann B. Barshinger Cancer Institute, c/o Lancaster General Health Foundation, 609 N. Cherry St., P.O. Box 3555, Lancaster, PA 17604.
Leave a condolence on this Memorial Page
Condolences to the Family
March 19, 2015
Robert, Mandy and Robbie,
You all have our deepest, heartfelt sympathy for your loss. We hope that God give you the strength, courage and preserverance to come out of this, Those who we hold closest to our hearts never truly leave us. Please enjoy your time up at "My Otter Place" in Raystown. I know Sue will be with you in heart and mind, smiling and enjoying every day with you.
Love, Prayers and Aloha,
Jeff and Sherry Potensky
February 27, 2015
Dear Ralph, Gwen, and Sandy,
I want to express my deepest sympathy on the passing of your daughter, and sister, sue. I only found out about it on this past tuesday from Fish at Eshbenshades. I worked with Sue for many years at D and L, and Griffin. Also 1 year at Eshbenshades. I did not work directly with her , but I got to talk to her sometimes. I will keep your family in my prayers. Sandy , what is Chris doing these days? God Bless.
Merle Groff Jr.
February 26, 2015
Dear Mr. & Mrs. Martin, Sandy and Jen,
We only learned of the death of Susie last evening (Wednesday). One of mom's (Barbara Givler) friends saw the obituary and called her on Monday evening and she only remembered to share it with us. I don't know if you know that mom has been living with us in Manheim since Christmas 2014.
Please accept our sincere expression of sympathy at the loss of your daugher and sister. I am sure it is a difficult time and as God brings you to mind over the coming year, we will be sure to keep you all in our prayers. Loosing a loved one no matter the age is oh so difficult. May God supply you abuntantly with His unfailing grace and peace at this tiime, and may the memories you shared with Susie bring you happiness and joy.
In Christ,
Dick and Pam Shellenberger (Pam Givler)
February 24, 2015
Dear Ralph and Gwen, We are so sorry for your loss. We are also sorry we cannot attend Sue services as we are on vacation not near Pa. Susie was such a sweet person. May God comfort you during this time and give you strength. Again our heartfelt sympathy. Our hearts thought and prayers are with you all. Love Bruce and Dawn Bomberger
February 24, 2015
I am very sorry for your loss. If Susan was anything like her son Robbie who I work with, she must have been a great person. Please accept my deepest condolences.
February 23, 2015
My condolences to your family. May God be with you during this time, helping you to cope with your loss.
– Acts 24:15 – "There is going to be a resurrection."
Kim Bailey
February 23, 2015
I remember Sue very well, I worked with her at Hershey and Gibbel. She had a warm heart and a kind disposition. My condolences to her family….she will be dearly missed.
Debi Mull
February 23, 2015
I am so sorry for your loss. I worked with Sue at Griffin Greenhouse Supplies in Leola. She was a very sweet person.
I am sure she will be greatly missed. May God give you the strength you need during this time. Your family is in my
thoughts and prayers. You have my deepest sympathies.
Deb Wiker
February 22, 2015
Dear Ralph and Gwen We are so so sorry for your loss. We are also sorry we cannot attend the services as we are out in California till March 6th. Our hearts and thought and Prayers are with you all. Again we are so sorry.
Visitation

Monday, February 23, 2015
6:00 PM - 8:00 PM
Charles F. Snyder Funeral Home & Crematory
3110 Lititz Pike
Lititz, PA 17543

Map and Directions

Visitation

Tuesday, February 24, 2015
10:00 AM - 11:00 AM
Charles F. Snyder Funeral Home & Crematory
3110 Lititz Pike
Lititz, PA 17543

Map and Directions

Services

Tuesday, February 24, 2015
11:00 AM
Charles F. Snyder Funeral Home & Crematory
3110 Lititz Pike
Lititz, PA 17543

Map and Directions