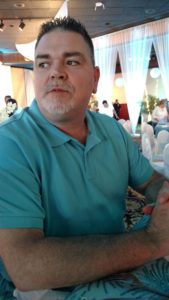 Steven J. Raccuglia, 50
June 21, 2020
Steven J. Raccuglia, 50, of Millersville passed away unexpectedly at home, on June 21, 2020. Born in Brooklyn, New York he was the son of Gerard S. and Geraldine V. (Simms) Raccuglia. He was the loving husband to Christy (Butala) Raccuglia.
Steven will be remembered for his love of sports. He was an avid fan of the Las Vegas Raiders, New York Mets and New York Knicks. Not only did he follow his teams, he knew the teams inside and out. He could share the history, players and scores of his teams to anyone that would listen. Sports were important to him and even played a role in meeting his wife and starting their family. Family meant everything to Steven. He was highly active in his children's lives and could always be found on the sidelines cheering them on. To say he was a great dad was an understatement. He loved the roles of husband, father, provider and cook. He learned how to cook from his mother, and cherished learning the recipes and techniques to make the meals perfect.
He will be greatly missed by his wife Christy, his parents, children; Michael R. Raccuglia and Danielle R. Raccuglia, both of Lancaster, sister, Roseanne Raccuglia-Lau, wife of Michael, of Brooklyn, NY, niece, Hannah Lau, as well as a host of extended family.
A Memorial Mass will be held on Thursday, July 16, 2020 at 11AM at St. Philip the Apostle Catholic Church, 2111 Millersville Pike, Lancaster, PA 17603. A visitation will be held from 10AM-11AM. In lieu of flowers the family requests memorial contributions in Steven's name be made to the American Heart Association, 300 5th Avenue, Suite 6 Waltham, MA 02451.
Leave a condolence on this Memorial Page
Condolences to the Family
July 01, 2020
I remember Steve as a gentle giant. We went to HS together and he helped me through some teenage angst. Our group of friends spent many a day smoking cigarettes and laughing across the street from our school. He was a kind and generous soul. I haven't seen him in 30 + years. It sounds like he didn't change. We were very lucky to have had him in our lives. My deepest condolences to his family. I am sure he loved his family fiercely. Till we meet again old friend.
Veronica Fernandez
July 01, 2020
So sorry! Sincere condolences from your Brooklyn Tech family!
June 29, 2020
So very sorry for your loss. My thoughts and prayers are with you and your family.
Linda Kutch
June 29, 2020
Geri and Gerry please know that Nick and I are thinking of you at this very sad time We are praying for you and your family. May Steven Rest In Peace
June 28, 2020
Gerry and Gerry, I am so sad to hear of your loss. Sending prayers for healing to all your family.
Anne Meier Pryzbylkowski
June 28, 2020
I am so very sorry for your loss Christy. Your love and his live of family was self evident in your everyday life. May you wrap yourself in the warm memories of everything you shared… and tonight as the moon shines on to another day take solace in your heart that his love and light will shine on and always be with you.
Jenn
June 27, 2020
To Cristy,dani,micheal ,jerry, Gerry and Roseanne and Family. My deepest condolences. I could sit here and write story after story about Steve and I and all the times we got into stuff. He was a life long friend and I'll miss him, love you brother see you when I get there
Michael Ombrellino
June 27, 2020
To my uncle Jerry and my aunt Geraldine and cousin Roseanne my deepest sympathy and love go out to you at this time of grief. I will always remember big Steven as I called him as a child I wish I had got to know him better as adults for I hear so much good he gave to the world and the man he was. I still will always have the memories of growing up together for the time we did he is sadly missed .May you find peace and comfort in remembering how he shined a big light on those he loved in this world and how much he was loved
your cousin Stephen Raccuglia
June 27, 2020
Thank you for being an amazing Uncle to Hannah. There is no deeper way to love me than to give love to her. I'm so heart broken she won't have you anymore. I hope she grows up feeling you and your love around her here in this life just in a different form. Your sister Roseanne
June 27, 2020
So very sorry Christy. Memories of Steven growing up keep coming to mind. He was very loving and kind person.He grew to be a fine man. It will take time to feel better. But it does. Hugs of comfort to you and the children..
Rosemarie
Visitation

Thursday, July 16, 2020
10:00 AM - 11:00 AM
St. Philip the Apostle Catholic Church
2111 Millersville Pike
Lancaster, Pennsylvania 17603

Map and Directions

Services

Thursday, July 16, 2020
11:00 AM
St. Philip the Apostle Catholic Church
2111 Millersville Pike
Lancaster, Pennsylvania 17603

Map and Directions