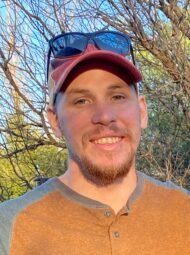 Steven "Garrett" Graby, 30
August 30, 2022
Steven Garrett Graby, 30, of Washington Boro, passed away suddenly and tragically in a building collapse on Tuesday, August 30. He was the beloved son of AJ (Jennifer) Simmons and Steven C. Graby, and stepson of Hope Graby and Michael Simmons. He was born in Lancaster and graduated from Lampeter-Strasburg High School in 2010. He went on to graduate from Mount Joy CTC with a certification in welding. In addition to his parents, he is survived by his brother Gannon Graby, sister-in-law Kristin Graby, sister Vianna Graby, sisters Emily and Rachel Simmons, brothers Kyle and Jack Banner, grandparents Barry and Carol Weaver, and Grandmother Mary Lou Graby. He was proceeded in death by his beloved grandfather, Charlie Graby.
While Garrett's life ended too soon, he will continue to live on in all of us. Garrett faced every day and each struggle in life with inspirational courage and simple humility. With every challenge, he gathered himself, took responsibility, and stood back up to try again. At the time of his passing his efforts were paying off, finding purpose and a wonderfully supportive faith community. He was in the best time of his life. He carried with him a simple, tattered list of what he needed to do every day, and he lived it:
Start each day with a task.
Find someone to help you through life.
Life is not fair, move forward.
Respect everyone.
Don't be afraid to fail often.
Take risks.
Face down the bullies.
Step up when times are toughest.
Lift up the downtrodden.
Never give up.
Sometimes, learning was challenging for Garrett, but teaching was not. For all who knew and loved him – his parents and grandparents, brothers and sisters, friends, and others – through his constant example, we learned vulnerability and kindness, bravery and humility, loyalty and helpfulness. Garrett had unending grace for others. He cheered everyone's successes without jealousy. He wanted to always remain in the background and as a result, drew others to him – you just couldn't help but love Garrett. When he had the least, he was the most generous. He was intuitive, sensitive, and insightful. He never left home without saying I love you.
He loved the solitude of fishing, playing with his dogs, and driving long distances. He especially loved spending time with his grandparents on their farm and in his Grandpa Charlie's wood shop, in his younger years. He was also an avid ice hockey fan and his favorite team was the Flyers. Garrett took great pride in being an ironworker and he loved being up high, building something tangible. He loved stopping by for a cup of coffee and a chat. We are so proud of the man he became.
A celebration of Garrett's life will be held at Bluestone Estate, 30 A Refton Road, Willow Street on Wednesday, September 7. The memorial service will begin at 5:30PM and will be followed by a time of fellowship and remembrance. In lieu of flowers, memorial contributions in remembrance of Garrett can be made to Canine Partners for Life/Service Dog Organization in Pennsylvania.
Leave a condolence on this Memorial Page
Condolences to the Family
September 15, 2022
Steve,
So very sorry to hear of your familys untimely and tragic loss. Something a parent should never have to consider, let alone endure. My sincere sympathy and prayers for you and your family. God Bless
September 10, 2022
Dear Steve and Jennifer, Was so sad to hear about Garrett. What a inspirational person. He led life by example and purpose. He is in God,d presence and care. My thoughts and prayers are with you at this difficukt time. John Cooper
September 08, 2022
I just learned of your tremendous loss of Garrett today. My heart breaks for all of you. I can still see his smile when he accomplished a challenge or made progress in all that he was working on in my classroom. He was a blessing and joy to have as a student. Sending strength to all of Garrett's family.
September 08, 2022
Just want to say that Garrett's memorial service gave meaning to a tragic situation.The life story of Garrett was truly inspirational.
Garrett's story of overcoming obstacles in his life, tearing down the walls that blocked his view, as his father described. Reaching out to receive genuine support and guidance through his pastor and church friends in order to walk a different path. Surrounding himself with a loving family who was there through good times and bad. Appreciating the simple things in life, a day of fishing, the beauty and serenity of nature, a good cup of coffee, a meaningful chat with a friend and finding focus in his tattered life prescription list. All seemed to be his foundation for his strength.
Through these life ingredients Garrett was able to change the course of his life and teach us all that taking responsibility and a commitment to change is possible. Your inspiration lives on. Thank you Garrett for that and for all the people in his life that supported his journey and helped him "build a better boat".
Scott Knoll
September 07, 2022
The memories made with Garrett growing up still hold such an amazing place in my heart, I am blessed to have known him.
Til Valhalla 🖤
September 07, 2022
Garrett was my first true best friend growing up, how could we not be…we have the same name. I regret not staying in contact over these many years but I know we loved each other. My heart goes out to all of you, please know that I love you all very much and that I always considered every one of you as my family. -Garit Decker
September 07, 2022
AJ and Mike:
I am so deeply saddened to hear of your tragic loss. Your tribute to your son was beautiful, as was his "simple, tattered list" – something we should all live by. It really touched me. I can't imagine your grief. You are in my thoughts. Fran Haldeman
September 07, 2022
My thoughts and prayers are with you and your family!! he sound like a wonderful man to be around.so sorry for your loss.


September 06, 2022
My heart is with you all during this time. I remember Garrett and a little guy! He was always a sweet kid, and always had big goals he was chasing. Love to you all.
Lynsey Witmer
September 06, 2022
Garrett's "tattered list" is one we can all learn from and live by — I have already saved in a special place. Having never met Garret, his list will forever remind me how precious each day is and how to approach even the toughest days with the most positive attitude. Garret, you have left an impression on so many and will continue to touch many more lives with the grace with which you lived yours. To all of Garrett's family and friends, my heart aches for you. You will be in my prayers today, tomorrow and forever.
September 06, 2022
I do not know your family but my heart sank when I learned off your families tragedy. I myself was an ironworker and lost an Uncle at work. The bond you have working side by side all day every day is like no other. I get comfort every time I pass buildings and bridges we built together. My heart feels him every time I pass the location of his accident. So sorry for your loss, and his list was very inspiring thank you for sharing.
September 06, 2022
AJ and Family
Our love and prayers go out to all of you during this time of sorrow and loss. May God's peace and love surround all of you as you grieve the loss of Garrett.
Ted & Dori Markley
September 05, 2022
I did not know Garrett, but I live near the construction site where he unfortunately passed away. Upon hearing of the terrible accident I began praying for everyone involved, when I heard of the young man who passed my thoughts immediately went to his family. My heart aches for you, your family is in my thoughts and prayers. It sounds like he was a wonderful young man, I have a son the same age and I will squeeze him a little tighter and tell him how much I love him and think of your Garrett. Please know that my sincere condolences are with you.
September 05, 2022
Much love, prayers and deepest condolences to all of Garrett's family and freinds as you mourn his passing and gather to celebrate his life on Wednesday. Although my time with Garrett was very brief, playing hockey together for a few seasons along with his uncle Doug, I will always remember Garrett as a humble, kind and respectful young man. I am so very sorry for your loss.
-Walt Godfrey, Jr.

September 05, 2022
Dear Jennifer and family,
It is with profound sadness that I offer my condolences to you in the death of your son Garrett.
I can't imagine the sorrow with which you are dealing. I think of you constantly.
September 04, 2022
Dear Jennifer and Family, so sorry to hear the news of Garrett's passing. Although it's been many years since we have been in touch, I still remember your visits with two energetic boys to the Office in Millersville. They brightened my day immediately with plenty of stories and lots of laughter!! You all are in my thoughts and hope your grieving becomes a resilient process; may time be patient…may pain be gracious!!! Love, Suzanne Ross
September 04, 2022
Hope and Steve, sincere condolences for the tragic loss of your beloved son. Your family is in our thoughts and prayers.
September 04, 2022
Steve
So very sorry for your loss. You and your family are in my thoughts and prayers.
Mary Jane
September 04, 2022
Mary Lou,
I am so sorry to hear about your grandson.My thoughts and prayers are with you and family. Tho time and years have kept us apart, I treasure the memories of you and Colemanville and Pequea! Take care,
Janet
September 04, 2022
I'm in shock. You were a great friend. We went so far back. You were always the first one to put a smile on someone's face. I'm sure you will continue to do so.
September 03, 2022
Garrett was my son, Steven's best friend. He will always be remembered especially for hitting my car 2 weeks before we moved. He was like a son to me n my husband. My dearest sympathy goes out to the family n all his friends.
September 03, 2022
Garrett was an incredible man, and a joy to work with. Never did I hear him complain about a thing, he always had a smile on his face. Bless his family and may he rest in peace.
September 03, 2022
I am so sorry to hear of Garrett's passing. You are in our prayers. Love you guy
September 03, 2022
My heart is broken for you my son. I love you and will miss you so much until the day we meet in heaven. Peace be with you
love
dad
Services

Wednesday, September 07, 2022
5:30 PM - 6:30 PM
Bluestone Estate
30A Refton Rd.
Willow Street, PA 17584

Map and Directions