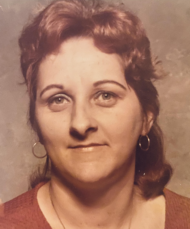 Sophie S. Dawson, 79
February 3, 1942 - November 02, 2021
Sophie S Dawson, 79, passed peacefully unto to the Lord Tuesday, November 2nd, 2021. Born February 3rd, 1942, in Steelton Pa to Alex and Mary Zorich, Sophie made Lancaster her home in the 1970s. Sophie served many meals from breakfast to dinner working as a waitress from White Planes New York to Lancaster County for well over 30 years. Before her days as a waitress, Sophie worked for the Polyclinic Hospital of Harrisburg. Sophie spent the last years of her life working over a decade as a cashier and wares associate for Goodwill Industries on Lincoln Highway only just retiring in 2020. Sophie was a very dedicated hard worker and took great pride in whatever position she was in, and she certainly gave the younger crew a run for their money while enjoying their company just the same.
Sophie adored the simple pleasures in life like sitting on her favorite chair with her cats by her side watching a rerun episode of murder she wrote or NCIS with a big bowl of cereal or tasty slice of pizza and soda. She loved shopping especially for her grandchildren and could not resist a good bargain when she saw one. Sophie was a fabulous cook, skilled cake decorator, and award-winning seamstress.
Sophie will be remembered by her sassy yet classy, tell it like it is personality with an even bigger heart to match. To know her, was to love her.
Sophie was survived by her children Earleen Dawson, Richard Dawson, John Dawson, Robert Dawson, and Starell Zoric along with a host of grandchildren. No matter the distance between them she loved all her children very much. Sophie is proceeded in death by her parents and sister Mary Zorich. As dedicated as Sophie was to her career, she was even more so to the grandchildren she helped raise, Deonte Bolyer, Mariah Bolyer, and Cameron Lawrence all of Lancaster. Our hearts are broken without you here. We Love you, miss you, and thank you so very much for your unconditional love, protection, and guidance. We are comforted by our memories and to know that you are now with God. Words can never express how much we Love You Mom. You were effortlessly the best mom and grandma ever, Thank you so very much.
Thank you to all the health care Angels that helped us through this most difficult year. A big Thank you to Lancaster General Hospital, Lancaster Rehabilitation Hospital, ProMedica Total Rehab in Exton, Care Finders Total Care of Lancaster, Ephrata Community Hospital, Hospice and Community Care, her long-time primary care physician Dr. Perlis and last but certainly not least, The Gardens at Stevens, thank you so very much for helping to make my mother's transition a peaceful one.
A very special Thank you also to Sophie's co-workers and customers at Goodwill Industries of Lincoln Highway East. Thank you for your kindness and making her time there so much fun. She so enjoyed her time with you all.
Thank you, God, for blessing us with such a wonderful mother. A true friend she was indeed.
Interment will take place at Churchville Cemetery back to Sophie's hometown, Steelton Pa. privately.
Leave a condolence on this Memorial Page
Condolences to the Family
November 22, 2021
Miss Sophie was a great mother and outstanding supportive grandmother to her grandchildren…She was very thoughtful of others…A women that worked hard the life I knew her…May your family find comfort and peace within God knowing she's at a better place.
November 21, 2021
Sophie was a wonderful, joyful person and will be missed. May God comfort you as you grieve.
November 21, 2021
sorry for your loss sophie was a sweet woman she was one of my grandmother's best friends the family had gotten to know over the years