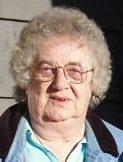 Shirley L. Pickel Wasson, 82
March 24, 2020
Shirley L. Pickel Wasson, 82, of Paradise, passed away at Conestoga View on Tuesday, March 24, 2020. Born in Bird-in-Hand, Lancaster County, PA, she was the only daughter and the youngest of four children of Clarence E. Pickel and Martha I. Miller Pickel. Her older brothers were Raymond E. Pickel, Clair N. Pickel and Lloyd W. Pickel. The family eventually moved to Strasburg then Lancaster. She spent her adult life in Paradise.
She is survived by John W. Sweigart, Jr., her companion of over 60 years; her daughter Regina and husband Bob Meck; four grandchildren, Carrieanne and husband Don Graybill, Lorrie and husband Ryan Moyer, Larry Dean Rubincam and Shannon Evans, and Caitlyn Rubincam; five great-grandchildren, her sister-in-law Elda Sweigart and many nieces and nephews and their families.
Shirley worked in various occupations including retail management, assembly line worker, customer service and helping on the family farm. She attended J.P. McCaskey High School.
Her hobbies and interests over her lifetime included: Roller skating; Rocky Springs Amusement Park; ponies and her favorite vacation spot Chincoteague, Virginia, house pets including her last dog, her beloved black lab Shadow; all types of animals including but not limited to chickens, geese, ducks, guineas, her childhood pet groundhog, dogs, cats, goats, ponies and the squirrels that lived in her walnut trees and peeked through the window at her.
As a couple, Shirley and John for many years attended Rough and Tumble Thresherman's Reunion in Kinzers, PA, selling their collectibles at the open-air flea market.
Shirley was very involved with helping raise her four grandchildren and was always ready to do whatever was needed. She was extremely loved and greatly appreciated.
We thank you, Nan, for your lifetime of love and devotion to us all.
Memorial contributions may be made to Hospice & Community Care, P.O. Box 4215, Lancaster, PA 17604-4125.
Leave a condolence on this Memorial Page
Condolences to the Family
March 29, 2020
Best aunt will miss you love kathy
March 29, 2020
I have been very blessed to have such a wonderful Aunt in my life. There isn't anytime through out my life that I do not remember her being there for us. Celebrating the good and being there to lend a hand and her love through the very roughest of times. Even when her own heart was breaking she would worry about taking care of others. She was the Matriarch of our family. Her opinion matter to us and she wasn't shy about giving it. She was very good about putting on a tough exterior, but we all knew she was a teddy bear on the inside. She said and did everthing out of love for us and what She believed was best for us. Like eating a teaspoon of Vicks. YUK. No arguing, you were going to eat it! Whose going to give me that stern advice now? I could write a book on the stories and memories I have about Aunt Shirley, Junnie and Reg, how they have been such an important part of my life and I thank God for that. I love you Aunt Shirley you will be missed dearly.
Connie Pickel