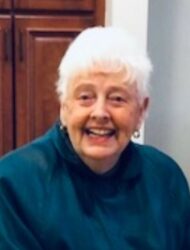 Shirley Hambright, 95
June 27, 1926 - November 10, 2021
Shirley Hambright, 95, passed away on November 10, 2021 at Calvary Homes. Born on June 27, 1926 she was the daughter of the late William J. and Mary M. (Grimm) Hambright.
Shirley was a life-long Lancaster resident and proud graduate of Lancaster Catholic High School class of 1943. She retired in 1989 from Prudential Securities where she worked for 36 years. She was a devout Catholic and member of St. John Neuman Catholic Church. Shirley loved vacationing in Avalon NJ and spending time on the beach. Known as the instant-lottery queen, she had a warm smile, a strong sense-of-humor, and a comforting laugh. She was a cherished, generous friend to many and a welcome, gracious guest in their homes. Shirley enjoyed her stay at Calvary Homes and appreciated the exceptional care she received there.
Shirley was predeceased by her dear sister Mary Jane Hulshart and brother-in-law Wade Hulshart.
A graveside service will be held at 1 PM on Wednesday, November 24, 2021 at Greenmount Cemetery, York, PA. In lieu of flowers memorial contributions may be made in Shirley's memory to Lancaster Catholic High School, 650 Juliette Ave., Lancaster, PA 17601.
Leave a condolence on this Memorial Page
Condolences to the Family
November 21, 2021
Shirley was one of my favorite relatives. We live in Belleville Il. now and planned to visit with her when we were in Lancaster in September but because of the virus that didn't happen. I regret that. May she rest in peace. Jimmy Grimm
November 20, 2021
I was privileged to be able to care for Shirley at Calvary. I loved her smile, her sense of humor, and her graciousness. She will be missed ❤️
November 19, 2021
my dear friend shirley, i am going to miss our phone calls and visits and very thankfull for our time together.you will be truely missed, rest in peace!
cindy and wally hockensmith
November 19, 2021
Shirley was one of my dearest friends from the Sweetbriar pool days , my husband and I enjoyed those great fun days. I followed Shirley throughout her many health issues during her later years and we had many delightful phone conversations. I will miss her very much . We had great friendships, sadly her time is now in heaven. Rest in Peace my dear friend and may God welcome you with open arms.
November 18, 2021
I am so fortunate to have known Shirley. For many years, we started the new year with a toast and pork and sauerkraut. She was always a pleasure to spend time with, always positive, even in her last days here on earth. She will be sorely missed.Dawn Ross
Services

Wednesday, November 24, 2021
1:00 PM
Greenmount Cemetery
721 Carlisle Avenue
York, PA 17404

Map and Directions