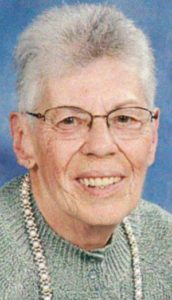 Shirley C. Garland, 82
December 06, 2017
Shirley C. Garland, 82, of Manor Township, passed away at Hospice & Community Care in Mount Joy on Wednesday, December 6, 2017. Quiet for the last days of her life, Shirley opened her mouth to recite with her minister, Pastor Joel DeVinney, who was reading the Books of John, Romans and Psalms, and she went to the open waiting arms of her Lord.
Born in Plymouth, NH, she was the son of the late Antonio M. and Doris LaBrecque Minickiello. Shirley graduated from Plymouth High School and was a homemaker and caregiver for her parents and her son John after his diving accident.
In her younger years, Shirley was invited to participate in the Winter Olympics for skiing and the Summer Olympics for swimming, but financial restraints prevented her from attending. She met her husband during High School and they were married in Puerto Rico during the Korean War.
While living in Canada, her last son John was born, she was actively involved in the cub Scouts as a den mother, many of her cub scouts went on to actively involved in the Boy scouts of Canada. Shirley was very involved with camping in Canada.
Shirley was an active member of Grace Baptist Church of Millersville.
She is survived by three sons, Michael T. Garland, husband of Lisa of Plymouth, MI, Bruce R. Garland, husband of Lan of Fort Wayne, IN and Tony M. Garland, husband of Patricia of Acworth, NH; five grandchildren, Emilee Garland, Alex Garland, Patrick Garland, Jonathan Garland and Alexandra Shafer; great-grandson Eli Ketzerberger; and her daughters-in-law Kelly Jones, Hollee Garland and Cynthia Lucius. Shirley's son John Garland preceded her in death.
A celebration of Shirley's life will take place 11 AM Friday December 15, 2017 at Grace Baptist Church of Millersville, 121 Walnut Hill Road, Millersville, PA 17551. Shirley's family will receive friends at the church on Friday from 10-11 AM. Interment will be private.
Leave a condolence on this Memorial Page
Condolences to the Family
December 12, 2017
I'm so sorry to hear about Shirley's passing. She was quite a lady!! So funny and ornery!! What a wonderful and special person she was. She will be missed.
Tara Carter
Peru, Indiana.
December 12, 2017
Dear Michael, Bruce and Tony: Wish I could be there for your Mom's service. Please know though that I loved her as my dear friend for 44 years! We shared so much and had some very good memories! I enjoy remembering the times when we "misbehaved" but she would be mortified if I "told on her"..:) I loved her chocolate chips cookies and to this day I still don't know how she got them so big but still so chewy. We walked miles in those days when she joined Weight Watchers. Kind of counter productive though in as much as we walked to the Billy Penn for a big breakfast..:) Too many memories to list but I had the chance to watch all her sons grow into manhood and venture out into this world. Love you guys and will keep you and your mom in my heart always. I look forward to seeing her in heaven one day!!!
Visitation

Friday, December 15, 2017
10:00 AM - 11:00 AM
Grace Baptist Church of Millersville
121 Walnut Hill Road
Millersville, PA

Map and Directions

Services

Friday, December 15, 2017
11:00 AM
Grace Baptist Church of Millersville
121 Walnut Hill Road
Millersville, PA

Map and Directions