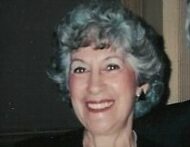 Sheila J. Royce, PhD., 90
November 21, 2022
Sheila J. Royce, PhD, 90, formerly of Lancaster, passed away at Westminster Memory Care, Lexington, SC, on Monday, November 21, 2022. Born in New York City, NY she was the daughter of the late Elizabeth (LeFrak) and Charles Sonnenreich. Sheila was the loving wife of the late Martin Royce with whom she spent 66 years of marriage.
Sheila earned her undergraduate and Master's degrees from Hunter College (NY) and Millersville State University (PA) respectively. In 1989 she earned her PhD in Adult Education from Columbia University (NY). Her 50-year career was dedicated to innovative, inclusive and influential initiatives in adult education at the local and state level. She served as Director of Adult Education in Lancaster and Lebanon serving over 6,000 adults yearly. She was the author of a multitude of professional publications and 13 ABE and ESL books. Her awards and accolades were numerous including Pennsylvania Adult Educator or the Year, to being the first recipient of the Joan Y Leopold Service Award and most recently in 2016, the Jay Latham Literacy Leader Award.
Sherry's Jewish faith was an important part of her life, as well as her thirst for learning and love of history. It was a cherished project and natural fit to be involved as the editor of the 250th Anniversary book for Congregation Shaarai Shomayim of Lancaster, PA. She was an adventuress and loved traveling the world with her husband and family.
Sherry is survived by her four daughters: Cynthia Royce, of Lexington, SC; Rachel Branum, wife of Jay, of Lexington, SC; Nora Allen, of Lexington, SC and Judy Cohen, wife of Steve, of Alexandria, VA. Eight grandchildren: Andrew (Jana) Lewis, Ashleigh (Gary) Kring, Ethan (Nicole) Branum, Stacy (Sara) Branum, Seth (Jessica) Branum, Ryan (Samantha) Allen, Kate (Jeremy) Zornow and Joshua Cohen and ten great-grandchildren.
Funeral Services will be held at 12PM, Monday, November 28, 2022 at Temple Shaarai Shomayim, 75 E. James St., Lancaster, PA 17602 with Interment to follow. Visitation with the family will begin at approximately 1:15pm at the reception room at Shaari Shomayim.
In lieu of flowers, contributions may be made to Literacy & Learning Success Centers (https://literacysuccess.org/).
Leave a condolence on this Memorial Page
Condolences to the Family
December 05, 2022
To all of Mrs Royce family, We are both so sorry for your loss. Although we never did get to meet her..the lovely stories from Nora and Ryan we feel like we knew her. Sending much love and deepest condolences to her dear family. Allison and Laurie
December 01, 2022
We were saddened to learn about Sherry's passing away. I had planned to attend the funeral on M onday but had to take my wife, Linda, to urgent care and there was a very long wait. Sherry and Marty were good friends of my parents as well as of us. We did make a donation to Literacy &and Learning Success Centers. Our thoughts and prayers are with all of the family during the difficult time.
Sincerely,
Alan and Linda Loss
November 26, 2022
I want to extend my sympathy to you 4 girls and your families. I live at Lancashire Terrace and that is where I met your parents. I enjoyed talking with both of them. I especially enjoyed watching "Dancing With The Stars" and then on the next day we would discuss the dancing and who won and who we did not like and who we would like to see kicked off next. We had many good conversations over this. Again, my sympathy.
November 25, 2022
To Sherry's family,
I had the good fortune of meeting Sherry when I was a young newspaper reporter and she work for IU13. I was the education writer for the morning paper and Sherry was very kind to me. That was 50 years ago but I remember Sherry well and memories flooded over me when I saw her obituary in the Lancaster paper.
Marv Adams
Services

Monday, November 28, 2022
12:00 PM
Temple Shaarai Shomayim
75 E. James St.
Lancaster, PA 17602

Map and Directions