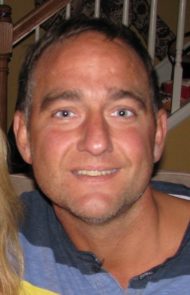 Shawn Ralph Armold, 44
July 29, 2019
Shawn Ralph Armold, 44, of Lancaster, PA, passed away unexpectedly on July 29, 2019. Shawn courageously battled addiction for many years. Born and raised in Lancaster, he was the son of Ralph Armold and Darla (Hutzel) Armold.
In addition to his parents, Ralph (Joyce) and Darla, Shawn is survived by his siblings: Diana Myer (Keith), Dana Rafferty (Robert), Denise Garraffa (Raymond), Dawn Getz (Thomas), Holly Filius (John) and twin brother, Troy (Leilonie). He is also survived by many nieces and nephews.
Shawn loved spending time with his family going to the beach and mountains, fishing and hanging out laughing and enjoying life. He lived his life showing unconditional love and grace to his family and friends. He was a gift from God to all who knew him. Shawn adored his nieces and nephews and was always on the sidelines of their sporting events cheering them on. They loved their Uncle Shawn and will miss him dearly.
Shawn previously worked as a registered nurse at Lancaster General Hospital in the Emergency Department. He loved his job and was a kind, compassionate and committed nurse. His loving spirit and true passion for his patients and their families was evident in the relationships he formed and the lives he touched.
Shawn played football for four years at Conestoga Valley High School alongside his brother, Troy and was an avid Pittsburgh Steelers fan.
A viewing for family and friends will take place from 1-3 PM with a Celebration of Life Service to begin at 3 PM on Saturday, August 3, 2019 at the Charles F. Snyder Funeral Home & Crematory, 441 N. George Street, Millersville, PA 17551. Interment will be private.
In honor of Shawn's valiant battle with addiction and in lieu of flowers, please consider a contribution in Shawn's memory to The Phightin Frankie Foundation, mail to Francis James Felicioni Memorial, Charity Smith Nonprofit Foundation, 13100 Filly Lane, Truckee, CA 96161 or visit their website, Phightinfrankie.com. This foundation supports recovery efforts of those battling addiction.
For those of you able to join us in celebrating Shawn's life, please feel free to dress in bright, fun colors in honor of Shawn's vibrant spirit, and love of life.
Leave a condolence on this Memorial Page
Condolences to the Family
September 04, 2021
The years continue to go by and I am thinking of you tonight, Shawn. Missing your presence. The world would certainly benefit with more people like you. I doubt the hospital is anything you would recognize. The sincere compassion you shared with others during their trials, when you were not so burdened with your own. Know that there are those who may realize you are gone, but have not yet forgotten. RIP my friend …
October 19, 2019
I am so saddened to hear of Shawn's passing. He was a dear friend during nursing school and when we worked together in the ED. He was always a good time, lots of good laughter, so caring, and always there if you needed him.
Prayers for comfort and peace to the Armold Family
Katie Giannini
August 07, 2019
"For I am convinced that neither death nor life, neither angels or principalities, neither the present nor the future, nor any powers, nor anything else in all creation, will be able to separate us from the love of God that is Christ Jesus our Lord" Romans 8
May God be with each of you who knew Shawn. He was a light in a dark world and he is now resting in the arms of our Lord Jesus Christ "for nothing can separate us from the love of God" Romans 8:31
With love always,
Kate
August 04, 2019
Shawn's gift to all his family was the good times he shared with them. For those good times he was happy and at peace with himself. Remember that he did try over and over again to come back to you as he was a long time ago. Take comfort that he is finally at peace.
Love
Eileen Albrecht

August 03, 2019
I am heartbroken for the loss of Shawn's life. He was such a dear friend throughout my nursing school years. He was incredibly driven, intelligent, and extremely caring and sincere. He was also tons of fun and I remember when our group got together there was no shortage of laughter. I am thankful for the blessing of knowing Shawn. Praying for comfort and peace for you all.
Megan Kreider
August 02, 2019
I never knew this about Shawn.
Here is what I did know. Everytime I saw Shawn, he always talked with and asked how I was doing. Morever, he waited for the answer! Our conversations were always upbeat and with genuine content.
I am saddened, angry & shocked.
To his family and friends, my sincerest condolences…Bob Smith
August 02, 2019
Darla,
I'm so sorry to hear of Shawn's passing.
RIP Shawn
My condolences go out to you and your family.
Melissa Ransing
August 02, 2019
Armold Family, You are in our thoughts and prayers through a very difficult time. Shawn is finally at peace. He provided many lasting memories for all who knew him, you can feel proud that Shawn made a difference in the lives of everyone he touched. We certainly have fond memories from Shawn and the Armold family, we are blessed to have experienced your family in the classroom and in life. John and Barbara Titus

August 02, 2019
My thoughts and prayers are with the entire Armold family.
Cindy Westman Gorgo
August 01, 2019
I love all of you! We were the closest of friends (Troy, Shawn and I) growing up from elementary school. I moved away 9th grade but never lost the friendship we had. I loved the time we had together and I considered Shawn my best friend throughout most of my life. I think of all the fun we had and the happy, ridiculous memories we created. I laugh today thinking of these times and will always remember the good but understand the bad (but we never got caught – HA HA HA HA). I love you Shawn!!!
Harty Hartman
August 01, 2019
The Vida and Rosati families are so very sorry to hear of Shawn's passing. The "Rosati girls" remember him as a fun-loving kid from Eden Manor, and from the swim team and CV sports. Our hearts go out to all of you as you grieve his untimely passing. We pray that with time you will feel God's peace and the comfort of the Holy Spirit as you dream of Shawn laughing and goofing off with the angels in Heaven. We love you all.
Juliana Rosati Vida
August 01, 2019
Darla, Dawn, & Family,
our deepest sympathy ❤️
Toby & Leroy Stanley
August 01, 2019
We are so very sorry to hear of Shawn's passing. We knew Shawn and Troy from the start of our son Harty's early elementary years as they were very good friends all through there school years. Harty loved them both and we enjoyed our time with them as well. We pray for all the family as we know it is such a difficult time for ALL of you. Sending heartfelt sympathies and lots of love
Shelia Hartman
August 01, 2019
Saddened to see this news. Will remember Shawn at his high points in life – a loyal friend, a fierce competitor and a loving brother and son. The Armolds will remain in my family's nightly prayers… as they have been for years.
Steve Carpenter
August 01, 2019
My thoughts, and Prayers are with the whole family.

Tracy Kauffman

August 01, 2019
To the entire Armold Family,
I know how tight your clan is and how devastating this loss must be to you all. You have my condolences over Shawn's untimely passing. Words alone cannot lessen your heartache at this moment. Suffice it to say that after your grief, let Shawn live on through your memories of him. And know that he is now at peace as he walks with the Lord and looks down on you all knowing how fortunate he was to grow up in such a close family. You have my thoughts and prayers.
Dave Thornton
August 01, 2019
I met Shawn through recovery groups about 7 years ago and had tried to find him over the years since. I am so saddened to hear Shawn has passed away from this illness. I am thinking of your family during this terrible time.
Maria Fountain
August 01, 2019
So saddened to see this!! Sending prayers and strength during this difficult time.
Deana Cunningham Mahlandt
July 31, 2019
Our heartfelt sympathy to Shawn's parents, sisters, brother, nieces, and nephews. We realize you have all been dealing with Shawn's issues, but it hasn't taken a toll on your love and support for each other. We wish you a time of healing and finding the strength to live your lives productively and enthusiastically, while keeping him in your memories.
Love, Joyce Filius and Fred Wise
July 31, 2019
I cannot comprehend how difficult this time must be for your family by losing your dear brother, son, uncle, and friend. Know that you are being thought of and I wish you strength as you deal with so much grief. I pray that God will grant you peace and understanding in the days to come. Shawn was definitely a character. I always will remember him with a smile on his face.
Tara & Bill Love
Visitation

Saturday, August 03, 2019
1:00 PM - 3:00 PM
Charles F. Snyder Funeral Home & Crematory
441 North George Street
Millersville, PA 17551

Map and Directions

Services

Saturday, August 03, 2019
3:00 PM
Charles F. Snyder Funeral Home & Crematory
441 North George Street
Millersville, PA 17551

Map and Directions