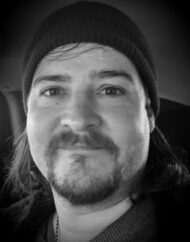 Shane Allen "Zippoboy" Shank, 40
August 15, 1981 - September 24, 2021
Shane Allen Shank, 40, of Ephrata, peacefully embarked upon yet another journey on September 24th from complications of a traumatic brain injury due to an assault nearly two years ago. Shane was the beloved son of Mary Snyder Linger of Ephrata, loving stepson of George G. Ries of Lancaster, and son of Russell G. Shank of Elizabethtown. Shane leaves behind his sister, Amanda Ries of Ephrata, and two brothers, David Harnly and Michael Shank, both of Elizabethtown.
Growing up in Lititz, Shane attended Warwick High School. He also called many other places home through his life's travels including Lancaster, Columbia, Philadelphia and New Jersey.
A unique young man, Shane was locally and lovingly known as Zippoboy. He was a self-taught artist with the natural talent for pen & ink, sculpture, and graffiti. He shared his art through his online community and will be remembered for "Sushi Tails", his original cartoon based on his cat Sushi. Shane's interests were unbound and learning about life was his forte. He was an avid music fan and could be found listening to all genres, with a love for Alternative. He enjoyed camping and called Rickett's Glen a second home. He had a love for movies, books, poetry, and philosophy, and was a great conversationalist.
Shane will be missed beyond what words could say. Friends remembered him as an amazing person with an infectious smile and undeniable Snyder laugh. He was caring and compassionate with the courage few will ever know.
In his own words: "So little to say…my whole life is about trying to understand life. I'll probably never figure it out…so I'm just gonna try to be happy when I can."
A Celebration of Shane's Life will be held from 2 to 4 PM Sunday, October 10, 2021, at the Charles F. Snyder Jr. Funeral Home & Crematory, 3110 Lititz Pike, Lititz, PA 17543. In lieu of flowers, the family is asking for donations toward the publishing of "Sushi Tails", which can be sent to Mary L. Linger, at 961 Rettew Mill Road #53, Ephrata, PA 17522.
Watch the tribute video
Leave a condolence on this Memorial Page
Condolences to the Family
October 04, 2021
That laugh indeed, I could find him in a crowd by that sound alone. Like James Borden I remeber Shane's room as a quintessential representaiton of Shane, his personality made physical. I was a brute, Shane was a gentleman, an excentric and an artist. Be at peace my dear departed friend – thank you for the many lessons. Yours,Tommy Richmond
October 03, 2021
Even though I never met you Shane, I know that you were very much loved and cherished. I can just see you now, exploring the universe and all its wonders.Your creative and artistic talent was immense, and I'm hoping to see it live on. Mary, a most devoted and outstanding mother, you can rest easy that you did absolutely all you could and I'm sure Shane is so very thankful. Amanda, your dedication to your brother gave us yet another reason to love you. I'm so sorry for both your loss.There was so much love given to his heart and soul, that he was surely wrapped it it as he departed.🤍 Love, Kate (& Sloan)
October 01, 2021
Shane,
I'll cherish our childhood memories for the rest of my life. Like Dad and Amanda said, I greatly missed us all being together as a family. Always walking to the Getty from the house in Rothsville and getting into adventures with Dave in the woods behind the house. Hours of playing Jenga, Life, holding Verde, and you and Dave always scaring the crap out of me with the Ouija board. You both loved picking on me! I think 90% of my friends that came to the house had a crush on you!
I'll never forget your smile and your laugh. You were so wise beyond your years. I always bragged about your mind blowing artistic abilities to my friends. I still do. Ava has had some of your artwork on her bedroom walls for a couple years now. I so wish you would have been able to get to know my kids. I know you and Ava would have great conversations about music. Her style reminds me so much of you. Maycie is a great artist too. She loves to draw anime. I know she would have loved making art with you. I hate how the family drifted apart through the years, but even until right before your assault, you still called me your sister. You'll never know how much that meant to me. You, David and your mom were such a huge part of my childhood. I'm so lucky to have been able to call you my brother. Not step brother, or even ex step brother when our parents divorced. My brother. You will be greatly missed, but at the same time remembered greatly. Thank you being such a great and loving big brother through our childhood.
Love,
Britt
October 01, 2021
My beautiful son, words will never be enough to express the loss and grief. Shane was one of a kind, unique, loving, compassionate. I will miss him so very much. I'm so thankful to everyone who has helped us through this two years, and especially the final six months. I am so fortunate to have been able to get him home with his family and those that loved him. He will live on eternally in my heart. The sadness and heartbreak will eventually be overcome by those memories that always make me smile. You were so strong my son, and you will always be beautiful, our memories priceless. Thank you for all the years we had. I love you so much.
Mary Linger
September 28, 2021
I miss those days when all the kids hung out at the the house I tried to be a good male influence for Shane I treated him like he was my own son I lost my son and it deeply hurts right now I'm at a loss for words I love you kid. Love dad
September 27, 2021
This really hit me hard when I heard about Shane's passing.. he was a close friend to me for many years. His house was our group's hangout for years. I spent lots of time watching movies, listening to music, hiking and getting into trouble with Shane. His room was a work of art itself, decorated with many of his pieces. I remember his pet Iguanas kept in a giant cage and the characters he sketched based on them. He was a very creative person, always showing me his new artwork, piece he had created or new screenplay he had written. He was the most artistic soul I've ever met, always creating new things and trying new mediums. He had unique collections, such as vinyl records (in an age of CDs, before vinyl was "cool") and of course, zippos. He was one of my first friends that I made when I moved to Warwick and we were practically inseparable. George used to always joke "Your brother is gone" when I would come over and Shane wasn't there. That's how I feel now.
Proverbs 18:24- "A person of too many friends comes to ruin, But there is a friend who sticks closer than a brother."
James Borden
September 26, 2021
So very sad for the loss of a son & brother to his mom & family. May Shane now be at peace.
Our condolences
Bonnie & family
September 26, 2021
I love you so much shane and i always will, you are truly an inspiration, you are the strongest bravest person i have and will ever know. Thank you so much for letting me be a part of your life, it was a privilege. I'm going to miss you so very much big brother, i'm so sorry this happened to you, you never deserved this, but trust me brother you will get the justice you deserve even if its the last thing i ever do ❤️ I love you more than words can express, i'll make sure to take good care of fred for you 🐸 he misses you so much! We all miss you and we always will forever, until we meet again ❤️
– love your little sister Amanda
September 26, 2021
Mary,

thank you so much for having Juliana and I come visit. I can't tell you how important that was for all of us. I met Shane when I was 11 and he will always be one of my favourite people because of his heart and mind and everything that his is/was. Much loved forever.
im not certain I'll be able to come back over for the celebration on the 10th (I will try). Thank you again for helping coordinate a visit. I'm so grateful for all the times I've had with him despite physical distances and technology barriers. We always remained loved, trusted friends. I find it hard to really express all the things – The impact Shane had on me and I suspect everyone lives he touched were beautiful, ineffable and enduring.
love to you and your family
brittonie fletcher
Services

Sunday, October 10, 2021
2:00 PM - 4:00 PM
Charles F. Snyder Funeral Home & Crematory
3110 Lititz Pike
Lititz, PA 17543

Map and Directions