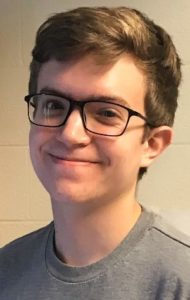 Sean Patrick Lenahan, 22
February 03, 2020
Sean Patrick Lenahan, 22, of Bloomsburg and Lancaster, passed away unexpectedly of natural causes on Monday, February 3rd, 2020 following a long illness. He was born in Grand Junction, CO and was the son of Dr. James E. and Jennifer L. (McMaster) Lenahan.
Sean was a senior at Bloomsburg University and was studying Mass Communications with a focus in Public Relations and a minor in Marketing. While at Bloomsburg he worked at the Student Recreation Center and he was serving as the 2019-2020 president of the PRSSA, a national organization affiliated with the Public Relations Society of America. He was a hard-working, dedicated student who made the Dean's List every semester and was set to graduate Magna Cum Laude in May.
Sean graduated from Conestoga Valley High School in 2016. He enjoyed his role as a member of the yearbook staff at Pequea Valley and Conestoga Valley, serving as editor his senior year.
Family traditions were important to Sean, with one of his favorites being the annual family cookie day before Christmas where he made a mean chocolate chip cookie (especially the chip-less ones he made for his Grandpa). Sean continued that love of baking at the Oregon Dairy Bakery where he worked during high school and the beginning of college. Sean also enjoyed taking family vacations to Disney World, the most recent being in January of 2020.
Sean was a kind, gentle, creative, compassionate young man who was known for his quick wit and a knack for remembering details. Our hearts are forever broken yet forever thankful for the time that we had with Sean.
Surviving in addition to his parents, is a brother, Kyle R. Lenahan, of Lititz, PA, two uncles, Justin McMaster, husband of Mindy, of Lititz, PA, Robert Lenahan, husband of Janet, of Macon, NC, two aunts, Cathy Welch, wife of Billy, of Chesapeake, VA, Bernadette Mondy, companion of Tal Roberts, of Blacksburg, VA, maternal grandparents, Denny and Paula McMaster, of Manheim, PA, a paternal grandmother, Bernadette Lenahan, of Chesapeake, VA, maternal great grandparents, John and Betty Wolgemuth, of Palmyra, PA, six cousins, and many other family and friends who will miss him dearly. He was preceded in death by a grandfather, Captain Robert P. Lenahan, USN, Retired.
The family will receive friends at a visitation on Sunday, February 9, 2020 from 1-3PM at the Charles F. Snyder, Jr. Funeral Home & Crematory, 3110 Lititz Pike, Lititz, PA. In lieu of flowers, please consider a donation to Bloomsburg University PRSSA, c/o Mass Communications 1210, Bloomsburg University, 400 E 2nd St., Bloomsburg PA 17815. Another way to honor Sean's memory is to hug your loved ones often and create loving family traditions.
Watch the tribute video
Leave a condolence on this Memorial Page
Condolences to the Family
February 23, 2020
Sorry to hear of your loss. As a member of the Bloomsburg community and I worked previously at Honeysuckle, he was a nice young man.
Natalie Hess
February 12, 2020
Dr. Lenahan and Jennifer, we are so sorry to hear of the loss of your precious son. You have our deepest condolences. Darlene and Courtney Radosavich
February 10, 2020
Lenahan Family,
My prayers are with you at this time. Sean was a dear friend and lunch table mate at Pequea Valley Intermediate. He was so joyful to be around, and I thoroughly enjoyed my time with him in the musical productions. God's peace be with you all. Sean is remembered and loved well.
– Eirené Hoover
February 09, 2020
Sincere condolences to you and your family at the loss of your child. Paula, we've had some wonderful discussions about grandchildren, there are no words to express the feeling of the loss. I am very sorry for your loss.
John Pers
February 09, 2020
We were so sorry to hear of the sudden loss of your beloved son, Sean. Our deepest heartfelt sympathies go out to your whole family. Prayers for peace and comfort in the days ahead as you hold on to the wonderful memories. Merv & Jan Stoltzfus
February 08, 2020
I had the pleasure of working with Sean at Oregon Dairy. What a kind young man. It was my absolute pleasure to have known him. My prayers are with your family during this difficult time.
Sue
February 08, 2020
We were all so excited to see Sean come back to the bakery for break every year. He seemed so quiet and polite, and then that little snarky comment would pop out at just the right moment. The little old ladies just loved him. He loved his family so much, that was clear even in the little bit of time we spent with him. Sincere condolences to his family. He will be missed.
Danielle, former bakery coworker.
February 08, 2020
Sending heartfelt sympathy to your family at this difficult and painful time. Thank you for sharing the tribute video – he was a kind and handsome young man, his time with you was too short. Love and take care of each other. Pam Kinsey, Aliza & Liana
February 08, 2020
JANET TOLD US ABOUT YOUR LOSS AND WE PRAY FOR THE LENAHAN FAMILY DURING THE PASSING OF SEAN.YOU HAVE OUR PRAYERS DURING THIS DIFFICULT TIME BUT WE KNOW THAT JESUS WILL BE LOOKING ATTER ALL OF YOU. GOD BLESS YOU.
ROBERT AND NANCY DUNN
February 08, 2020
I wish I had any words that would help. My deepest Condolences to the entire family!
Bob Kearns
February 08, 2020
I am so saddened to read this. One of my all time favorite patients. I enjoyed watching him grow from a Scooby-Doo love child to an amazing young man. Prayers to Kyle and his parents.🙏🏼
Michael Foltz
February 07, 2020
Prayers for strength and peace. Cherish your memories.
Lucretia Solomon
February 07, 2020
Jim Jen Kyle and family. There are no words to express the feeling of the loss of a child. We are so sorry and will keep you all in our thoughts and prayers that God will give you the strength to go on and remember all the good memories of Sean. He was a super student and friend to many people. I am glad you had that last trip to Disney as a family. Lots of love
Aunt Carol Ann and Uncle Terry and family
February 07, 2020
So sorry for your loss of your precious son Sean. I did not know him but my daughter is also a student at Bloom. From one mom to another..you and your family are in our prayers.
Val Johannessen
February 07, 2020
Dear Dr. and Mrs. Lenahan, my entire family has you in our prayers. I just wanted to mention that I am a student at Bloomsburg University and I am also in the Mass Communications department and I had several classes with Sean and even group projects. I can't even put into words how helpful and kind Sean always was to me. I always viewed him as one of the smartest people in the department due to his constant participation in class, him always answering the course material, and his outstanding leadership skills. I always knew Sean was there to help anyone who needed it. I can't even begin to express how respected he was and how much people looked up to him as a person. He always had a smile on his face, an eagerness to learn and much more. He had nothing but kind and encouraging words to say. A true gem to the Bloomsburg University community. We love him and miss him dearly.
Helen Allison
February 06, 2020
Dear Dr. and Mrs. Lenahan, may God give you grace and peace in tbe days and weeks to come and may memories of happy times with Sean heal your hearts .
Stephanie Jack
February 06, 2020
My son is also in the Mass Communications program at BU. I'm so very sorry for your incredible loss. Your family remains in my thoughts.
Another BU Mom, Kathy Rushforth
February 06, 2020
I'm so sorry for your loss. Sean will be missed on campus. Blessings to your family.
Jessica
February 06, 2020
As a former classmate, i sat next to Sean all four years of high school. He was always the sweetest. He always has nice things to say and was incredibly smart, a true gentleman. He will be greatly missed. My heart goes out to his family and close friends.
A former CV classmate
Victoria Lennon
February 06, 2020
Dear Lenahan Family:
There are no words I can express to take away your unbearable pain. Please except my heartfelt sympathy. I will hold your family in my thoughts and prayers.

Another BU Mom of 2
Wendy Schalter


February 06, 2020
Our deepest sympathy goes out to your entire family; we are so sorry for your loss. Bev & Bill Chaney
February 06, 2020
My deepest sympathy to the family! I am so sorry for your loss! Sending you Prayers!
Marieme Bah
February 05, 2020
As a fellow BU mom and bereaved patent There are no words aside from "I'm sorry for your incredible loss" We should not bury our children , my oldest daughter is graduating in May and I lost my youngest 4 1/2 years ago she was 11 and was struck by a car so sadly I understand the pain you are feeling my heart breaks for your family . my daughter also lived at Honeysuckle (she is home now doing student teaching) I am keeping your family in my thoughts and prayers.. Lisa Zukowski
February 05, 2020
I wish the greatest condolences for the Lenahans. I worked very closely with Sean in high school and considered him a good friend. I was shocked to read about his passing and am sending my prayers to Sean's family through this tough time.
Mai Le
February 05, 2020
Jen, Jim & Kyle..
my heat felt condolences to your family. Sean was always a pleasure to be around. GOD's Grace and Comfort be with you all.
Cindy Slider
February 05, 2020
Sincere condolences to you and your family~from another Bloom mom…Kim Black

February 05, 2020
We are sorry for your loss.
Kim and Dan Pratt
February 05, 2020
Lenahan family,
Sean was one of the kindest and caring people I knew. He always figured out what to say to make me smile even on the roughest of days. I am so sorry for your loss. He will forever live on in my appreciation for details that seemed to matter to no one but him. He will be greatly missed at class gatherings.
My deepest condolences and prayers for your family during this difficult time.
A high school classmate,
Malena Smith
February 05, 2020
Our sincere condolences to you and your family.💕 A Bloomsburg Family
Lori Booz
February 05, 2020
We are truly sorry for your loss. The loss of a child is heartbreaking. Our hearts ache for you and your family. We send our love and prayers to give you the strength you need to get through each day. Carole and Gordon
February 05, 2020
Heartfelt condolences to your family. I was saddened to read of another passing in the Bloomsburg University community. So very sorry for your loss.
Another BU Mom ~
Barb Conville
February 05, 2020
Jen, Jim and Kyle,
I am so sorry. Sean has and always will hold a special place in my heart. I'm so thankful I met him that summer at Tyler Place. He was such a special little guy back then, smart, funny and so sweet. I will think of him often and all of you. Love to you all. – Amanda
February 05, 2020
I am so sorry to learn of Sean's passing. He was a delightful student and a gentle, charming soul. Sending Healing Love and Light to his family and friends.
Suzanne Hamme
February 05, 2020
I'm so sorry for your loss. My thoughts and prayers are with your family 🙏.
Diane Hemperly
February 05, 2020
Eternal Memory to Sean. Our prayers are with you during this difficult time. Our daughter Anna spoke very highly of Sean as she worked with him in the BU community center. She enjoyed his humor and friendship. May you find strength during this difficult time. Morton and Nancy Dempsey
February 05, 2020
We are so sorry for your loss. Dr. L was just talking about your great trip to Disney to celebrate Sean's impending graduation. You are all in our thoughts and prayers ❤️ The Speases
February 05, 2020
So sorry for your loss. ..from a fellow Bloomsburg University mom.
Sheri Wasilewski
February 05, 2020
I am very sorry to hear of your son's passing! I still remember him as sweet little boy in elementary school. My thoughts and prayers are with your family.
Susan Houck
February 05, 2020
My heart is broken for you all. Sean was a treasure and made an indelible mark at CVHS and in the lives of all who got to know him. I count it a real privilege to have crossed life paths with him. Diane King
February 05, 2020
To the Lenahan family & friends –
We are so sorry to hear of the loss of Shawn, your Loved One. Sheila & Lance Yarus
February 05, 2020
We want to extend sincere sympathy to your family. Sean was a delightful young man, so easy to talk to. We will miss him.
Mike and Teresa Murry
February 05, 2020
I'm so so sorry for the loss of your precious son. Whole I did not know him he seemed like such a treasure. My daughter is a senior at Bloomsburg as well. Hugs to your entire family for this loss!
Pam Bowman
February 05, 2020
My deepest, deepest sympathy.
Anne Agnew
February 05, 2020
Our hearts go out to your whole family during this time- Kristin and John Thiry, Dick and Jane Albright and Rick and Liz Albright
Visitation

Sunday, February 09, 2020
1:00 PM - 3:00 PM
Charles F. Snyder Funeral Home & Crematory
3110 Lititz Pike
Lititz, PA 17543

Map and Directions