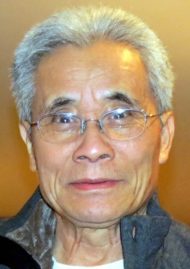 Sayavong Ratjavong, 75
July 03, 2016
Sayavong Ratjavong, 75, of Gordonville, passed away on July 3, 2016 at home surrounded by his family.
He was born in Luang Prabang, Laos as H.R.H. Prince Sayavong, son of H.R.H. Prince Duang Chan and Princess Chan Peng, and grandson of H.M. King Zakarine. Sayavong was the cousin of the last King of Laos H.M. King Sisavang Vatthana. Sayavong and his family escaped from Laos during the communist invasion and immigrated to the U.S. in 1979, and became a U.S. citizen in 1988. Sayavong was a graduate from the College of Lycee Pavie, Vientiane, Laos 1959, and Ecole Superieure Technique Du Genie, Versailles, France 1968. He completed the U.S. Army Officer's training courses in Fort Lee and Fort Belvior, VA 1973. He was a Captain in the Lao Royal Army, and was a member of the Black Tiger Commando Unit. He fought alongside the U.S. Military during the Vietnam War. He was fluent in Lao, Thai, French, and English. Sayavong enjoyed working outside and spending time with his family, especially his nine grandchildren.
In addition to his wife of 50 years, Vannaly Ratjavong, he is survived by his four children: Saysavath S. Ratjavong, husband of Amanda Ratjavong of Gap, PA, Saysana S. Ratjavong, husband of Jennifer Ratjavong of Intercourse, PA, Vasira S. Ratjavong, husband of Vithida Ratjavong of Lehigh Valley, PA, and Ai S. Lapp, wife of Manny Lapp of Bird-in-Hand, PA, and nine grandchildren: Ty, Kyle, Jansivanh, Brandon, Kierra, Nikolis, Dylan, Mai, and Alixix. Sayavong is also survived by one brother and a sister, who still reside in Luang Prabang, Laos.
Funeral Services will be held at 2PM on Saturday, July 9, 2016 at the Charles F. Snyder, Jr. Funeral Home & Crematory, 3110 Lititz Pike, Lititz, PA 17543. Friends will be received one hour prior to the service at the funeral home on Saturday. Interment will be private and at the convenience of the family. Flowers will be received.
Leave a condolence on this Memorial Page
Condolences to the Family
July 09, 2016
We are sorry to hear about the loss of Mr. Ratjavong. Our sincerest thoughts and prayers are with you and your entire family. Sincerely, John, Deb, Alisha and Adam Miller.
Visitation

Saturday, July 09, 2016
1:00 PM - 2:00 PM
Charles F. Snyder Funeral Home & Crematory
3110 Lititz Pike
Lititz, PA 17543

Map and Directions

Services

Saturday, July 09, 2016
2:00 PM
Charles F. Snyder Funeral Home & Crematory
3110 Lititz Pike
Lititz, PA 17543

Map and Directions