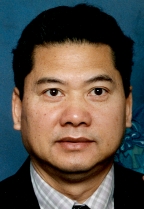 Say Tieng Ya, 63
Say Tieng Ya, 63, of Alencon, France, passed away on Saturday, Sept. 20, 2008 at Centre Hosptialier Universitaire De Caen in Caen, France.
He was the husband of Yau Moua Ya, also of Alencon. Born in Nam Yene, Laos, he was the son of Ngia Lau Yang of Brooklyn Park, MN and the late May Thao.
In 1968, he graduated with a Certificate of 4 years Bible training from The Christian and Missionary Alliance Bible Institute in Vientiane, Laos. He began his career as a pastor in 1968 and retired from full-time ministry in 1998 due to health problems. Until his death, he was still ministering part-time. Mr Ya's ministry has touched so many lives throughout France, French Guyana, and Laos. He was known as the Loving and Caring Pastor among his past and present worshippers His last wish was to be laid to rest in the USA with the rest of his immediate family in Ephrata.
In addition to his wife and father, Mr Ya is survived by his 3 sons: Tcho Charles Ya married to Hli of Alencon, Moise Ya married to Stacy of Ephrata, and Mblong Francis Ya married to Vang of Lyon France; his 3 daughters: Aline married to Michel Thor of Lyon, Maly Marie married to Lasamy Ly of Alencon, and Sainhiaphone Paule married to George Moua of Loganville, GA. He is also survived by his 19 grandchildren, 1 great grandchild, his brothers: Chong Neng Yang, Kou Yang, Sy Yang, Marc Ya, and Cha Ger Yang, and his sisters: May Hua Lee, Ma Yang Moua, Mee Yang Moua, and Nyoua Vue.
Friends will be received at the Charles F. Snyder Funeral Home and Chapel, 3110 Lititz Pike, Lititz, PA on Thursday and Friday, October 9 and 10, 2008 from 9-11AM and 6-8PM each day, and again on Saturday October 11, 2008 from 9AM until departure for Mohler's Church Cemetery in Ephrata. To send an online condolence, please visit www.snyderfuneralhome.com
Leave a condolence on this Memorial Page