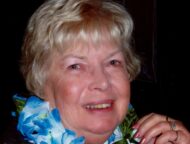 Sandra Lee Martin, 78
August 29, 1943 - September 26, 2021
Sandra L. Martin, 78, of Lancaster, passed away peacefully on Sunday, September 26, 2021, surrounded by family and friends at Maple Farm Nursing Center in Akron. Born in Coatesville, PA, she was the daughter of the late Thomas and Elaine (Brown) Rominger. Sandy was the wife of the late John H. Martin, and they were married for 48 years at the time of his passing in 2016.
A 1961 graduate of S. Horace Scott High School in Coatesville, Sandy worked as an Executive Secretary for Lukens Steel Company for 23 years before working for Timeter Instruments Corp. and Aggregates Equipment, Inc. She loved to travel and was a devoted Philadelphia Phillies and Eagles fan.
Sandy is survived by her step-daughter, Lori L. Krchnar and her husband Joseph of Lancaster; four step-grandchildren, Jeremy Mackey (Karen Miller), Jonathan Mackey (Sara Smith), and Jessa and Jaden Krchnar; and a step-great-grandson, Carter Mackey.
Services and interment will be private at the convenience of the family. In lieu of flowers, contributions in Sandy's memory may be made to Hospice & Community Care, 685 Good Drive, P O Box 4125, Lancaster, PA 17604-4125.
Leave a condolence on this Memorial Page
Condolences to the Family
October 21, 2021
Lor, I am sorry for your family in the loss of Sandy. My prayers are with you .
Sandy, and I were friends for 60 years. I will miss her everyday until I meet her Jack and Pooky in Heaven. Thank you for everything. I don't know what she woould havw done without you and your loving family.
I am so glad we were able to spend time with her at the nursing home.

October 04, 2021
So sorry to hear about Sandy's passing. I worked with her at Irex Corp prior to her retirement and she attended many of the reunions we had in the years since. Communicated with her in July regarding our most recent reunion and was saddened that she was unable to attend due to it coinciding with her last treatment. She only said that they left her terribly tired and didn't indicate how serious it had become. Sandy loved our social events at Irex which normally centered around food and we could always count on her to theorize why the desserts had no calories. The best theory was that all the calories escaped because we had open-toed shoes on. She also convinced the dept to chip in for a belly dancer for the boss. She had such a great sense of humor and enjoyed life to the fullest. God rest her soul. Take comfort in the knowledge that she and Jack are back together again, probably sailing on the open seas with lots of friends surrounding her. She will be missed.
Karen Drevyanko
October 01, 2021
Dear Lori and Family, We grieve with you. Sandy will be in my heart till the day I join she and Jack, most likely in the funnest part of heaven. I am so glad that I got to spend several days with her this Spring when she was still active and we both had a great time.
Kathy Rigney
October 01, 2021
I'm so sad to hear the passing of Miss Sandy…she was a beautiful lady with a beautiful heart..She will be missed dearly !
Thoughts and prayers to the family !

Kelli Slocum
September 30, 2021
I worked with Sandy at Irex for a number of years. She always was a lot of fun. Will miss her!
September 30, 2021
Lori..Dianne and I were saddened to hear about Sandy's passing. Our condolences to you and your family. Sandy and Jack were great friends and we have great memories of fun times with them.
Craig and Dianne

September 29, 2021
Our sympathy goes out to Lori and the family as you go through these difficult days. Sandy took a big piece of my heart with her as I know she did yours as well. May you find peace and comfort knowing that you will all be together again.
Loved by, Doris & Ray