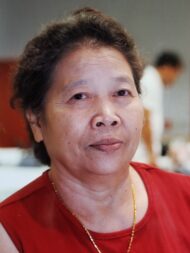 Sana Kheuangthirath, 78
November 13, 2021
The Kheuangthirath Family lost our anchor on Saturday, November 13, 2021, when Mrs. Sana Kheuangthirath, affectionately known as "Mae", passed away peacefully with her family by her side. Sana (our mother, grandmother, and great grandmother) loved cooking for her grandkids and growing the ingredients for those dishes in her garden. She would stop in the middle of whatever she was doing and make sure they were fed before they left her house. It was important to her that no one would leave her house with an empty stomach.
Her journey to the U.S. wasn't easy. Sana, Savath, and Boonta made an escape from Laos to Thailand in the middle of the night to flee the country after it fell to communism. In Thailand they were joined by her husband and their father, Boonmee. After spending a couple of years in Thailand the family was able to immigrate to the U.S. through a sponsorship program with White Oak Church of the Brethren. Since December 1979 the family has made Manheim, PA their home and their community.
After suffering a stroke in the early 2000's, she retired from her job in the textile industry. She shifted her focus to spending more time with the family, friends, gardening, and cooking. She courageously fought a battle with the effects from the stroke for the next 19 years. If we look at grandmas's wins and losses, her record is 18-1. Not too bad for Great Grandma.
Sana is survived by her loving extended family located throughout the U.S., Laos, and Thailand. She is survived by her husband, Mr. Boonmee Kheuangthirath, their 2 sons; Savath (wife Marina), Boonta (wife Dione Hosler), 7 grandchildren (Ashley, Kristen, Sariena, Brandon, Samina, Ellis, Rowan), 7 great grandchildren (Cayden, Hannah, Quinn, Isaac, Lili, Xander, Alanna), one sister in Thailand, and 2 brothers in Laos. She was preceded in death by her parents and 3 brothers.
Her legacy will live on in the hearts and minds of everyone she encountered. Come and share your memories with the family on Sunday, November 21, 2021, at the Charles F. Snyder Funeral Home located in Lititz/Neffsville. Address is 3110 Lititz Pike Lititz, PA 17543. Viewing will be held from 12:30 – 1:30pm followed by a Buddhist ceremony from 1:30 – 4pm.
Leave a condolence on this Memorial Page
Condolences to the Family
November 18, 2021
Sorry for your lost and send huges from Chile Kristen and family!!😪🙏😘❤ Gina Canales.
November 18, 2021
To the entire Kheuthanrath family my thoughts and prayers are with you all! I didn't know Mae all that well but when Savath and I were in our last year of High School and many years after I spent time at Mae's house and I have wonderful memories of those times. She was a amazing cook and worked tirelessly cooking and taking care of everyone. She had a beautiful smile and such a huge heart! My deepest condolences for your enormous loss! With much Love,Lisa Hilton
Visitation

Sunday, November 21, 2021
12:30 PM - 1:30 PM
Charles F. Snyder Funeral Home & Crematory
3110 Lititz Pike
Lititz, PA 17543

Map and Directions

Services

Sunday, November 21, 2021
1:30 PM - 4:00 PM
Charles F. Snyder Funeral Home & Crematory
3110 Lititz Pike
Lititz, PA 17543

Map and Directions