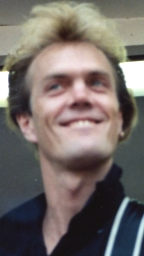 Samuel W. Rawhauser
Samuel W. Rawhauser "Sam Lugar" 55, of Lancaster, passed away peacefully Thursday, October 8, 2009 at Hospice Mt. Joy. Born in Lancaster, he was the son of the late Samuel C. and Vera J. (Sener) Rawhauser and son-in-law of Bob and Jackie King. Sam was the husband of Sandy (King) Rawhauser with whom he celebrated 28 years of marriage in August.
Sam was the lead singer and guitarist of the music group, The Sharks. He had an electric presence on stage, whose passion and honesty were clear to all who were lucky enough to experience it. He was able to make people dance and laugh and was always a true gentleman. During the last five years he was also employed by Bon Grain Cheese as a Maintenance Technician.
Sam enjoyed playing softball in the Lancaster County Slow Pitch League. He played with the No More Mister Nice Guys for many years. He was an avid fan of the Dallas Cowboys and the New York Yankees. Sam took great pleasure in working on crossword puzzles and leisurely golf outings with friends and family.
Surviving in addition to his wife Sandy is a son Ian Rawhauser of Lancaster, and two sisters, Marcia and Maxine.
A Memorial Service will be held Saturday, October 17, 2009 at 1 p.m. at the Charles F. Snyder Funeral Home, 3110 Lititz Pike. Interment will be at a later date. Memorial contributions can be made to American Cancer Society, 314 Good Drive, Lancaster, PA 17603, or Hospice of Lancaster County, 685 Good Dr., Box 4125, Lancaster, PA 17604. For more information and to send condolences please visit sharksband.com or snyderfuneralhome.com.
Leave a condolence on this Memorial Page
Condolences to the Family
March 31, 2017
I know that this is a little late but I was doing some research on The Sharks and discovered Sam's passing. I never met Sam but The Sharks played at my high school back in the early 80's and I loved their sound. Been looking for copies of their albums for quite some time now but haven't had any luck. My condolences to his wife and son. I'm sure that he is up in Heaven still rocking hard. RIP Sam.
Sandy and Ian,
I can still remember the first time I talked to Sam. I was putting together a softball team (MXL) and Alan Miller told me to call Sam Lugar of "The Sharks" and ask him to play. I called and when Sam got on the phone I said this is Ron Wood. He replied back with Ron Wood of "The Rolling Stones"? I said no, just Ron Wood of Elizabethtown and we had a good laugh! We went on to win the league championship that year. Sam turned out to be a great team mate and a great friend. Hope you find strength in the many great memories Sam has left for all of us. He will be missed by many.
Ron Wood
Please know that you are in our thoughts and prayers. Sam will always be in our hearts.
Barbara Harris North & family
Sandy,
You and your family have been in my thoughts and prayers.
Kim Kieffer
Sandy,
You and Ian have my sympathies. I can't express how much Sam and the Sharks meant to me as a young man. I was one of the early 'regulars' at the Village. If the guys played 6 nights in a week, I was there 6 nights as well. (Except for the Springsteen night for some reason) I spent many hours traveling to the Metron and Rumplestiltskins as well. Every hour was well worth it. Can we believe that was nearly 30 years ago?? Sam was a great guy. Anytime I'd run into him around town he always had time for a chat. No airs about that guy! I feel blessed to have been part of the whole thing. I will be praying for you and I will see you at the service Saturday.
Mike Landis
Reinholds
I heard the news today, oh boy …
Sandy, you have my deepest felt condolences in your time of loss. Sammy was always upbeat, kind, attentive and musical. His spirit and music live on in all of us who remember him and his art. I always enjoyed going down to that pool with you two in the summer, hanging out when we did and watching him work the stage live. I hope that you and your family can find some portion of peace in the fact that he is missed, was touched by so very many and leaves behind a lovely repertoire of acts, music and words.
With Greatest Sympathy,
Blair King
Sandy and Ian,
Our hearts and prayers are with You and Sam. In the entire time I knew Sam I never heard a cross word from him about anything or anyone. He exemplified in every way the way people should treat each other. I feel proud and fortunate that he considered me a friend and will always hold his friendship close to my heart. If you need anything and I am able to provide it, please feel free to contact me, we will always be there for you and Ian.
may God Bless you and hold you close to his heart.
Michael and Darlene Perez
Dear Sandy and Ian, my deepest condolences to you in these days of sadness. Though I did not have the pleasure of knowing Sam very well, his presence of being a great man, along with the joy he brought to those who enjoyed his music, will forever be remembered by those who's lives he touched. May God Bless your family……your friend,
MARK USCIAK….
i knew sam as a musician general good guy thru guy debau and never found him not to be the same guy i met in the mid seventies.honest approachable and never overly impressed with his talents ,though he should have been.i loved the sharks and wished they had the success of bon jovi.oh well no justice ,nothing against bj. miss you sam as a friend and musician. john schatt lancaster music exchange celebrity bowling and blue voodoo
My condolences to Sam's family, friends and fans. So many of my memories have The Sharks intertwined in them. Many trips to the Village, Hershey and Philly to see the band. Sam always had a smile on his face and would always take a minute to say hello. I was saddened to learn of his illness and passing. His voice touched so many of us. May his spirit live on.
Sandy,
I was devastated to hear of the loss of Sam. I have such great memories of hanging with you & the guys, going from gig to gig with Mitch in the van, and hanging at "Hotel Frederick". There will never be another Sam or a band like the Sharks. A big part of my life is missing now.
God bless you & Ian.
Missy Battle
Sandy, Ian and family members, We were so sorry and sad to hear of the passing away of Sam. We have always enjoyed going see The Sharks play and have enjoyed getting to know Sam over the years. We remember all the "No More Mr. Nice Guys" softball games. They were alot of fun. My goodness Ian was so little back then. Sam was truly gifted when it came to music….what a wonderful talent he had. We still listen to "The Sharks' music and have enjoyed the recent performances in the past years. May you know that our thoughts and prayers are with you. Look to God for guidance during this time. He is a great rock of strength. We will see you on Saturday to pay our respects.
Blessings,
Ron, Jacquee and Corinne Wood
Sandy, I can't even begin to imagine the pain you and your family is feeling. I didn't know your Sam, but from the little we talked here at my home and the talent and passion he expressed in his band, I know he was a special man to you, Ian and his many friends and fans. I remember the many times I sat in your chair and listened with envy the loving way you both spoke to each other when he would call. Your relationship seemed perfect to me. Devon and I are so sorry for your loss and our hearts go out to you and Ian. I wish for you the strength to carry on.
Our love and condolences,
Peggy and Devon
My sympathy condolences to the family on the passing of Sam. I had the chance to work with him and what a wonderful person he was. I just wish I could of taken the chance to go hear the band when they played. He loved his music. He was always willing to lend a helping hand to all who asked. He had a smile everyday, and always a kind word to say. He will be missed much by all who knew him. May God be with the family during this difficult time.
From a co-worker who worked with him at Fleur de Lait,
Teresa Peters.
You are all in my prayers and thoughts during this time. The Sharks were a part of my youth. I grew up with these guys, when I would go hear them play now that Im older it took me back to a time in my life when I was carefree and just for a moment I was back there when I would hear them play. We are all going to miss Sam and the band. Sam was such a talented guitar player, Im sure he is rocking in heaven. I am so very sorry for your loss and also for all of the fans that have grown up with these guys. God Bless
Samantha in Carlisle
Please accept my most heartfelt condolences for the untimely lose of your husband,father,brother Sam. I spent many evenings and New Years Eves in the presence of one of the greatest live bands ever of which Sam was a large part. I met up with Sam and Ian a few years back at Tree Top Golf Course and found him to be gracious and kind. What personable unassuming STAR he was. I also have gone through the pain of loss of a loved one. In March my sister Heidi passed away from Breast Cancer and in her memory and now Sam's I fight to fund the Jake Gittlen Cancer Research Foundation at the Hershey Med Center through an annual Golf Tournament by The Elizabethtown Rotary. I know that he will be missed and always fondly remembered.
Shark's Fan
John E Martin II
Elizabethtown Pa
I am sorry for your loss of your loved one.
Silviu Stefanescu RN ATCN
My deepest sympathy and love to Sandy and Ian. The loss of Sam is unquestionably another serious blow for the "Sharks family of friends".
I've had the pleasure of knowing Sam for nearly 30 years and I've never
known anybody who has touched so many lives in such a positive way as Sam has. His uplifting presence was as powerful off the stage as it was on the stage. The countless memories we shared will live with me forever and I won't hesitate to mention that some of the best times of my life were spent hanging out with "Sammy and the boys" as they played gigs from NYC to the Maryland shore. The gift of music is a wonderful joy to share, we're gonna miss you "Lugar" –
Peace and Love Brother !!!
Brian Barr
My condolences go out to Sandy, Ian, family members & extended family. Many moons ago a close friend of mine, Kevin Carroll (also now departed from this earthly realm ) introduced me to Sam. I had met Sam several times thru Kevin before I had even seen Sam perform music and my first impression of him was that he was a genuine human being with a big heart. Kevin had kept telling me that I had to go see Sam play. The first time I got a chance to see him play was right after I visited an ill friend in the York Hospital. Sam & Doug were playing in a club in a mall in York not far from the Hospital and I don't recall if they were using the name Sharks yet, but as I recall at the time Sam & Doug were the only band members that would go on to be known as the Sharks. I was feeling down & was sad because of the visit to my ill friend and when talking with Sam during the break he picked up on my gloomy demeanor. His real concern and empathy toward me that night is a memory that has stayed with me over the years and getting to know Sam better from that time on only reinforced my first impression of that genuine human being with a big heart. Kevin was so right in telling me I had to see Sam on stage. Sam might not have been the greatest guitarist or vocalist I have ever seen or heard, neither was Elvis, but like Elvis he had something more than just talent. Sam had a stage presence that is so very rare for a performer. His aura & ability to transmit emotions through his music was such a special talent that brought joy to so many. I will always cherish in my heart and in my memories the good times & friendship that Sam & Sandy & I had together. I also remember the joy that Sam had at the birth of Ian. May God bless Sam and give the strength to Sandy, Ian & family to endure during their time of sorrow.
With deepest sympathy,
Fredrico [ Fred Brillhart ]
My dad told me to see your band in the early 80's. I got to know you, you had a peaceful spirit. I loved the Sharks, you and the band were so much fun, ( and talented). Rest in Peace.
Kevin Carroll
My deepest sympathy to Sandy, Ian and the familes. It was with heartfelt sadness to hear of Sam's passing. I have "great" memories of seeing the guys (Sharks) perform, and voting during the MTV Basement Tape contest. My best friend and I would see them anywhere they played on the east coast. We were regulars at The Village. And "old" regulars when they got together later for shows on Thanksgiving. We use to joke about taking a nap after Thanksgiving dinner so we could stay awake long enough to make the show. But no problem once we got there. They always made you want to get up and DANCE. I can't say enough about their songs, performances, and overall personalities. Every night out with the guys was the "BEST". I continue to play the CDs.
I too am still dealing with the lost of a brother-in-law to cancer, a best friend (swimming accident), and an Uncle who was full of life at the age of 89, all since July of this year. The pain is deep and it hurts. I won't say it will be easy. It's not. Just keep in your hearts the memories and love you shared, and lean on family and friends in your time of grief. Sam you will missed dearly by those who knew you. I am sure though you are in a better place. I know you'll continue to "rock & roll". May God Bless YOU.
Cheryl L
Mountville, PA
I never knew Sam Lugar, and only briefly knew Sam Rawhauser. Not being a local guy, I knew nothing of his musicianship background. What I DID see in Sam, though, was a guy obviously at peace with life, a great big happy guy. You could just FEEL it. He helped my group at Fleur de Lait, always with a smile, and a thoroughness and pride that was remarkable. I never knew he was even sick; when I left FDL on a transfer in early August, I had not seen him for weeks, but I did think of him as I left my office and lab for the last time. He did work for us that others would not have been so happy to do, and did it with pride and happiness. It just struck me, "he is something special". All of the other tributes to him tell me I got it right. I regret I never got a chance to know him more. Gods blessings, Sam and family.
Steve Schalow
Sandy,
I was very saddened to hear that Sam was ill and has passed so soon. After the worst of the grief passes, the memories of your life with Sam will always be with you to provide comfort. As aggravating as musicians can be, Sam's song will continue to play in your heart for years to come. I cannot attend the memorial service, but know that my prayers are with you and Ian. I know you will be facing a difficult time in the coming weeks so don't hesitate to accept the help of your family and close friends. Please let me know if there is anything I can do.
Sandy Darrah