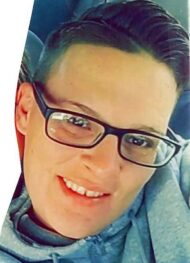 Samantha " Sam" M. Hattenback, 40
September 19, 2021
Samantha M. Hattenback, 40, of Lancaster, passed away September 19, 2021. Born in Philadelphia, she was the daughter of Linda M. Hattenbach.
She graduated Frankford High School in 1999 and most recently worked at Sensible Portions. Sam was an avid Philadelphia Eagles fan who also enjoyed playing soccer when she was younger. She had a heart of gold and everyone who knew her knew that her family came before anything. Sam had a great sense of humor and had the ability to make everyone laugh. She loved cracking jokes and was never too ashamed to laugh at herself. Sam loved music, and although she could not carry a tune her performances are memories that we will forever cherish. Her presence was always noticed when she walked into a room. A matching hat and sneakers were a must. Sam always strived to be a better person and she never stopped trying to fight for her recovery.
She will be missed by all who knew her especially her mom Linda Hattenbach, of Breinigsville, siblings: Sabrina Hattenback, of Philadelphia, Amanda Hattenback, companion of Sophia Lombardo, nieces: Korrine Kolodi, of Bethlehem, Kaleyanna Lancit, of Philadelphia, nephews: Kevin Kolodi, of Breinigsville, Kayden Lancit, of Philadelphia, Cashton Graver, of Columbia, and her friends, family, and companion Celia Santoyo. Sam is preceded in death by her father Charles Hattenback, her grandparents, uncles, and her longtime companion Amber Stevenson.
A Celebration of Life will occur on Saturday, October 2nd, 2021 at Grace Lutheran Church, 517 N Queen St., Lancaster, PA 17603 at 2PM.
In lieu of flowers, please send memorial contributions to The Gatehouse, 8 North Queen Street 5th floor, Lancaster, PA 17603.
Watch the tribute video
Leave a condolence on this Memorial Page
Condolences to the Family
October 07, 2021
Sam,
You impacted so many peoples lives. My heart is broken I never had the chance to know you better. You made me laugh. You were warm, gracious, loving, kind, and determined. We have lost an incredible person who only loved hard. I think about you and the pain of your family daily. You will always be in my dear and sweet memories.
Emma
September 29, 2021
Sam, one one of the worst days of my life, you made me laugh. Thank you. Miss you. Xoxo
L.M.
September 26, 2021
My prayers and thoughts go out to the family and friends, may God comfort and hold you all in this time of sorrow and mourning (Love and Respect from)Big Doug
September 25, 2021
Sam you will truly be missed .I loved how you always loved my lasagna and cheese cake. How you always said Aunt Fran when are you gonna make them. Fly high Sam no more struggles for you you are with your Dad and so many others in the family.
September 25, 2021
My heart is so broken but I know you are not suffering. My love for you will never die. Fly High Sweet Angel. I will miss you so much. My prayers go out to your family. 🙏❤💜💙💚💛💖