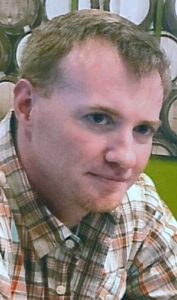 Ryan C. Thompson, 35
April 12, 2017
Ryan C. Thompson, 35, of Lititz, passed away at Chambersburg Hospital following a traffic accident on Wednesday, April 12, 2017. He was born in Lancaster to Rick and Laurie (Cassady) Thompson on April 24, 1981.
In addition to his parents of Lititz, Ryan is survived by his brother, Reid and his wife, Kelly (Long), and their children Blake and Bristol; several aunts, uncles and cousins and his loving Golden Retriever and best friend Cooper. Ryan was preceded in death by his grandparents Frank and Gloria Thompson of VT and Curtis and Myrna Cassady of Lititz, PA.
He was a 1999 graduate from Warwick High School, where he played football and soccer. Ryan attended a semester at the University of West Virginia, a semester at the University of Pittsburgh and completed electrical school in Vermont. Living in Vermont for 7 years, he worked as an electrical journeyman before moving back to Lancaster County. He currently worked for his father in the family business, Fisher & Thompson Incorporated in Leola as assistant parts department manager.
Ryan loved to learn and had a special interest in history often watching the History Channel. A MacGyver type man, he collected trinkets, odd tools and gadgets. He loved hiking in the woods and helped his friends build a sugar house in Vermont where he found much joy in God's natural surroundings.
Ryan dearly loved his nephew Blake and niece Bristol and spent as much time with them as possible. He had a big smile, loving and empathetic heart; his giggle brought joy to all nearby.
A Celebration of Ryan's Life will be held 10:00 AM Tuesday, April 18, 2017 at Lancaster Brethren in Christ Church, 1865 Fruitville Pike, Lancaster, PA 17601, with Pastor Joshua Nolt officiating. A viewing will take place on Monday from 6 to 8 PM at the church. Interment will be private. In lieu of flowers, memorial contributions may be made to American Cancer Society, 55 Day Lane, Williston, VT 05495. Please make checks payable to American Cancer Society and put "Grams Gang – Caledonia County Relay in the reference field.
Leave a condolence on this Memorial Page
Condolences to the Family
April 22, 2017
Dear Thompson Family, you do not know me nor I you. I have recenlty been in touch with one of your family members and I wanted to let you know that you are loved. You are in my thoughts and prayers. Families can be together forever. My condolonces, Holly
April 18, 2017
Dear Thompson Family, we are so sorry to hear about Ryan. Our prayers, thoughts and hearts are with you today. May God grant you serenity, peace and love during this time. Debbie Dodge and Family
April 18, 2017
Our hearts are heavy ..thinking of you wonderful people at this sad time.
Dick and Sandy Allen
April 18, 2017
Rick, Laurie, Reid and family – on behalf of the "Long" family we offer you our deepest sympathy, prayers and comfort. We are thinking of you.
Jere and Barbara Long
April 18, 2017
Dear family of Ryan Thompson,
I'm very sorry for your loss. Sending thoughts and prayers your way.
Beverly Smith Wallace

April 17, 2017
Laurie&Rick

Our thoughts and prayers are with you and your family, as you go through this very tough time.
Francis & Diana Stoddard
April 17, 2017
Dear Rick & Laurie, We are so sorry for your loss. You are in our thoughts and prayers. Love, Dawn & Mike Lavoie
April 17, 2017
Rick and Laurie may the peace of God surround you during this difficult season.
Our thoughts & prayers are with you & your family

Hilco & Joyce Stevens
April 17, 2017
Rick, Laurie, & Family – our sincerest thoughts and prayers are with you and the Thompson/Cassidy families. May cherished memories of Ryan give you peace and comfort today and in the days ahead. May God keep you in his care. Brent/Cyndy Hutchins and Bob/Priscilla Locke
April 17, 2017
Rick, Laurie and Reid
I cannot imagine your feelings at this time, my heart breaks for all of you. I hope that in time you will heal and be able to remember Ryan with smiles. I will always have a special place in my heart for him and remember him as the "cute little red head". My thoughts and prayers are with you all.
Much Love,
Dwayne and Peggy
April 17, 2017
We share your grief in this tragic loss. Let the lovely, precious memories of happier times ease the burden of your loss. God Bless You and lessen the pain in your heart.e Don & Vivian
April 16, 2017
The word just seem so inadequate to express how sincerely I grieve along with your family during this time of loss. I know that each of us will carry a piece of Ryan with us in our hearts and memories. Please know my thoughts and prayers are with you. I hope that God's grace can help to heal the pain and bring peace and understanding to all of you as only he can. Meldia Justce
April 16, 2017
Ricky and Laurie and family we are so sorry for your loss. Sending prayers and love to you .love Mike and Barb
April 16, 2017
Wanted to pass along my sympathy to the loss of your son. We tragically lost our son in January from a car accident. Wishing you and your entire family strength during this difficult time. May you find peace to replace your pain in the days ahead. The Gerber Family
April 16, 2017
There just are no words to say that can express how sorry I was when I heard the tragic news about Ryan. He was a gentle soul with a huge heart and focused on serving others! In many ways he had an impact on all that knew him. Our hearts go out to the family-Rick and Laurie-Reid and Kelly and the children! May God wrap you all in his arms , and comfort you is this most difficult and sad time! Our prayer is for God to heal the hurt and sorrow, and keep his memory preserved with you always!
God Bless you all!
Mike and Dawn Fleck
April 16, 2017
It is with a heavy heart that I post my sympathies to everyone. Much love to all of you during this sorrowful time. – Kim
April 16, 2017
Sending my condolences to you all, my thoughts and prayers are with you,again so sorry for your loss,
Alta Welch
April 16, 2017
Rick, Laurie, Reid, Thinking of all the years we were neighbors and the memories of our kids together. We have had some great times together. Those memories will bring us comfort in this time of healing! Blessings and prayers for all of you today and in the days ahead. Jack and Rose Connelly

April 16, 2017
Ryan,
I love you man. You wereof great influence to my life, and I'm so sad to hear of your abrupt transition. I look forward to meeting you on the other side. God please bless the Thompson family.
April 16, 2017
Rick, Laurie and family….thinking of you during this most difficult time. My heart goes out to you!❤️
Susie Engle-Acheson
April 16, 2017
Rick, Laurie, Reid and family, so very sorry to hear about Ryan. We can't imagine what you are going through. Please know we are sending our thoughts, love and prayers to you all. Ben and Karen Harrington
April 16, 2017
Dear Rick, Laurie & family, It is with much sadness of hearing of the passing of Ryan. May your family find peace & comfort in this time of need. Our condolences, thoughts and prayers are with you and yours. God Bless. Ed & Diane Schmidt
Visitation

Monday, April 17, 2017
6:00 PM - 8:00 PM
Lancaster Brethren in Christ Church
1865 Fruitville Pike
Lancaster, PA

Map and Directions

Services

Tuesday, April 18, 2017
10:00 AM
Lancaster Brethren in Christ Church
1865 Fruitville Pike
Lancaster, PA

Map and Directions