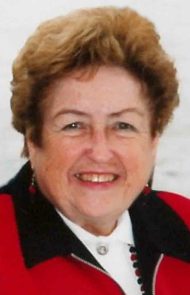 Ruth L. Walp, 92
April 05, 2021
Ruth L. Walp passed away on Monday, April 5, 2021 at Brethren Village. Born in 1928, Mrs. Walp was in her 93rd year. She was the wife of the late William W. "Bill" Walp, who passed away in 2013. She had lived her entire married life in Lancaster, residing at Brethren Village since 2005.
Born in Binghamton, NY, she was the daughter of the late Ethel and Walter Lewis. She grew up in Nanticoke, PA, a graduate of Nanticoke High School and Drexel University, with a BS Degree in Home Economics, Science and English. After graduation, she worked for PPL as a Home Economist giving classes in appliance dealers' showrooms as well as cooking schools, including the Lancaster Newspaper Cooking School, in 1952. Later she taught home economics at Edward Hand Jr. High School for 25 years.
Ruth belonged to the Lancaster Women's Club, where she had served as president; the Lancaster County Assn. of Family and Consumer Services, the LSDR, and PSAR. After retiring, Ruth helped plan and escort numerous trips for the Lancaster Silver Threads. She and Bill traveled a great deal to places including Australia, New Zealand, Mexico, Canada, 15 countries throughout Europe and enjoyed 24 international cruises. Additionally, she was an active member of Grandview Church since 1956.
Ruth is survived by her 2 sons: Lee married to Connie Miller Walp, and Bill married to Jeanne Walker Walp; and by her 3 grandchildren: Lisa Walp Romano married to Brian Romano, Charles Thomas Walp married to Brittany Krotzer Walp, and William Lucas Walp; and by her great grandson: Wyatt Carmine Romano.
Graveside Funeral Services will be private at the convenience of the family. There will be a celebration of Ruth's life at a later time, which will be announced. In lieu of flowers, please make contributions in Ruth's memory to Grandview Church, 888 Pleasure Rd., Lancaster, PA 17601.
Leave a condolence on this Memorial Page
Condolences to the Family
April 14, 2021
Lee – sorry to hear about your mom. Thinking of you and your family.
Tom Mevins
April 13, 2021
I was sad to read Ruth Walp's obituary on Sunday. My condolences to the family, especially Lee and Charlie who I know. She certainly lived a full life over her many years. May your memories of the best times give you comfort and joy as you process this loss. I will be thinking of you. With sympathy, Dottie Gschwend
April 12, 2021
Our thoughts and prayers are extended to the Walp family in this time of loss. May her Memory be Eternal.
George Mimidis
April 11, 2021
I was a friend of Ruth for many years through the Lancaster Woman's Club. She was such a friendly person, and always willing to lend a hand. I'm so sorry for your loss.
April 11, 2021
So very sorry for your loss. We went on several trips escorted by Ruth and Bill (prior to the Silver Threads trips) and always had a lot of good times! We also remember talking to Ruth when she worked on election days at Brethern Village. We will always remeber Ruth and Bill fondly, and the trips we all shared. Prayers to your family. Donna and Chuck Kilgore
April 11, 2021
On behalf of the Lancaster County Assoc. of Family and Consumer Sciences, we express our deepest sympathies to the family. Ruth was a long-time supporter of LCAFCS but more-a colleague and friend to us all.
April 09, 2021
So sorry for your loss. Enjoyed seeing Ruth and the family over the years.Blessings and love to all, Lowry Puckey. (Charles Puckey's wife)
April 08, 2021
We enjoyed Ruth as our neighbor at BV in Fieldcrest. She was a nice friendly lady. Rest in peace Ruth.
Richard and Marie Kephart
April 08, 2021
Our sincerest condolences to the Walp family at this difficult time. Words can't express how saddened we are to hear of your loss. RIP Ruthie
With Sympathy Phyllis Romano & The Tamburello Family
April 08, 2021
Fred and I are so sorry for your loss. No words can give you comfort at this time but try to treasure your memories. Fred and Linda Romano
April 07, 2021
Ruth was definitely one of a kind. She will be missed by many, but we will keep her memory in our hearts. My condolences to the entire Walp family. RIP Ruthie.
Donna Nolan