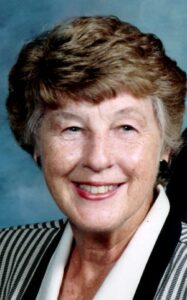 Ruth G. Shultz, 85
September 14, 2021
Ruth G. Shultz, 85, of Brethren Village, passed away Tuesday, September 14, 2021. Born in Willow Street, PA, she was the daughter of the late Samuel and Emma (Freidly) Goss. She was the loving wife of Glenn A. Shultz with whom she shared 65 years of marriage.
She was a 1953 graduate of Penn Manor High School. Ruth spent most of her life raising and caring for her family. She and her husband co-founded the Triple J Mobile Home Park in 1967. She enjoyed shopping, golfing, card playing, and entertaining family and friends at their second home in Sarasota, FL.
In addition to her husband Glenn, she is survived by a daughter, Janis Miller, wife of Michael of Ephrata; two sons, Jeffrey Shultz, husband of Debra of Strasburg and Jere Shultz of Akron. Also surviving are seven grandchildren; Marc, Karly, Andrew, Jennifer, Stephanie, Jordan, Megan, thirteen great­ grandchildren and a sister, Shirley Stauffer wife of Wayne of Lititz. She was preceded in death by a brother, Samuel Goss and sister, Betty Harnish.
Memorial Services will be held at 11:00 AM on Monday, September 20, 2021, at Lancaster Church of the Brethren, 1601Sunset Ave, Lancaster, PA 17601. Meet and greet the family will be from 10:00 to 11:00. Interment will be private. In lieu of flowers, contributions in Ruth's memory may be made to Hospice & Community Care, PO Box 4125, Lancaster, PA 17604-4125, American Cancer Society, 314 Good Dr, Lancaster, PA 17603 or to the church at the above address.
Leave a condolence on this Memorial Page
Condolences to the Family
September 25, 2021
Dear Schultz Family,
I was speaking with my mother this morning and learned of Ruth's passing. Please accept our condolences and deepest sympathy.
Ruth was so kind to me whenever we saw each other at church or prayer breakfast. She always seemed genuinely as pleased to see me as I was to see her.
My mother asked me to share the following story. Ruth often would remember a time when I was a baby, and my parents had asked her to watch me while they went on a short trip. My mother left her with a whole case of baby food, and Ruth told her there was no way I would eat so much. My mother responded, "Just you wait and see." Before the weekend was even finished, Ruth had to go out and buy more. I was a big eater even then, and I still and today. Just turned 59.
I know that this must be a difficult time for the family Schultz. Please know that there are many lives out there that Ruth touched. May the Lord Bless and Protect you all.
Peace,
John Breidenstine
September 20, 2021
Jere, and Family,
I am so sorry to hear of Ruth's passing. Your family was very special to me in my younger years. I always enjoyed talking with Ruth, and cutting and styling her hair. I will be praying for God's strength during this difficult time. Fondly, Cathy Duffy
September 18, 2021
Glenn
We were so sorry to hear about Ruth's passing.
You were both such great neighbors on Buch Avenue. We have missed you. Our sincere condolences to you and your family. Ruth was a special person and we know you are missing her. Please be well and know that your friends are thinking of you
Deb and King Knox
September 17, 2021
Dear Janis,
Thoughts of your mother center around all the fun we had over the years in Farm Women #24. We laughed together about many funny and crazy things in our lives. Farm Women helped us all remain a little saner during our busy lives of raising families, working, and keeping "the home fires burning." If only I could remember the stories of you and your brothers and of your children, it would fill many pages.
We shared many meals and snack times together, we traveled together locally and also to some far away County Conventions. Farm Women was a time we all looked forward to being together. We had a deep belief in God and in his powers–we read the Bible and prayed together and we knew the love and security of being a Christian.
May the memories of your mother sustain you in this time of sorrow and loss. May God bless each of you especially your father who was always so very devoted to your mother.
Blessings,
Joanne Smoker
Visitation

Monday, September 20, 2021
10:00 AM - 11:00 AM
Lancaster Church of the Brethren
1601 Sunset Ave
Lancaster, PA

Map and Directions

Services

Monday, September 20, 2021
11:00 AM
Lancaster Church of the Brethren
1601 Sunset Ave
Lancaster, PA

Map and Directions