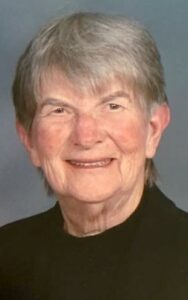 Ruth C. Fry McKennon, 90
September 01, 2022
Ruth C. Fry McKennon, 90, peacefully passed into the arms of Jesus on September 1, 2022. Ruth was born in Lititz to the late William B. and Emma (Engle) Fry. She married the late Millard M McKennon Jr. on a snowy Christmas Eve in 1960. They were married for 61 years.
Ruth graduated from Lititz High School in 1949. She attended Pennsylvania State University where she was a member of the PSU Blue Band and graduated in 1954 from Albright College with a degree in Home Economics. She was honored to have the Distinguished Alumni's Award bestowed upon her in 1988 and continued to be an advocate for the college her entire life. Following graduation, she worked for Maier's Bakery going into schools to give home economic demonstrations and later was a home demonstration representative of UGI in Harrisburg PA promoting gas powered appliances. She was a featured TV and radio personality as a home demonstrator.
Ruth joined her family's business, Wm. B. Fry's Pontiac, Inc. in 1963 after returning to Lititz from her husband's Coast Guard assignment on Long Island, NY. She worked with her siblings and other family members for over 30 years.
She was a lifetime member of Trinity Evangelical Congregational Church in Lititz where she was a member of the Alpha Sunday School class and taught teens and children in Bible school and Sunday school. She taught the WCTU classes in VBS for many years. She was the chairperson for the World Day of Prayer services in Lititz for over 32 years.
Ruth was the first woman to be a member of Lititz Borough Council and she served the community she loved for over 30 years. She was a strong advocate of the Lititz Springs Pool and the Lititz Public Library. She was a member of the Board of Trustees of Evangelical Seminary in Myerstown PA for over 20 years.
She and her husband traveled with good friends to Alaska to work at Victory Bible Camp and Australia to work with missionaries in the outback. Ruth and Mick, along with their children did short term mission work in France and Mexico at orphanages while also enjoying the local culture.
Ruth was a proud member of the Donegal Witness Tree Chapter of The Daughter's of the American Revolution, Phi Mu sorority, the Women's Christian Temperance Union, and Warwick Association of Church Women United.
Ruth is survived by her children Christine B., married to Randy L. Gresh of Limerick, PA and M. Mason III of Lititz. She is also survived by her grandchildren Nicholas A. Gresh married to Felicia D., Keary E. McKennon, Emma C. Gresh, Hannah G. McKennon and her great-grandchildren Allison Rose, Harper Nicole and Liam Alexander who will all missed their sweet Grandma. She is also survived by her brother Lee B. Fry, sister-in-law Louise B. Sorber and many nieces and nephews. Ruth was predeceased by her husband Millard (Mick), her parents, her parents in law Millard Sr. and Lydia McKennon, her sister Gladys J. Crowl and brother William D. Fry Sr.
Ruth will be remembered for her love of God, family and country. She loved this nation and the principles it was founded upon. Her generous, kind and determined spirit was a gift to all who knew and loved her. She prayed daily for her family and friends while reminding us of the deep love of Jesus. May you rest in the sweetest of peace.
As per her wishes family and friends are invited to attend a graveside service on Friday, September 9, 2022 at 11 am at the Trinity Evangelical Cemetery, West Orange Street, Lititz with the Rev. Kenneth Miller officiating. In lieu of flowers please make donations to Warwick Association of Church Women, c/o Nancy Miller, 9 Tumbling Lane, Lititz PA 17543. This organization supports the Lititz Release Time program of which Ruth was a strong supporter.
Leave a condolence on this Memorial Page
Condolences to the Family
September 13, 2022
Bob and I are so sad to learn of your Mom's passing. What a wonderful life-an example to us all!
Your Mom and I served together on Borough Council for many years. We were honored to serve our community. I was very glad to be able to call on her for support and guidance during my years as Council president. We shared the same thinking on so much of our work.
We know the coming days will be filled with sorrow, but we wish you solace as time passes.
With sympathy,
Bob and Karen Weibel

Services

Friday, September 09, 2022
11:00 AM
Trinity Evangelical Cemetery
West Orange Street
Lititz, PA

Map and Directions