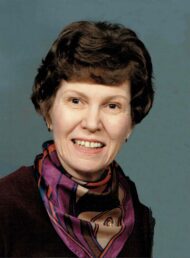 Ruth A. Heidecker, 87
September 24, 2021
Ruth A. Heidecker, 87, of Willow Street passed away on Friday, September 24, 2021.
She was the wife of the late Walter "Walt" Heidecker who passed away a week prior on Friday, September 17, 2021. Together they shared 67 yrs. of marriage and ministry.
Although born in New Jersey, Ruth was raised in Baltimore, MD. She was the daughter of Ronald and Ethel (McCauley) Buterbaugh.
Ruth was a devoted and caring homemaker who took great joy in spending time with family and friends. Just like Walt, her faith in God and serving others was a very important part of her life. She taught Sunday School, lead youth groups, sang in church choirs and had been a leader for Bible Study Fellowship. Ruth was also a fabulous cook and considered sharing meals with others her "language of love".
She is survived by her daughter Charlee (Baker) Megee of Quarryville and twin daughters, Jane married to Ken Johnson of Quarryville and Joy married to Ray Neubauer of Westminster, MD. Ruth has 5 grandchildren and 2 great grandchildren. She is preceded in death by her son Mark Heidecker and first husband Charles Baker.
Services will be private.
Please make contributions in Ruth's memory to Billy Graham Evangelistic Association at billygraham.org.
Leave a condolence on this Memorial Page