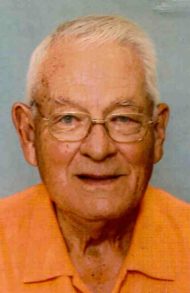 Russel F. Achey, 83
May 13, 2021
Russel F. Achey, 83, of Eagleville, PA passed away on Thursday, May 13, 2021. Born in Manheim, PA he was the son of the late Harold and Edna (Conrad) Achey. He was the loving husband to Barbara (Elliott) Achey for 51 years.
He will be missed by his beloved family: 6 children: Michael Achey of LaFeria, TX, Gregory Achey husband of Jody of Mayesville, SC, Kathy Prigmore wife of Tom of Berlin, MD, Shane Bone wife of Kevin of Eagleville, PA, Sean Achey husband of Miriam of Lancaster, PA, and Shannon Harmon wife of Doug of Chambersburg, PA; 21 grandchildren; 4 great-grandchildren and a brother Ted Achey husband of Ruth of Manheim, PA. He was preceded in death by 7 siblings.
Russ was a graduate of Manheim Central High School and received machinist training at Stevens Trade School. As a PFC in the Army Reserves for 5 years, he was assigned to the motor pool. While residing in the Lancaster area, he was a parishioner of Long Memorial United Methodist Church in Neffsville, PA where he was a Sunday School teacher and a longtime member of the church softball team. He worked for Warner Lambert for over 15 years as a machinist. Russ owned Achey's Interior and Exterior Remodeling for 34 years, prior to his retirement in 2008. Russ was an avid fan of the Flyers, Eagles, and Phillies.
Post retirement Russ and Barbara retired to The Villages, FL where they were members of Fairway Christian Church and served as greeters for over 10 years. Other hobbies included golf, bocce, shuffleboard, and card playing with friends. Russ and Barbara were members of the Sebring Convertible Club.
Family and friends are invited to attend a Memorial Service at 11AM on Saturday, May 22, 2021 at the Charles F. Snyder Jr. Funeral Home & Crematory, 3110 Lititz Pike, Lititz, PA. Friends and family will be received from 10AM until the time of service.
In lieu of flowers, memorial contributions may be made to St. Jude's Children's and Research Hospital, www.stjude.org.
For those unable to attend the service, it will be live streamed here. Please refresh the page closer to 11AM on Saturday, May 22, 2021.
Leave a condolence on this Memorial Page
Condolences to the Family
May 23, 2021
Dear Barb and family, Our sincere sympathy on the passing of Russ. Asking God to hold you close during this difficult time. We have many fond memories of Russ from our times together at Long Memorial and our many Sunday School class meetings. Know that we will keep you in our prayers as you walk through these weeks and months ahead. Love to you all, Bob and Gale
May 22, 2021
Beautiful Service – Beautiful Family – Beautiful Memories…… Blessings to the Achey family today and always.
Diane & Dennis
May 22, 2021
To Sean & Family: So sorry to hear of your loss, we will keep you in our thoughts and prayers.
Neil & Tracy Ward
May 22, 2021
Beautiful family. Beautiful service. So very sorry for your loss. May God wrap you all in His arms and help you through this tuff time in your lives. Love to you all, ❤ Gwen
May 21, 2021
So sorry for your loss, God Bless you and your family, He really loved playing shuffleboard with us. Prayers being said to you and family. Kathie Wilhelm
May 20, 2021
To the entire Achey family, we are so very sorry to hear of Russ's passing! We have many reminders of Russ around our home, as he so skillfully helped us complete many projects, with the help of sons and brother. Please know that you are all in our prayers. God bless Russ and his beloved family. Sincerely, Harry and Eileen Flick (Ashford Drive)
May 19, 2021
Dear Barb and family:
Sincerely condolances to your whole family as you remember Russ. I have fond memories of playing games and activities at Long Memorial. Prayers as you start a new journey.
Sallie Spotts
May 18, 2021
Barbara: I'm so sorry to hear about the loss of Russ. My thoughts are with you and your family. We sure miss you in Rio Ranchero.
Chris Braun
May 18, 2021
Dear Barbara,
Our codolences to you and family on loss of your beloved husband and father, Rus. We so enjoyed our many outings with you both in the Sebring Club. Fond memories, all. Fondly, Bob & Joy Gaftman

May 18, 2021
Condolences to the Achey family. Gary and I miss the samba games we played weekly when he was in The Villages. He was a wonderful man. He is now with God's angels looking down to protect the family. Love and Blessings to you all. Gary and Dottie Henriksen
May 18, 2021
Barbara & family, thinking of you at this time of change in your lives. Remembering you from your Kreider Ave days. I am thankful for all the house update projects Russ did for me & sure miss not haveing such a handy man today.
Peace & Comfort Be With You All— Sincerely Sue Snyder

May 18, 2021
We've missed Russ's smiling face greeting us at the door. No matter his circumstances he always had a smile and kind word. We obviously can't be in PA for the memorial service but our thoughts and prayers are with you and know Russ will be waiting for us.
John and Kathy McKelvey
May 16, 2021
Russ was a great greeter. We loved his smile. He will be missed. He is with Jesus now right along with my husband who left this world the same day. They are at peace now. How great is that.
Yvonne Fagin
Visitation

Saturday, May 22, 2021
10:00 AM - 11:00 AM
Charles F. Snyder Funeral Home & Crematory
3110 Lititz Pike
Lititz, PA 17543

Map and Directions

Services

Saturday, May 22, 2021
11:00 AM
Charles F. Snyder Funeral Home & Crematory
3110 Lititz Pike
Lititz, PA 17543

Map and Directions