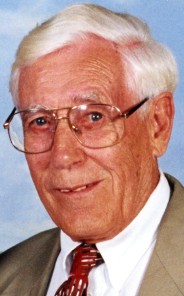 Roy "Pete" Reidenbach, 86
Roy "Pete" Reidenbach, 86, of Lancaster, passed away at Pleasant View Retirement Community on Sunday, November 4th, 2007. He was the husband of Jane F. Baxter Reidenbach with whom he celebrated 58 years of marriage.
Pete was born in Lancaster, PA. He was the son of the late Roy E. and Catherine M. (Miller) Reidenbach.
He was employed by the Mobil Oil Company for 25 years, retiring in 1976. Pete was a 1941 graduate of East Hempfield High School where he lettered in track and field, and was also a graduate of the Stevens Trade School.
Pete was sergeant in the US Marine Corps during World War II. He was stationed in the South Pacific. Pete survived the Invasions of Guam, Iwo Jima, and the Volcano Islands. He was recalled to active duty to fight in the Korean War from 1950-1951.
One of his memorable times was when he revisited Guam with his wife Jane and a group of Marines. There they were honored during a reception and dinner given by the Governor of Guam. He also enjoyed sharing war stories with family and friends.
Pete enjoyed traveling and spending time with his family. He loved dancing and was a member of the Carousel Dance Club. He was of the Lutheran faith.
In addition to his wife, he is survived by a daughter, Elaine M. Fulton, wife of Charles E., of Lancaster, and a grandson Doug, of Nashville, TN. He is survived by one brother Harry W. Reindenbach married to Ann, of Lancaster. He was preceded in death by a brother Kenneth and sister Erlene Braas.
Relatives and friends are respectfully invited to celebrate Pete's life with a viewing from the Charles F. Snyder Jr. Funeral Home and Chapel, 3110 Lititz Pk. Lititz, PA, on Thursday, November 8th, 2007 from 6:30 PM-7:30 PM. There will be a service at the funeral home at 7:30 PM with the Rev. Msgr Richard Youtz officiating. Interment will take place Friday morning at 10:30 AM at Indiantown Gap National Cemetery. The family has asked that any contributions in Pete's memory be sent to Hospice of Lancaster County, 685 Good Drive, P.O. Box 4125, Lancaster, PA 17604-4125
Leave a condolence on this Memorial Page