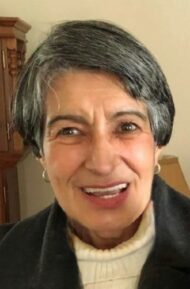 Rosemary Seda, 74
March 10, 2023
Rosemary Seda, 74, formerly of Mountville, passed away on Friday, March 10, 2023, at Magnolias of Lancaster. Born in Brooklyn, NY, she was the daughter of the late Israel and Adelaide (Cortez) Seda.
Rosemary graduated from Clara Barton High School in Brooklyn, NY. She relocated and lived in Lancaster for the last 46 years. She worked as a forklift operator at the Kellogg Company in Lancaster from where she retired after 25 years of service. Rosemary enjoyed staying fit by going to the gym and joining in zumba and yoga classes. She loved spending time with her family and her grandchildren.
Rosemary is survived by two sons, Kevin Alicea and his wife Tomoko of Japan, and Michael Alicea and his wife Nichole of Manchester, PA. Also surviving are four grandchildren, Mia, Michael, Aiden and Justin; a sister Yvonne Valentin; and two brothers, Wilfredo Seda and John Valentin. She was preceded in death by her sister, Igna Valentin.
A Memorial Service will be held at 2:00 PM on Saturday, March 18, 2023, at the Charles F. Snyder Jr. Funeral Home & Crematory, 3110 Lititz Pike, Lititz, PA, 17543where the family will receive guests beginning at 1:00 PM. Inurnment will follow at Mellinger Mennonite Cemetery, Lancaster. In lieu of flowers, contributions in Rosemary's memory may be made to the Humane League of Lancaster County, 2195 Lincoln Highway East, Lancaster, PA 17602. For online condolences visit
Leave a condolence on this Memorial Page
Condolences to the Family
March 23, 2023
Para mi querida hermana/For my loving sister,
Rosi linda y pura
Con una risa conmovedora
Estamos aquí para despedirte
Y dejarte saber que siempre estará
En nuestras almas y corazones
En el cielo sé que está rodeada de mami y papi y otros familiares
Y por supuesto Abuela Provi, quien te dio una bienvenida Celestial, lleno de abrazos y muchos besos como siempre nos daba a todos nosotros.

Rosi beautiful and a true genuine person,
With that unique lifelong smile,
We are here to say farewell,
And to let you know that you will always be
in our hearts and souls.
In heaven, I know that you are surrounded by mami (mom) and papi (dad) and other relatives,
And of course, Abuela Provi (Grandmother Provi) who gave you a Heavenly welcome, full of hugs and many kisses as she always gave to us all.
March 17, 2023
Our deepest sympathy to the entire family. Rose was a very dear friend and wonderful neighbor. We shared a love of chihuahuas and chatting out in front of our houses with our beloved Chi-Chi and Buddy. What a special, special friend. I thank God we were blessed with knowing her. Jay, NancyJo, Casie and Kelly
March 15, 2023
My condolences to the Seda family! The few times I had met Rosie she was such a beautiful woman! She is Warm, generous, caring, loving a angel from above!
March 13, 2023
I worked with Rosie at Kellogg's and we shared many laughs and talks. She was my co-worker and I had the honor of calling her.my friend. Rosie had a beautiful soul here on earth and still has a beautiful soul but now in heaven. I am sorry for your loss and pain. Till you meet again.. Dios te bendiga.
March 13, 2023
My Condolences to the Seda Fsmily I enjoyed working with Rosie I'm going to miss her
March 13, 2023
My sincere condolences go out to you and your family. I'm grateful for being able to get to know Rosie, and I'm comforted in the knowledge that there are many other people who felt and remember her joy and light.
Terri Ward
March 12, 2023
My condolences to Kevin, Mike , their spouses and children, Wilfredo, Yvonne, and John and the entire family for your loss. Rosie was such a sweet human being. Always caring and understanding. She will be missed.
Nytza (Rosado) Santiago
March 12, 2023
Good bye my precious sister!Thank you for loving me since I was born!, Your heart was full of so much love for your entire family! Not only did I loose a precious sister BUT also my best friend! 60 years of loving you !, How do I life without you now!!!
Yvonne Valentine
March 11, 2023
My deepest sympathy during this time of mourning a wonderful example of womanhood. Rosie set an example for all humankind! Her gentle nature, humor and forgiving nature nourished her family and friends. Her memory will endure in everyone who knew her. How can we ever forget the lessons she showed through example? We love you Rosie. Thank you! RIP!

Ana Savitski Chiqui
Visitation

Saturday, March 18, 2023
1:00 PM - 2:00 PM
Charles F. Snyder Funeral Home & Crematory
3110 Lititz Pike
Lititz, PA 17543

Map and Directions

Services

Saturday, March 18, 2023
2:00 PM
Charles F. Snyder Funeral Home & Crematory
3110 Lititz Pike
Lititz, PA 17543

Map and Directions