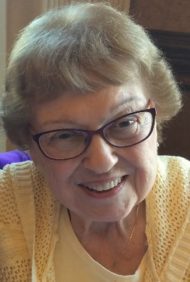 Rosemary Katheryn Harney, 89
June 08, 2019
Rosemary Katheryn (Messina) Harney, 89, of Ephrata passed away peacefully on June 8, 2019 at Hospice and Community Care – Mt. Joy. Born in Dunkirk, NY, she was the daughter of the late Simon and Mary (Abbata) Messina and the wife of the late Thomas E. Harney Jr., who passed in 2018.
Rosemary completed both her Bachelors and Masters in Elementary Education at State University of New York Teachers College at Fredonia. A patient and kind hearted person, Rosemary went on to be an elementary school teacher; teaching in New York, Texas, California, and Pennsylvania for a total of 56 years. Over the course of her career Rosemary received numerous awards for her excellence and dedication to teaching. In 1973, Rosemary was awarded "Teacher of the Year" for New York state.
Though teaching was her life, music was her passion. She was an accomplished musician and extraordinarily skilled in the piano and organ. She combined her love for teaching and music when she would assist in school plays and musicals. Rosemary even wrote several original children's operettas for her students in North Collins, NY. In addition to the operettas, Rosemary also was the author of the children's book "Santa's Magic Candle."
Rosemary was an active volunteer at her schools, especially with school musicals and plays. She was the past president of the North Collins Faculty Association and past president of the Hospital Guild at Lakeshore Hospital. When she was not working or volunteering, Rosemary enjoyed reading, traveling on cruises, and shopping.
She will be dearly missed by her children; Thomas E. Harney III and Mary Catharine H. Miller (Paul), her sisters; Margaret Hurd (James) and Saraleen Atti (Larry), her sister-in-law; Margaret Harney Pagano (Anthony), and several nieces and nephews. She is preceded in death by her beloved husband Thomas E. Harney, Jr.
A Mass of Christian Burial will be held Friday, June 14, 2019 at 11:00am at St. Anthony of Padua Church on 501 E. Orange St., Lancaster PA 17602. A reception for guests will follow. Interment will be private and at the convenience of the family. In lieu of flowers, memorial donations can be made to Hospice & Community Care – Lancaster at 685 Good Drive, Box 4125, Lancaster, PA 17604. Arrangements entrusted to Charles F. Snyder Jr. Funeral Home & Crematory, 3110 Lititz Pike, Lititz, PA 17543 717-560-5100
Leave a condolence on this Memorial Page
Condolences to the Family
July 30, 2019
So sorry for your loss. Rosemary was both of my children's kindergarten teacher at the North Collins Elementary School. She was an excellent teacher and a kind, happy, energetic person. I was the school secretary at that school for many of the years that Rosemary was teaching there, and she was also my friend. She will be missed by many. May she R.I.P. 🙏
Tricia Romans
June 23, 2019
I remember how kind and gracious Rosemary was. Our family is thinking of you in this time.
Tim Miller
June 23, 2019
I truly treasured my time teaching with Rosemary. As a youngerish teacher back then, she took me right under her wing and treated me like a daughter. We had so much fun! She was larger than life and loved by all. So sorry for your loss-thank you for sharing her with us!
Amy McHugh
June 16, 2019
Lois and I are very sorry to hear of Rosemary's passing. We offer our sincere condolences. We know that Rosemary is happy now with Our Lord and Tom. However, we so miss saying the Rosary with her and Tom. God Bless. We are having a Mass said for Roemary and Tom at Mary Mother of The Church..
William and Lois O'Callaghan
June 14, 2019
MC, your mother was always so dear to me. I treasure the memory of our last breakfast visit together when you two were in town. She was an exceptional soul who truly made her mark in this world. Love, Jacqui
June 14, 2019
Dear Tom and Mary Catherine,
I will miss Rosemary very much. I always enjoyed our talks over tea after practicing for a wedding at your parent's place.
She had a beautiful smile, a generous heart and a spirit filled with the love of God. She is with your Dad now reunited in Heaven.
Please also know that Rosemary was so proud of both of you not only of your career accomplishments but of the wonderful people you both are. She loved you both so much!
You have my husband's and my deepest condolences at this difficult time. She will be missed by so many!
With Deepest Sympathy,
Anne Mavrides

June 13, 2019
Rosemary will be remembered as a delightful addition to the Quarryville Elementary staff. Her smile, goodwill and cheer followed wherever she walked. She will be remembered as an ambassador for good education for young children. Read and write on, Rosemary! Heaven will suit you well. I know your family will miss your encouraging ways.
June L Shultz
June 13, 2019
Rosemary was the sweetest soul! I had the privilege of working with her as a colleague at Providence Elementary. She had a smile and a kind word for everyone. She will surely be missed. Her passing is Heaven's gain but our loss. I can imagine how much your hearts are hurting right now. I will keep you all in my thoughts and prayers.
sylvia montani
June 12, 2019
Dearest Mary Catharine, Paul and the Harney Family,
With deepest condolences, we send our love. You are so fortunate to have had Resemary for so many glorious years. Our prayers are with you.
The Seltsam FamilyJim, Avé, Sarah & Joey
Services

Friday, June 14, 2019
11:00 AM
St. Anthony of Padua Church
501 E. Orange St.
Lancaster, PA

Map and Directions