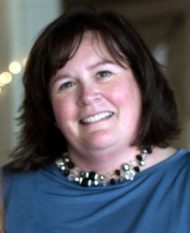 Roseanne Watson
January 22, 2020
Roseanne passed on January 22 surrounded by her family after a courageous battle with cancer.
Beloved wife, mother, daughter, sister, aunt, friend and teacher
Survived by her husband Brion Watson, daughter Laura Watson, parents Valerie and Kenneth Mellina, sister Nancyann Bernardini and brother-in-law Douglas Bernardini, sister Aimee Anthony and brother-in-law Joseph Anthony, niece Olivia Bernardini and nephew Douglas Bernardini Jr. and his wife Nicole Bernardini, all of Lititz, Pennsylvania. She was also an aunt to Aimee's three stepchildren, Joseph Anthony, Vanessa Anthony and Jacob Anthony of Frackville, Pennsylvania. Close friends included her best friend Geraldine Phelps of St. James, New York and fellow artist Susan Burd of Lititz. She was preceded in death by her maternal grandparents, Stanley J. Pace and Valerie Pace, paternal grandparents George and Evelyn Mellina and Uncle Stanley F. Pace.
Roseanne was born in 1971 in Rockville Centre, New York. She graduated from Carle Place High School in 1989 and went on to study at Adelphi University, earning a Bachelor Degree in Fine Art. A talented artist, Roseanne shared her gift when she opened A Gathering of Artists art school in Williston Park, New York. Teaching drawing, painting and sculpting, she helped her students develop the skills to create their own work and in them sparked a love for art.
Roseanne moved to Pennsylvania in 2005, where she met Brion Watson. They were married on December 23, 2007. Along with their daughter Laura, they lived for a time in New Jersey before settling back in Lititz, Pennsylvania. Brion and Laura were her life, and she was the happiest when she was with them. Whether they were watching the History Channel, enjoying a good restaurant or playing with their Dachshund Dexter, it was the simple, everyday events with Brion and Laura that brought her joy.
Dearly loved by her family, Roseanne was kind, generous and selfless. She always put others first and was sensitive to the condition of others. Her infectious laughter was deep and genuine. She loved animals and nature, spending time with her family and doing her artwork. Using many different mediums, her pieces varied from paintings to sketches to sculptures and portraits. Roseanne was part of local juried art shows, sold her work in local shops and had a faithful online following, having sold some of her pieces internationally. The love she had for art was truly evident in all that she created. Roseanne was also an avid reader. Anne Rice and P.D. James were her most loved authors, and her personal library contained numerous art and history texts. In addition to reading, she loved Agatha Christie's Poirot and Miss Marple stories and movies.
Services will be held on Monday, January 27, 2020 at 11:00 a.m. at the Charles F. Snyder Funeral Home, 3110 Lititz Pike, Lititz. Friends and family will be received on Sunday, January 26, 2020, 2:00-4:00 p.m. and 6:00-8:00 p.m. at the Funeral Home and again from 10:00 a.m. until the time of service. Interment will follow at Brunnerville United Methodist Cemetery.
In lieu of flowers, please consider a donation in Roseanne's name to Relay for Life, https://secure.acsevents.org/site/TR/RelayForLife/RFLCY20NER?pg=entry&fr_id=96017.
Leave a condolence on this Memorial Page
Condolences to the Family
January 29, 2020
So very sorry for your loss. My thoughts and prayers are with you.
Donna Kilgore
January 25, 2020
My prayers for God's comfort to surround Brion, Laura, Valerie & Ken Mellina and family at this time of very real sorrow and loss.
Thomas Gangloff
January 25, 2020
My thoughts and prayers are with Roseanns entire family. While we on earth mourn Roseann's passing, heaven shines a bit brighter with the addition of it's newest angel. Remember the life lived.
Karen Kesner
January 25, 2020
I am so sorry for your loss
Roe Napolitano
January 25, 2020
My deepest condolences to the family and dear friends of Roseann's .May the Lord at this time give you peace.i knew Roseanne through her sister Nancy.May she Rest In Peace.
Barbara Bachmann
January 24, 2020
Too young Roseanne, but Heaven has an angel….. and you are at peace……….. so honored to have known you in my life with Nancy, adored your art and memory of your pieces filled out little "quilt" shop in Lititz,,, Forget Me Not shop…….. will always remember those joyful days, but soon to see you again as we are promised…. rest in peace beautiful lady…………….
TONI ROSCHEL
Visitation

Sunday, January 26, 2020
2:00 PM - 4:00 PM
Charles F. Snyder Funeral Home & Crematory
3110 Lititz Pike
Lititz, PA 17543

Map and Directions

Visitation

Sunday, January 26, 2020
6:00 PM - 8:00 PM
Charles F. Snyder Funeral Home & Crematory
3110 Lititz Pike
Lititz, PA 17543

Map and Directions

Visitation

Monday, January 27, 2020
10:00 AM - 11:00 AM
Charles F. Snyder Funeral Home & Crematory
3110 Lititz Pike
Lititz, PA 17543

Map and Directions

Services

Monday, January 27, 2020
11:00 AM
Charles F. Snyder Funeral Home & Crematory
3110 Lititz Pike
Lititz, PA 17543

Map and Directions