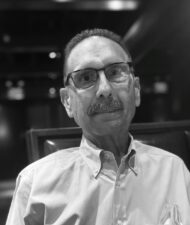 Ronald Steven Naudus, 73
February 7, 1948 - September 17, 2021
Ronald Steven Naudus, 73, of Warwick Twp., "bought the farm" on Friday, September 17, 2021 after a lengthy and courageous battle with multiple myeloma cancer. Born in Somerville NJ, he was the son of the late George Naudus and Doris Worman Naudus.
Farming and agriculture were an important part of Ron's life. He owned a lawn care and excavating business until he moved to Brownstown, PA in 1986. He was a heavy equipment operator who loved his work at Brubacher Excavating, Bowmansville, PA until his retirement in 2019. He was an avid fitness enthusiast and a member of Universal Gym in Manheim Township for many years.
Ron is survived by his beloved daughter, Suzanne Joan Naudus of Rothsville, PA; brother David P. Naudus, his wife Helen, and his daughter Rachel and son Sean of Phillipsburg, NJ; former wife Krystine M. Martin and her husband Brian of Ephrata, PA; sister-in-law Barbara Kuhlman and fiancé Richard Simon of Flemington, NJ; and brother-in-law Edward Funk and wife Mary of Lancaster, PA. He was preceded in death by his infant daughter Joan Margaret Naudus and his sister Patricia Naudus.
The family wishes to express thanks to Dr. Natthapol Songdej and staff at Penn State Hershey Cancer Institute, and Dr. So Hyang Park and staff at Wellspan Ephrata Cancer Center for their compassionate care during the course of Ron's illness.
Before his passing, Ron requested that memorial donations be made to the Ephrata Community Health Foundation, benefiting the Wellspan Ephrata Cancer Center, 259 South Fourth Street, Lebanon, PA 17042-1281, with gratitude to the entire medical staff for their dedicated care through the years of his illness.
Ron's life will be celebrated on Saturday, October 9, 2021 at Charles F. Snyder Funeral Home, 3110 Lititz Pike, Lititz PA 17543 with a 2:00 PM visitation and 3:00 PM service. All are welcome to pay tributes to Ron at that time.
Watch the tribute video
Leave a condolence on this Memorial Page
Condolences to the Family
October 01, 2021
So sorry for your loss. Sending prayer to family and friends. I met Ron at Brubacher and we worked on many jobsites together. Ron was full of life and a great guy was always happy and full of life. He was always willing to help out and loved his job. RIP Ron until we meet again!
Harold Flenke
September 29, 2021
I had the pleasure of meeting Ron at Universal and we had pleasant conversations every time we saw one another at the gym. He was determined to fight his battle and very diligent in his weekly workouts often saying "you've got to keep moving on, what other choice do you have." He was truly a good man and an inspiration to those who had the pleasure of meeting him-I'll miss you Ron and I hope you are at peace! My sincere condolences to his entire family-I'm saddened for our loss.
Bob Reese
September 27, 2021
I was so sorry to hear about Ron. He was such a nice neighbor. When he spoke of his daughter he always smiled. He was a proud dad.
Marion Dougherty
September 26, 2021
Ronald was always had a smile and pleasant conversation for me and the other members of Universal Athletic Club. We shall miss him.
I extend my sympathy to his family.
Paul Benos
September 20, 2021
Kris, my "Honorary Niece" Suzanne, and the rest of Ron's family, Jaci and I offer our condolences to you all. "He who believeth in Me shall have life everlasting. We are here but for a blink of an eye, but WILL dwell in the House of our Lord forever and ever". May our Lord grace you all with his love.
John Balek
September 20, 2021
It saddens me greatly to be reading my brother-in-law's obituary. We go back 50 years & shared nothing but wonderful times at our family's homes in Stanton, Flemington & Lancaster County. You will be missed like no other, Ron. Rest assured we will always have you in our hearts & see that Suzanne is always taken care of. You gave her wonderful guidance to get her through whatever path her life takes. We love you & will miss you always. I'll smile whenever I see a John Deere tractor out in the fields here where you spent so much time. Forever yours…Rona & Richie, Freddie & Gingerella.
Visitation

Saturday, October 09, 2021
2:00 PM - 3:00 PM
Charles F. Snyder Funeral Home & Crematory
3110 Lititz Pike
Lititz, PA 17543

Map and Directions

Services

Saturday, October 09, 2021
3:00 PM
Charles F. Snyder Funeral Home & Crematory
3110 Lititz Pike
Lititz, PA 17543

Map and Directions