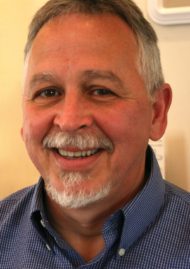 Ronald R. Reinmiller, DDS, FAGD,
May 05, 2019
Ronald R. Reinmiller, DDS, FAGD, passed away peacefully on May 5, 2019, surrounded by family and enjoying some of his favorite music.
He was the husband of Carol Pacelli Reinmiller, with whom he would have shared 45 years of marriage this May 25th. Born in Hazleton, he was the son of the late Carl Reinmiller and Leah Roth Reinmiller. Ron was a U.S. Navy veteran, serving from 1972 – 1976. He earned his BS in Biology from Penn State University and his DDS at Temple University Dental School.
Ron practiced dentistry at his Landisville location since 1987, earning a great following of patients over the years. His focus was on family dentistry and more recently, treatment of sleep apnea and educating others on its role in chronic health issues. His practice was his passion and his patients were not just patients, but became friends as well. In 2013 he received the "Healthcare Hero" award by Central Penn Parent Magazine, which honors the efforts of individuals making significant positive impacts on the quality of health care, and as a result the quality of lives, for families in Central Pennsylvania.
He enjoyed singing, attending concerts, and was an avid Pink Floyd fan. He loved his dogs, riding his horses, being outdoors, and tending to his property. Ron had a thirst for knowledge, studying notable historic figures such as Abraham Lincoln and Edgar Casey. He was a generous man, enjoyed helping others, and the moments he treasured most were those spent among family and friends. His faith was his compass, guiding him throughout his life.
Ron was a member of the Free and Accepted Lancaster Masonic Lodge 43 where, as a 32nd degree Mason, where he was a Past Worshipful Master. He was also a member of the Lancaster Lodge of Perfection and the Scottish Rite Valley of Harrisburg.
In addition to his wife, he is survived by his sons, both of Lancaster: Mark C., married to Rachael, and Kevin, married to Kisha; his granddaughter Reiya; his brother Carl Reinmiller, of White Haven, PA; his sister, Lorie Crowe of Barto, PA; foster son Ronald Vidal, Pottsville, PA; six nieces and nephews, and 4 great nephews and niece. He was preceded in death by his brothers, Richard and Donald.
Friends are invited to attend a Celebration of Life Memorial Service at the Lancaster Masonic Center, 213 W. Chestnut St., Lancaster, PA, 17603 on Saturday June 8th, 2019 at 11am. Following a brief service, guests are invited to stay for a time of sharing memories and lite fare. In lieu of flowers, please make contributions in Ron's memory to Hospice & Community Care of Mount Joy, or Speranza Animal Rescue in Mechanicsburg.
Leave a condolence on this Memorial Page
Condolences to the Family
June 08, 2019
Dear Carol and family.sending our condolences & prayers.Wishing you peace and comfort in this time.Ron ,you were a good dentist.We had trust & faith in your work,for many years.May your family be blessed with good memorys of your life.You will be missed till we meet again.
Bob & Marilyn Hollinger
June 07, 2019
Dear Carol and Children, So Sorry to hear of Ron's passing. He was a very nice person, excellent father and very good dentist. Our prayers are with you. Carol, Guy, Steve and Cheryl Markle
June 06, 2019
Dear Carol and family, I am so sorry for your loss, I cant even imagine how u feel, he was with u since forever. I remember you taking me to great adventures when Ron was in the Navey. My thoughts and prayers are with you, live you, Suzie and Ike
June 05, 2019
Dear Carol, Mark and Kevin,
Ron holds a special place in our hearts and memories. Had a lot of great camping and riding memories that will last forever. He always was willing to help and loved to learn. While in his "chair" we knew we were getting the best care possible. It was worth the 4 hour drive. Every lunch and dinner we shared was great. As Kathy called the 4 couples who rode horses together called us "The Rough Riders". He rode his roughest journey over the past two years. One wish was to see his first grandbaby and HE DID . A fighter ! WE OWE TIM'S LIFE TO HIM because he shared the University of Penn cancer center with us. We love you all. In our hearts, thoughts, and prayers forever.
Tim and Heide Curren
June 02, 2019
Carol, Mark & Kevin,
We send are deepest condolences. Ronnie will be truly missed as our dentist and our friend.
The Servent's
May 24, 2019
Carol and Family, I was so saddened to hear of Dr. Reinmiller's passing. He had been my dentist since I moved here from MD. You may remember me by my Southern Maryland accent. My husband and I first met him at the Kiosk at the Barnstormer's Stadium. I was hopeful that he would return to his dentist practice, but that was not to be. My thoughts and prayers are with you all. Emily Norris, Lancaster.
May 22, 2019
Carol, Mark & Kevin,
So many memories of Ron race through my head from his excellence and quest as a "Dr. Reinmiller" to just being Ron enjoying deep debates over a cigar while mucking horse stalls or stacking hay. Ron had a passion for life and an intellectual drive to seek logic in everything (even when it may not have been possible!). I enjoyed bantoring politics, religion, design, what it means to be a good family man, father and friend; sometimes complicated yet always thoughtful, honest with integrity and conviction. His hands were truly connected to his brain, skilled and precise caring and generous. A teacher, steward of animals, a Brother of the Craft, a craftsman at hand. Celebrate this man says me.
My deepest sympathy and prayers for you during this difficult time.
Jim Mathis

May 21, 2019
Dear Carol & Family,
So sorry to hear of Dr. Rons passing and my heart goes out to your family as I believe his Mother also passed recently. He was one of a kind, the most compassionate dentist I ever had. All patients were treated with kindness and concern from the time we came in the door to be greeted by Carol, the dentists' wife, an integral part of our office visit. I had so many dental disasters in the 90's and was always seen promptly and if necessary passed on to other professionals. Even when experiencing obvious physical difficulties he made arrangements to transfer all his existing patients to another professional he recommended as his final patient service. Rest in peace, Dr. Ron.
Doris Cozzie


May 20, 2019
I am so very saddened to learn of Dr. Ron's passing. He was truly a GREAT man and made going to the dentist a more pleasurable experience than any dentist I had gone to prior. His ability to give you a shot without feeling it was a rare talent indeed. From the minute you walked through the door until you walked back out was a pleasant expeerience, from talking with Carol through time in the chair. I would also like to say that I am very pleased with Dr. Dinse and Melinda at Dinse Dental. Thank you, Dr. Ron, for the recommendation. Rest well, my friend. Kevin Brown
May 20, 2019
Carol, Mark & Family,
Our Condolences on the loss of your Husband and Father who I was able to have a chat with not too long
ago while he was picking lunch up.
May his memory be eternal.
Kirk, Greg, & Manny
May 20, 2019
Ron was a great colleague and asset to our dental profession. He was friendly and always had a smile. He will be missed greatly.
Charles R. Fields DDS
May 20, 2019
So sorry for your loss! My thoughts and prayers for you and the family. Jessica Poole
May 20, 2019
Dear Carol, I am saddened to hear of your husbands death. He was a very compassionate man and though i didnt come often, he always went out of his way to make me as comfortable as possible. He definitely met his calling in life. May you find peace in knowing he was loved and respected by many and is no longer in pain. Sincerely, Wendy Graybill
May 20, 2019
Sorry to hear of your families loss.
Ron Scintilla
May 19, 2019
So sorry that he is gone. I did not know him well; I was a patient, but that was enough to know that he was a good, kind, and gentle man. My deep sympathy is extended to his family
James M. Reeder
May 19, 2019
My sincerest condolences to the entire Reinmiller family! Farewell, my Brother, you will be missed.
L. Kenneth Bray III, PM Lodge No. 43
May 19, 2019
Carole, So sorry to hear of Dr. R's passing. Even though I told him that I would sooner go to the gynecologist than the dentist, I always knew that he would do the best for me and he was always conscious of my feelings when working on my teeth. I truly miss his talents!!! My thoughts and prayers are with you. Vicki Geib
May 19, 2019
Carol and family,
We are saddened by the loss of Ron and entend our deepest sympathies and prayers to you all and hope that you find comfort in your special memories.
Jen & Mike Doran
Services

Saturday, June 08, 2019
11:00 AM
Lancaster Masonic Center
213 W. Chestnut St.
Lancaster , PA

Map and Directions