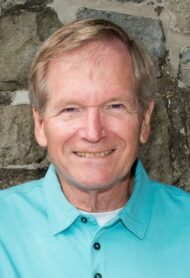 Ronald L. Thomsen, 77
August 19, 2022
Ronald L. Thomsen, 77, of Lititz, passed away with his family by his side, following a courageous battle against ALS. Born in Rochester, NY, he was the son of the late Howard A. and Genevieve (Spohr) Thomsen. Ron was the loving and faithful husband of Carol A. (Kobe) Thomsen, with whom he celebrated 46 years of marriage.
Ron proudly served in the US Air Force during the Vietnam War era. Following his honorable discharge, he went on to earn his bachelor's degree from Bryant College, Smithfield, RI. He worked for L.S. Starrett as a sales representative for 44 years until his retirement.
Of the Christian Faith, Ron attended Calvary Church for the past 10 years. He enjoyed spending time at his favorite place on earth, the Thomsen family camp at Amber Beach, Otisco Lake, the family's retreat for the past 100 years. He served as president and vice president for the Amber Beach Association for many years. Ron enjoyed watching This Old House and HGTV. He was a Master craftsman and used his skills to restore the family cottage. During the winter months, he found great pleasure in walking the beaches of New Smyrna Beach in Florida. Ron was a family man at heart and loved spending time with family and friends.
In addition to his wife, Carol, Ron is survived by his daughters, Karen Thomsen and Chris Latschar, wife of Andrew, both of Lititz; grandsons, Graham and Nathan; brother, Neil Thomsen, husband of Cynthia, of Barrington, RI; brother-in-law, David Kobe, husband of Sharon, of North Wales; sisters-in-law, Diane Wilson, of Harleysville and Susan Peterson, companion of Dennis Smith, of Sebastian, FL; and his only surviving aunt, Dorothy Thomsen, Fairport, NY. Ron is also survived by many loving family members including nieces, nephews, and cousins. He was preceded in death by an infant brother, Roger Thomsen and brother-in-law, Ernest "Trey" Wilson.
A Memorial Service celebrating Ron's life will be held at 11AM, Friday, August 26, 2022, at Calvary Church, 1051 Landis Valley Rd., Lancaster, PA 17601. Military Honors will be rendered following the services. Family and friends will be received at the church from 10AM to 11AM. In lieu of flowers, contributions may be made to ProMedica Hospice, 3417 Concord Rd., Suite C, York, PA 17402-9001 or to the Otisco Lake Preservation Association.
Leave a condolence on this Memorial Page
Condolences to the Family
September 06, 2022
Ron was always a gentleman and a man of quiet strength. It was my pleasure to know Ron during my time in Cincinnati. He was respected by all for his knowledge of metrology and his love for family. He will be missed by all that knew him.Rest in peace Ron.
Steve Akey
August 30, 2022
So sorry for your lose. I had the pleasure of meeting and working with Ron at Starrett before he retired and I truely enjoyed any and all time spent with him. With his kind gentle soul and that understated sense of humor he was always a pleasure to connect with. The world could use more people like Ron. Wishing your entire family peace during this difficult time. Steve Entress
August 25, 2022
May our Loving Heavenly Father and Savior the Lord Jesus bring you all comfort, peace, and strength through Ron's homegoing. I wish I had kept up with him but have
great memories growing up with him on Marlbourogh Rd. If I can be of any encouragement to you at this time feel free to call. Ron Markham 214 701 1599.
Grace and Peace in our Risen Lord. I Corinthians 15:50-56
August 24, 2022
We were privileged to have the Thomsens as neighbors for too short a time. Better people could not be found. We remember Ron as a kind and gentle soul. What a bittersweet time. Love to all of you.
August 23, 2022
Deepest condolences to his family. RIP, Ron.
A childhood friend who lived at 90 Marlborough Rd. In Rochester.
August 23, 2022
Dear Carol and extended family: I am so sorry to hear about Ron! He was such a sweet and loving husband and father! At least we know as Christian's that we will see our loved ones once again in heaven!
August 23, 2022
Charlotte Walleisa
August 23, 2022
My deepest condolences on your loss. I worked with Ron years ago and he was such a great man and may he Rest In Peace.
Mark Carlton
August 23, 2022
I was so sorry to hear about the loss of your beloved husband, father. I always enjoyed caring for him and have known your family for many years-you are all special to me. Blessings to you during this difficult time.
Stephanie Mackey
August 22, 2022
Ron will be so missed. Although I only knew him for a short time, Ron, as well as his loving family, will forever be in my heart.
August 22, 2022
Rest In Peace dear friend.
August 22, 2022
Beautiful tribute and oh so hard to write (I can relate)! Our hearts are with you! We will see you all soon for some much needed hugs. We wish you peace!
August 22, 2022
My deepest sympathies to your family at this time.

Visitation

Friday, August 26, 2022
10:00 AM - 11:00 AM
Calvary Church
1051 Landis Valley Rd.
Lancaster, PA 17601

Map and Directions

Services

Friday, August 26, 2022
11:00 AM - 12:00 PM
Calvary Church
1051 Landis Valley Rd.
Lancaster, PA 17601

Map and Directions