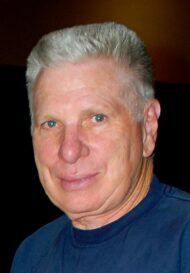 Ronald G. Oettel, Sr., 83
February 16, 2023
Our dear father, father-in-law, and Pap, Ronald G. Oettel, Sr. of Lititz, passed away on Thursday, February 16, at Landis Homes. He fought cancer for the past 20 months. He was the loving husband of Brenda L. (Rineer) Oettel for 61 years until her passing this past October 24th. We believe Dad fought his disease with all his might so that he would be here to care for and love Mom until her death. He was an amazing caregiver during Mom's long-term battle with dementia and never gave up on her.
Born in Lancaster, Dad was the son of the late Ernest F. (Bud) Oettel and Evelyn J. (Stair) Oettel. As a child, the family moved to Millersville after Bud built their home on Cottage Avenue. Dad was a 1957 graduate of Penn Manor High School. Dad was an amazing athlete and triple varsity lettered every year in high school in soccer, basketball, and baseball. His absolute love was baseball. After high school, he played in numerous baseball leagues in Lancaster County and was scouted for the minor leagues. Although he played a better game and had better stats on the season than the catcher that was chosen over him, he, unfortunately, never got his shot at the big leagues. One of his proudest moments, however, came later when he was honored as a Lancaster County "Hall-of-Famer." His name appears on a monument at Clipper Stadium that honors the baseball players who made so many contributions to make Lancaster County a great place for baseball over the past many decades.
Dad was also a great lover of the outdoors. He loved to fish, hunt, and hike and spent as much free time as he could to enjoy his time on a lake, river, stream, and in the woods. He instilled the love of the outdoors in his sons and granddaughters by encouraging all of us to be with him hunting, fishing, and hiking from the time we were all very young. Among so many other things he taught us and shared with us, this admiration and love of the outdoors was one of the greatest legacies he gave us.
Dad also loved listening to country, gospel, and bluegrass music. He enjoyed the days of seeing the big-name performers like Johnny Cash, Bill Anderson, Loretta Lynn, The Osborne Brothers, and so many more, perform at festivals, The Guernsey Barn, Cripple Creek, Sunset Park and other venues. The first "big" family vacation we ever took was to Nashville, TN. Much of that vacation was spent in the car traveling from one singer's home to another just hoping to catch a glimpse of one of them at home. We did get to see Johnny Cash and Loretta Lynn. There may have been others, but they were two that we always remembered seeing.
Dad was a very hardworking man. He was a great provider for his family, and we respected his work ethic immensely. He started his working life as a "milk man" delivering dairy products to his customers in Lancaster. He then went on to work at RCA in Lancaster and then became a truck driver which is what he did for most of his working life. He worked for the former Kerek Air Freight Corporation and then worked for Stauffers of Kissel Hill in Lititz delivering produce and groceries to all their stores.
Surviving are his two sons, Ronald G. Oettel, Jr. and, his wife, Jody Simmons Oettel of Lititz, and D. Kevin Oettel and, his wife, Janet Palmero-Oettel of Manheim. He is also survived by his two granddaughters, Mackenzie Oettel, Baltimore and Dr. Myranda Oettel, Philadelphia. Also surviving is his sister-in-law, Nory Aukamp, and her husband, Kip Aukamp, of New Providence along with many nieces and nephews.
Our family would like to thank the staff and caregivers at Landis Homes for their kind, gentle, and compassionate care provided to Ron in the last month of his life. We are extraordinarily grateful to everyone at Hospice and Community Care who provided excellent care and support of Dad and showed great compassion to him. The care and support of our family from Hospice and Community Care can never be understated.
A celebration of Dad's life will be held on Saturday, February 25th, at the Charles F. Snyder Jr. Funeral Home & Crematory, 3110 Lititz Pike, Lititz, PA. Greeting and fellowship will be from 10 – 11 AM and the service to celebrate his life will begin at 11:00 AM. A lunch will follow the service at Scooter's and all are encouraged to join us. Graveside interment of his cremains will be private and at the convenience of his immediate family.
We know it is difficult to find the time to donate in someone's name, but we would ask everyone who was a loved one, friend, or close acquaintance of Dad to consider sending a donation in his name to Little League Baseball, P O Box 3485, Williamsport, PA 17701-0485, or www.littleleague.org/who-we-are/making-a-donation and/or Hospice and Community Care, P O Box 4125, Lancaster, PA 17604, or www.hospiceandcommunitycare.org
Leave a condolence on this Memorial Page
Condolences to the Family
February 23, 2023
So sorry for your loss. God bless your family. It was a pleasure to meet Ron and take care of him and to meet his family. Take care Lana Flores
February 22, 2023
What a good husband and father! Ken Shee(RCA coworker and old hunting buddy)
February 22, 2023
Ron and Jodi-so sorry about your loss. Please accept my sincere sympathy as you grieve-blessings to you both
Dr Mackey
February 22, 2023
Went to Manor High with Ron and played on baseball team with him. He was a tough catcher-played the game with real intensity. Thoughts and prayers with family.
Bill Brackbill
Visitation

Saturday, February 25, 2023
10:00 AM - 11:00 AM
Charles F. Snyder Funeral Home & Crematory
3110 Lititz Pike
Lititz, PA 17543

Map and Directions

Services

Saturday, February 25, 2023
11:00 AM
Charles F. Snyder Funeral Home & Crematory
3110 Lititz Pike
Lititz, PA 17543

Map and Directions