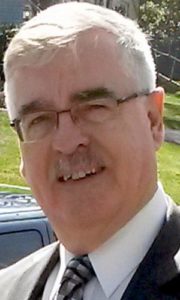 Ronald Allen "Ron" Saunders, 71
September 10, 2017
Ronald Allen "Ron" Saunders, 71, of Lancaster, died Sunday, Sept. 10, 2017, surrounded by his loving family after a brief illness.
Born in Auburn, N.Y. to the late Orlie R. and Doris L. (Rawson) Saunders, he married his childhood sweetheart, Nancy (deBeaumont) in 1968. The couple celebrated their 49th wedding anniversary this past June. In 1985, Ron moved with his family to Lancaster, PA.
A 1964 graduate of West High School, he earned an AAS degree in Electronics from Auburn Community College and attended Syracuse University with a major in Physics and Widener University for managerial studies. Ron spent most of his career working in the television manufacturing industry with GTE Sylvania, General Electric and RCA Thomson Consumer Electronics. He retired as a district manager from K.C. Building Maintenance in January. Ron enjoyed traveling with Nancy and visiting area wineries with friends. He was a talented photographer and artist and pursued those interests in his spare time.
Surviving besides his wife are a daughter, Wendy, wife of Randall K. Nolt, of Gordonville and a grandson, Zackory. Ron and Zackory shared a love of sports, especially watching Green Bay Packers football together. He will also be greatly missed by his brothers, Gary R. Saunders, married to Ginger of South Daytona Beach FL and Brian D. Saunders, companion of Edi Brooker of Cocoa Beach, FL. Sharing in our grief are cousins, nephews and a niece all residing in Pennsylvania, New York, Florida, South Carolina and California.
In addition to his parents, Ron was preceded in death by a son, Timothy A. Saunders.
The family is grateful for the compassionate care Ron received through hospice services and Evergreen Estates Retirement Community.
A viewing will be held from 2 to 3 p.m., followed by the funeral at 3 p.m., with Rev. Daniel O'Brien officiating, on Sunday, Sept. 17, 2017 at the Charles F. Snyder Funeral Home & Crematory, 414 E. King St., Lancaster, PA 17602. Interment will take place at noon Tuesday, Sept. 19, 2017 in St. Joseph Cemetery, Auburn, N.Y.
Please omit flowers. Memorial contributions may be made to the Lancaster General Health Foundation, 609 N. Cherry St., 3rd Floor, Lancaster, PA 17602, with "Ann B. Barshinger Cancer Institute" in the memo line or to the American Cancer Society, 314 Good Drive, Lancaster, PA 17603.
Leave a condolence on this Memorial Page
Condolences to the Family
September 19, 2017
Our thoughts and prayers go out to you at this sad time. It seems impossible that these harsh events have happened to our families in such a short period of time. I pray we find our way through and can each find peace. Love Ann, Richard and Anthony.
September 16, 2017
Nancy and family my deepest sympathies. Many many years ago we were great friends. Remember well the GTO.
John Quill
North Carolina
September 14, 2017
Gary sorry to hear about your loss. May God Bless you and the family! Neil Ferri.
September 14, 2017
Dear Nancy and Family,
We are so saddened to hear of Ron's passing. He was a great guy and was often in our thoughts even though it's been a few years since we last met you both. Ron and I spent several trying months together at the Job Club in Lancaster after Thomson (our employer) closed it's doors. We both bemoaned the possibility it might be difficult to find new jobs at our "mature" ages, but fortunately we did. We miss you both and please know that you are in our prayers.
Brian and Tati Miller. Somerton, Arizona
September 14, 2017
Nancy
So sorry to hear about Ron. Have very fond memories of our times at West High. Will keep you and yours in my prayers.
Rocco LoPiccolo
September 13, 2017
Dear Nancy, Wendy, Randy & Zack, We are so very sorry for your loss of Ron. He was a great husband, father, grandfather and friend, and will be greatly missed. Sending you all of our love and prayers during this sad time. Love you all. Rhonda & Rich Nolt
Visitation

Sunday, September 17, 2017
2:00 PM - 3:00 PM
Charles F. Snyder Funeral Home & Crematory
414 East King Street
Lancaster, PA 17602

Map and Directions

Services

Sunday, September 17, 2017
3:00 PM
Charles F. Snyder Funeral Home & Crematory
414 East King Street
Lancaster, PA 17602

Map and Directions