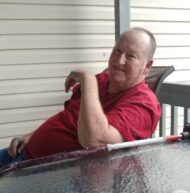 Roger Dale Rotenberry, 73
May 21, 1949 - July 28, 2022
Roger Dale Rotenberry, 73, passed away at Lancaster General Hospital on Thursday, July 28, 2022. He shared almost 54 years of marriage with his wife Judy (Lane) Rotenberry.
Born in Welch, WV, Roger was the son of the late Ray Elmer "Buck" and Oma Evelyn (Peak) Rotenberry. He graduated from Herndon High School in Herndon, WV.
Roger worked for Trojan Yacht in Lancaster for 24½ years, building some of the nicest yachts. He then worked for Camino Real Foods for 4½ years, and lastly for Kunzler & Company, Inc. for 5 years.
He loved to tend to his vegetable garden, work in the yard, and wrench on cars. Often times the family garden work was interrupted with a playful tossing of rotten vegetables and fruits at each other. Roger enjoyed family vacations to West Virginia and New York. He enjoyed card games and was a master at winning croquet, horseshoes, and softball. Roger always had time to help others, he was known as a jokester, he enjoyed eating, and he loved his puppies.
In addition to his wife Judy, Roger is survived by their three daughters, Brenda Lea, wife of Mike Haslego of Perkasie, PA, Evelyn Marie, wife of Tommy Larkin of Lee Center, NY, and Melissa Lynn Rotenberry, companion of Ned Epps of Lancaster, PA; six grandchildren, Farrah Schimmel, Robert Lewis, Jacob Lewis, Elijah Larkin, Ana Larkin, and Ethan Larkin; as well as great-grandson Ayden Fallows.
Roger was preceded in death by his parents, and three sisters, Gertrude, Nancy, and Lucille, and a brother, Cecil.
A future celebration of Roger's life will be announced.
Contributions in Roger's memory may be made to St. Jude Children's Research Hospital, 501 St. Jude Place, Memphis, TN 38105.
https://www.stjude.org/donate/srch/donate-to-st-jude-childrens-research-hospital.html?frequency_selected=0&sc_icid=impactgiving-donate-bttn-top
Leave a condolence on this Memorial Page
Condolences to the Family
August 05, 2022
Rest in Peace. Still can remember you.
August 03, 2022
It saddens my to see that Roger has passed away. I will always remember Roger and the carefree days we had growing up one Herndon Heights. Roger was always a good friend. So many of our classmates has passed on. Judy, God Bless and keep you and yours during the difficult time. Please accept my deepest condolences.
David Sizemore
August 01, 2022
To the Rotenberry family,
Please accept our sincerest condolences on this terrible loss. Although I've only known Roger for a short period of time, he was a wonderful person to be around. I will definitely miss his sarcasm and quick-wittedness. Words, however kind, can't mend a heartache, but those who care for your family share your grief and wish you comfort and peace of mind. We are all here to lean on and help you through.
"GONE FROM OUR SIGHT BUT NEVER FROM OUR HEARTS "

Janelle and DJ Sandifer, along with ALL the EPPS family
August 01, 2022
Dear Brenda,
So sad to hear about your father. Please extend my sincere condolences your family.
Love,
RB