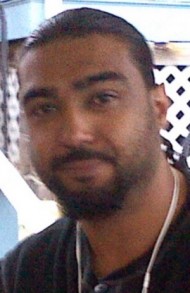 Rogelio R. Ramos, 33
June 10, 2014
Rogelio R. Ramos, 33, formerly of Lancaster, died unexpectedly in Montgomery County June 10, 2014. Born in Camden, NJ, Rogelio was the son of Rafael Ramos of Padillas, PR, and Margarita Rivas of Lancaster, PA, and step-son of Pedro L. Martinez.
Rogelio attended Freedom High School in Bethlehem, PA.
He loved listening to music, playing computer games, and walking. He knew how to gain peoples' hearts.
A loving son and brother, Rogelio is survived by his parents, children, Yessenia Marie Ramos, Rogelio Ramos, Jr., and Martha Ramos, brothers, Victor Manuel Ramos of Allentown, Carlos Israel Ramos of Lititz, Hector Luis Ramos of Coatesville, nephews Israel, Isaiah, Isaac, and Caleb Ramos, and paternal grandmother, Asuncion Rodriguez of Padillas, PR.
Services will be private and held at the convenience of his family.
Leave a condolence on this Memorial Page
Condolences to the Family
June 24, 2014
my condolences to the whole family.Iwill always love you n your family with all of my heart.Iwill always love you. we may have had our ups n downs but i still loved you for you. i wish the hands of time could be turned back. mammi if you need any thing please let me know. Tina Shelley
June 14, 2014
R.I.P rogelio aka ponce we will miss u so much n u were a gud friend n a gud person n u will always be in our hearts n on our mind gone bt never forgotten from sheryl
June 13, 2014
My deepest condolences to all the family. May god bless u all. Too all my primos love u guys. ♡♡♡ Rogelio Ramos May u rest in peace.
June 13, 2014
Love you brother, only knew you for a short time unfortunatly, I'll keep you in my prayers always.
June 13, 2014
rip we will miss u i hard to know u pass away ur a nice guy but god knows why he call u it was ur time and ur going to be a good angelbwe will miss u and be in are hearts for ever rip we miss uuu:'(
June 13, 2014
R.i.p Ponce u will be miss i will miss ur laugh and ur crazyness well miss from adela who really loved u
June 12, 2014
My heart go's out to you and your family. May you be at peace. May the lord be with the family and give them the strength. R.I.P your friend cindy
June 12, 2014
You will forever be in our hearts and our memories. We love you Ponce. So sorry for your loss Margarita. love you Jess, Isaiah, and Isaac