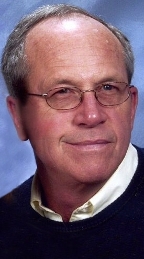 Rodney K. Gantz, 62
Rodney K. Gantz, 62, of Lititz, beloved husband, father and grandfather, went home to be with The Lord on Friday, March 9, 2012, at Hospice of Lancaster County. Rod had a strong spirit through his long illness. Born in Columbia, he was the son of the late Clarence and Marie Kauffman Gantz. Rod was the husband of Sharon Irwin Gantz for 41 years.
A graduate of Penn Manor High School, Rod retired from Johnson & Johnson, Lititz, in 2011. He enjoyed worshiping God at Lancaster County Bible Church on Saturday and Faith Bible Fellowship Church on Sunday, where he was a member for many years. He also enjoyed going to Warwick sporting events. Rod was an active volunteer for the Lancaster Area Kidney Association, serving as treasurer.
In addition to his wife Sharon, Rod will be lovingly missed by his daughter Kelli Lynne, wife of James Lowrey and grandchildren Kiersten, Kolton and McKenna, all of Maytown, and his siblings Clarence L. Gantz (Joanne), Jerry Gantz (Donna) and Janice McCourt (John). Rod cared so much for others and will be missed by the many friends he made during his life, and by his faithful dachshunds Chloe, Oskar and Rylee.
A Life Celebration of Rod's life will be held 11:30 AM, Saturday March 17, 2012, at Faith Bible fellowship Church, with The Rev. David A. Thomann and Chaplain Tom Dodge officiating. There will be a time of visitation with the family from 9 to 11:30 AM. Interment in Conestoga Memorial Park. In lieu of flowers, memorial contributions may be made to Lancaster Area Kidney Association, PO Box 1446, Lancaster, PA 17604, Faith Bible Fellowship Church, 151 Donerville Road, Lancaster, PA 17603, Lancaster County Bible Church, 2392 Mount Joy Road, Manheim, PA 17545, or Hospice of Lancaster County, PO Box 4125, Lancaster, PA 17604-4125 or www.hospiceoflancaster.org. To send the family online condolences, please visit SnyderFuneralHome.com. Charles F. Snyder Jr. Funeral Home & Crematory 717-560-5100
Leave a condolence on this Memorial Page
Dear Sharon and Kelli,
Please know how much my heart is breaking for you and your families. Rod was indeed a wonderful husband and father and grandfather. I am so sorry that he was taken from you so early in this earthly life. But we do know that he is now in his heavenly life.
With love,
Roxanne
Sharon,
You and your family are in our prayers over the loss of Rodney. May God bless you all with His peace and comfort. We feel blessed to have had the opportunity to get to know you both. Kevin,Patti and Brea Bergman
Dear Sharon &Kelly,
Just want to send my Sympathy and leave you know your in my thoughts and prayers at this time. I really know what your going through, its been 11 years since I lost my husband. Its the great memories we have , and knowing their in a better place ,and them little grandchildren that gives us a reason to move forward
An old school friend,
Marian Miller
We will miss you terribly, Uncle Rod.
Love
Nate, Sasha, and Spencer Althouse
Dear Sharon and Kelly, I'm so sadden to hear this news. Rodney was one of the most caring man I ever got to know and I will miss him very much.It's ashame he never got to really enjoy his retirement he was taken so quickly. May God comfort you at this time.
Elaine Clement
My condolences go to the the family of Rodney Gantz.
I remember him as a dedicated worker at Warner-Lambert. He was always pleasant to be around.
At times he called call on me to repair the machinery he was operating.
May God be with you.
Samuel Maurer
Dear Sharon and Family,
I was so saddened to learn of Rod's passing. I know your loss will be great. I pray that God will keep you all close as He walks with you through this time.
Eileen Raffensberger
So sorry for your loss, you are so right that he would help anyone.I worked with Rod,he always would ask how the family was. Sad for his short caring life.May God bless you and your family.
Ron Cassel
Dear Sharon and family,
I was so heartbroken when my daughter told me of Rodneys passing! I'm so sorry. He fought so valiantly through all of his illnesses and kept his faith. He is to be admired for his strength under such daunting circumstances. He was a good man and a good father and grandfather and will be missed terribly missed. I'm praying for you and your family. I pray that God will hold you close and give you comfort as you go about your life without him. May God bless you and yours. If there is anything I can do just let me know. Take care of yourself.
Love
Mary Lou Allwein and family
Sharon:
We have lost a special friend and will miss him so much! We send our love to you and pray for you and your family.
Henry and Marsha
Things i really remember about Rodney we sure will miss him very much my son Earnest really enjoy talking to Rod no matter how bad he felt he alway had a listening ear about basketball and football
he always saw him at the first service then before he left.I"m so glad that he call and talk to him the week before they really had a good
Carol Ely
Sharon,
What a beautiful write-up..It surely describes Rod to a "T'..My thoughts are with you and Kelly…I will see you on Saturday..You are a very strong young lady..we support you..
Bonita
Dear Sharon,

So sorry to hear of Rodney 's recent problems and death. He was a real trooper and always such a solid guy as a patient or LAKA officer. I enjoyed working with him at LAKA and he'll certainly be missed.
Dr Larry Carroll